GET AN INSTANT QUOTE

Scanning our network...
24/7 Customer support
PRIVATE JET CHARTER VANUATU
Mercury Jets is an on-demand air charter provider specializing in private jet and turboprop charters in Vanuatu. Our team is composed of industry-leading professionals dedicated to providing our customers with the ultimate air charter experience. We are committed to safety, reliability, and white glove customer service. To obtain a charter quote tailored to your specific needs, please fill in the request form or call our agents 24/7 at +1-212-840-8000.
About Vanuatu and Places to Visit
Mercury Jets provides private jet charter flights to and from Vanuatu.
In Melanesia, surrounded by the waters of the Pacific Ocean, there is a small state of Vanuatu with a population of 300,000 people. It is close to Australia, Fiji, the Solomon Islands and is bordered to the southwest by New Caledonia. Vanuatu can be called a unique place to vacation in distinctive local traditions and French culture.
Each of the islands has its atmosphere and features, and guests can be away from the noise of the metropolis. The only city on the islands and the capital is the cultural city of Port Vila. It recently opened an art center, with the best products of local artisans and paintings. In addition, in the center of the capital, there are many beautiful historical buildings from different eras. Espiritu Santo Island will also be of interest to history lovers, which offers unusual places for diving. Near the island, there are many cargoes, weapons, and equipment from the Second World War. The island itself is entirely covered by untouched rainforest on the mountain slopes with local villages.
The local cuisine can be shocking to Europeans, serving coconut crabs, flying foxes, and fried pigeons. However, the islanders are meticulous about the proper preparation of herbal teas, and the national drink is considered a low-alcohol "cava."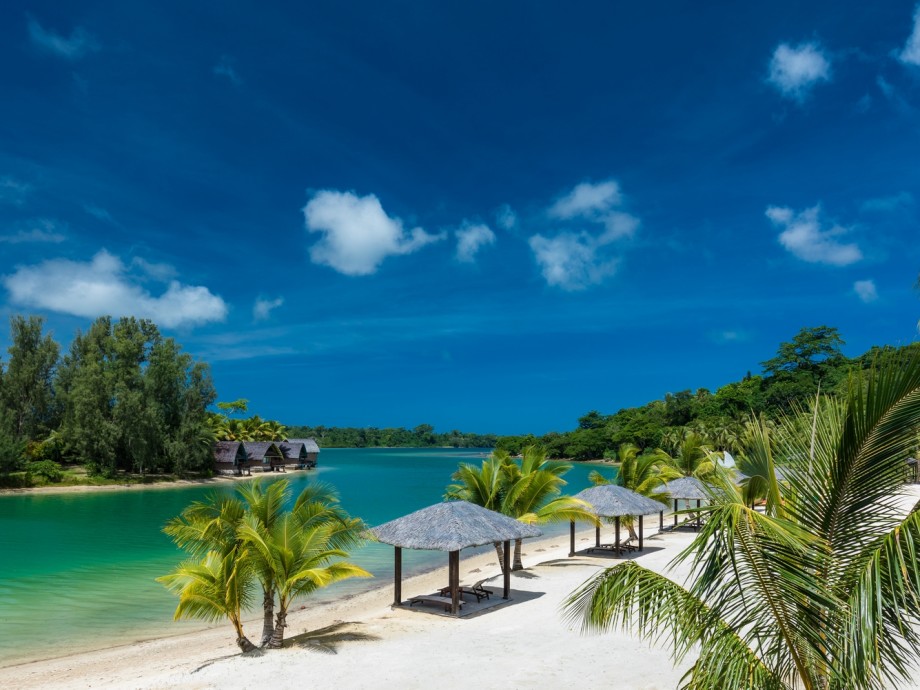 AUY Anatom Airport (Aneityum Airport) Aneityum (Anatom) / Inyeug
AWD Aniwa Airport Aniwa
CCV Craig Cove Airport Craig Cove, Ambrym
DLY Dillon's Bay Airport Dillon's Bay, Erromango
EAE Siwo Airport (Aromai Airport) Sangafa, Emae, Shepherd Islands
FTA Futuna Airport Futuna
ZGU Gaua Airport Gaua, Banks Islands
IPA Ipota Airport Ipota, Erromango
LPM Malekula Airport (Lamap Airport) Lamap, Malekula
LNB Lamen Bay Airport Lamen Bay, Epi
LOD Longana Airport Longana, Ambae
LNE Lonorore Airport Lonorore, Pentecost
SON Santo-Pekoa International Airport Luganville, Espiritu Santo
MWF Maewo-Naone Airport Maewo
MTV Mota Lava Airport (Valua Airport) Mota Lava, Banks Islands
NUS Norsup Airport Norsup, Malekoula
OLJ Olpoi Airport (North West Santo Airport) Olpoi, Espiritu Santo
PBJ Paama Airport Tavie, Paama
VLI Bauerfield International Airport Port Vila, Efate
UIQ Quoin Hill Airport Quoin Hill, Efate
RCL Redcliffe Airport Redcliffe, Ambae
SSR Sara Airport Sara, Pentecost
SLH Vanua Lava Airport Sola, Vanua Lava, Banks Islands
SWJ South West Bay Airport Wintua, Malakula
TAH Whitegrass Airport (Tanna Airport) Whitegrass, Tanna
TGH Tongoa Airport Tongoa, Shepherd Islands
TOH Torres Airport Linua, Torres Islands
ULB Ulei Airport Ulei, Ambrym
VLS Valesdir Airport Valesdir, Epi
WLH Walaha Airport Walaha, Ambae IslandAUY, Anatom Airport (Aneityum Airport), Aneityum (Anatom) / Inyeug
AWD, Aniwa Airport, Aniwa
CCV, Craig Cove Airport, Craig Cove, Ambrym
DLY, Dillon's Bay Airport, Dillon's Bay, Erromango
EAE, Siwo Airport (Aromai Airport), Sangafa, Emae, Shepherd Islands
FTA, Futuna Airport, Futuna
ZGU, Gaua Airport, Gaua, Banks Islands
IPA, Ipota Airport, Ipota, Erromango
LPM, Malekula Airport (Lamap Airport), Lamap, Malekula
LNB, Lamen Bay Airport, Lamen Bay, Epi
LOD, Longana Airport, Longana, Ambae
LNE, Lonorore Airport, Lonorore, Pentecost
SON, Santo-Pekoa International Airport, Luganville, Espiritu Santo
MWF, Maewo-Naone Airport, Maewo
MTV, Mota Lava Airport (Valua Airport), Mota Lava, Banks Islands
NUS, Norsup Airport, Norsup, Malekoula
OLJ, Olpoi Airport (North West Santo Airport), Olpoi, Espiritu Santo
PBJ, Paama Airport, Tavie, Paama
VLI, Bauerfield International Airport, Port Vila, Efate
UIQ, Quoin Hill Airport, Quoin Hill, Efate
RCL, Redcliffe Airport, Redcliffe, Ambae
SSR, Sara Airport, Sara, Pentecost
SLH, Vanua Lava Airport, Sola, Vanua Lava, Banks Islands
SWJ, South West Bay Airport, Wintua, Malakula
TAH, Whitegrass Airport (Tanna Airport), Whitegrass, Tanna
TGH, Tongoa Airport, Tongoa, Shepherd Islands
TOH, Torres Airport, Linua, Torres Islands
ULB, Ulei Airport, Ulei, Ambrym
VLS, Valesdir Airport, Valesdir, Epi
WLH, Walaha Airport, Walaha, Ambae Island
POPULAR VANUATU PRIVATE JET DESTINATIONS
Port Vila Private Jet Charter
Today
25°C, 77°F;
Moderate rain;
Humidity: 82%;
Wind: 2m/s NNW;
H 27 • L 26;
Sat

25°C, 77°F

Sun

26°C, 78.8°F

Mon

29°C, 84.2°F

Tue

28°C, 82.4°F