How to Charter a Pet-Friendly Private Jet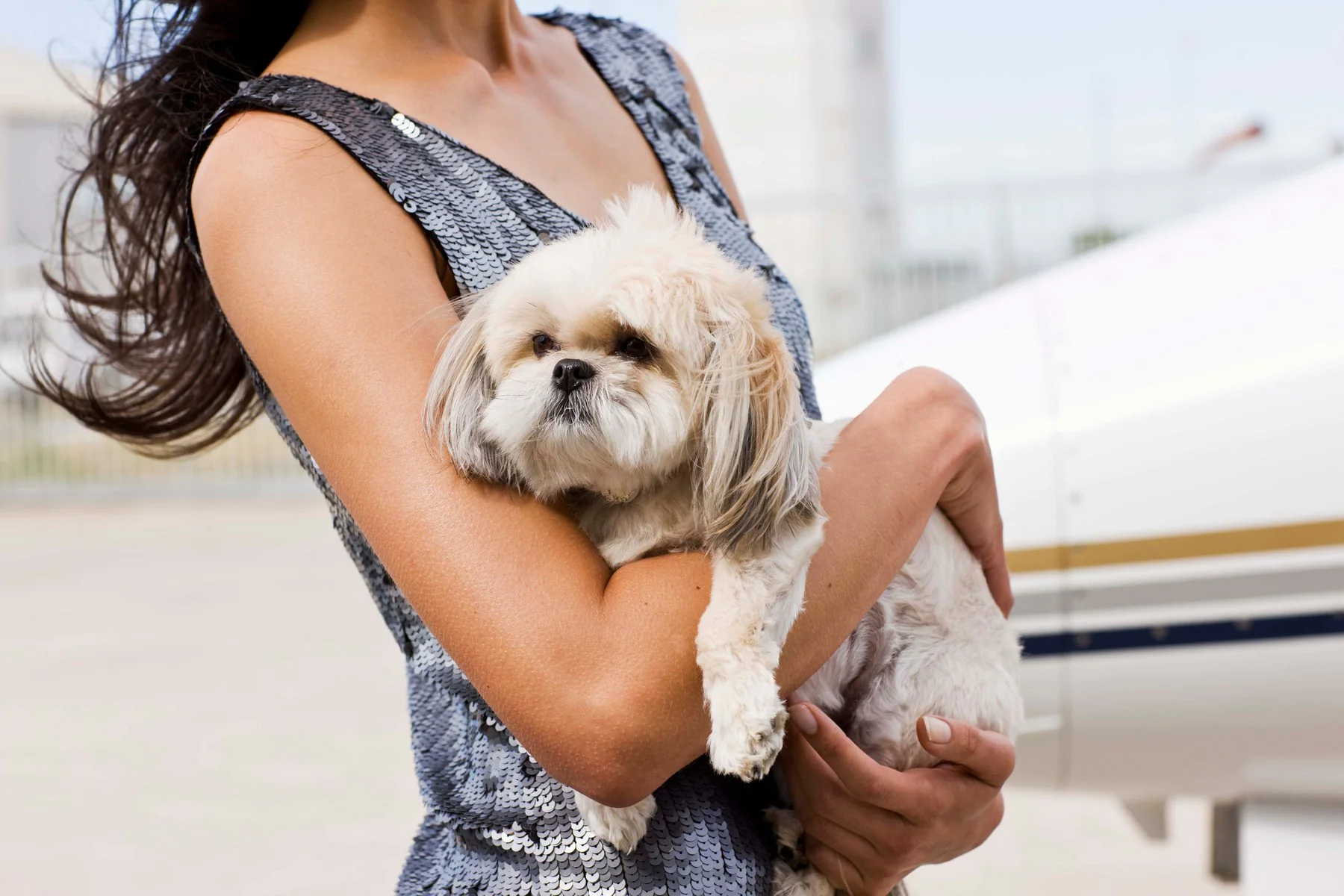 Pet owners may disagree about which pet makes the perfect companion, but they will all agree on the undeniable benefits of pet ownership. Scientists have proven that dogs and cats reduce stress and anxiety, which is known to help protect against heart disease by lowering blood pressure and reducing heart rate. To many owners, pets are considered part of the family that cannot be left behind in the care of strangers when they travel.
Traveling with your pet on a privately chartered flight will help you and your pet avoid many of the restrictions of commercial airlines. Here are few things to keep in mind when booking your next trip:
What are the advantages of flying private with your pet?
Your pet will travel comfortably in the cabin with you
On commercial flights, your pet will likely have to travel in the cargo hold if it is more than 15 pounds. Whether your pet is five pounds or fifty, you can rest assured your pet will be able to travel with you in the cabin on your privately chartered flight.
Keeping an eye on your best friend will help you avoid the nightmare faced by a family in March 2018 when United Airlines mistakenly swapped their 10-year-old German Shepherd named Irgo with a Great Dane headed for Japan. In May 2019, another pet was shipped to the wrong location by American Airlines and was missing for 30 hours.
Fewer logistics and less stress
You and your pet can avoid crowded airports and long security lines when flying private. As a private jet passenger, you can choose your aircraft, arrival and destination airports and travel according to your schedule.
No seasonal weather restrictions
Pets that don't meet the commercial airline's criteria for traveling in the cabin are not permitted to travel at all when temperatures are extreme. When flying private, your pet can accompany you year-round.
No breed or size restrictions
You can travel with your pet without concern about commercial airline restrictions that may include your pet's breed. Certain breeds with snub nose faces, such as bulldogs, may have difficulty breathing at high altitudes and are not permitted to fly. Other breeds, such as pitbulls, are banned by certain airlines.
Vaccination and Customs documentation
When flying commercial or private, pet owners must ensure that vaccination and customs documentation is in order. For example, Hawaii has strict quarantine restrictions. If you are planning to fly internationally, note that many countries, such as the United Kingdom, will only allow pets to fly in the cargo hold and not in the cabin.
Preparing your pet for travel
For your pet's safety, as well as the safety of everyone onboard, pets are required to be secured in an IATA-compliant pet crate or airline compliant carrier during takeoff and landing. Your pet should be secured in his or her own seat or baggage area in the cabin as designated by your flight attendant. Several weeks before your trip, take time to acquaint your pet with his or her crate so they will feel safe and secure during the trip.
Whether you are planning to travel with your pet, or if your pet will be transported on its own, Mercury Jets can assist you with preparations to ensure you and your pet are comfortable, safe and well taken care of during your chartered flight.
Choose Mercury Jets
Mercury Jets' on-demand white glove charter coordinators can assist you in choosing your preferred aircraft. To book a flight, call +1-212-840-8000 for our charter department.Mercury Jets offers an instant quote request. Submit your request here to price out your flight immediately.