Private Jet Charter Santiago to New York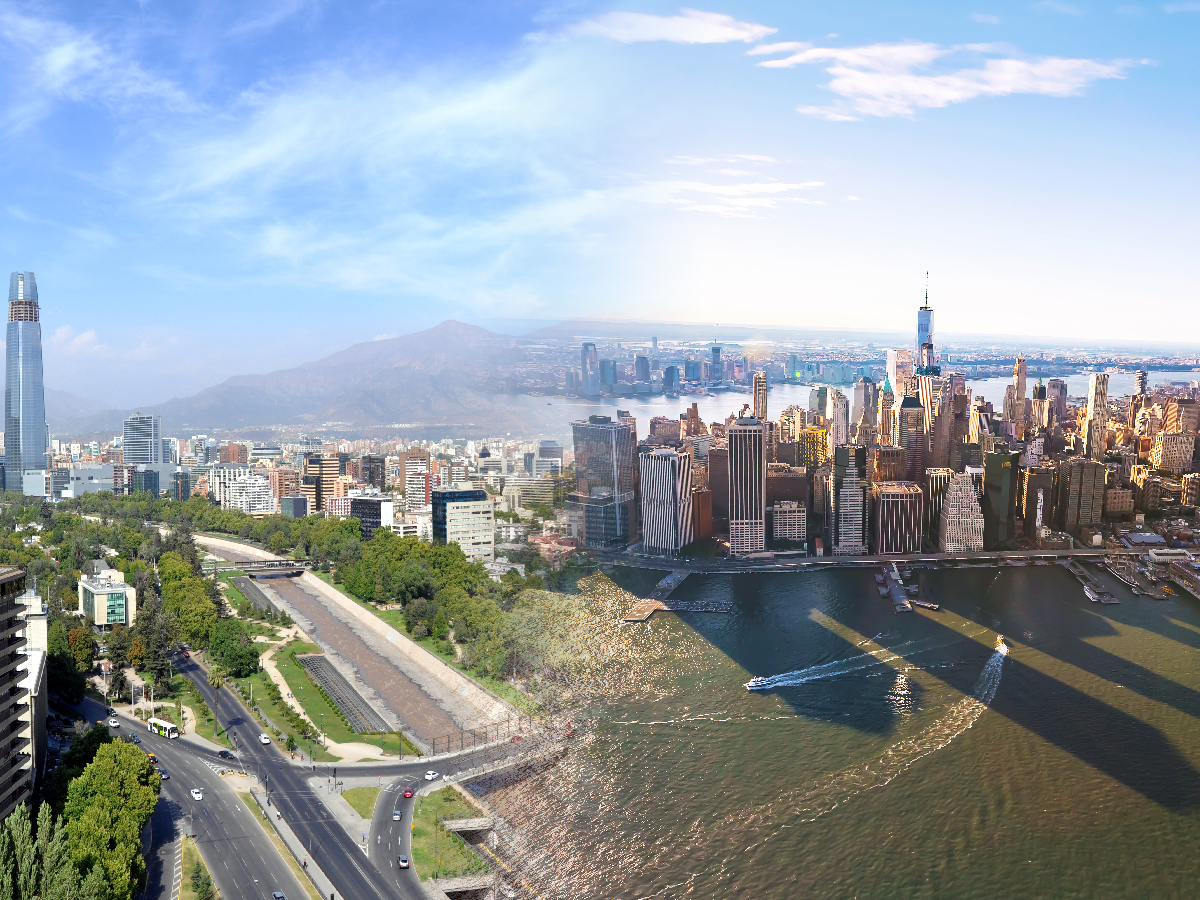 Mercury Jets provides on-demand private jet charters from Santiago to New York. New York City is one of the most popular destinations for private jet charterers.
Charter a private jet Santiago to/from New York
Filling the senses, the city is a metropolis for art, culture, and history. Electrified with the sights and sounds of life in motion, the most famous city of the Empire State welcomes more than 62 million visitors each year.
Santiago to New York By Private Jet: an Exploration of Iconic Art, Architecture and Green Spaces
Top 15 Attractions in New York:
American Museum of Natural History
Broadway Theatre
Brooklyn Bridge
Central Park
Ellis Island
Grand Central Terminal
Greenwich Village
Guggenheim Museum
Empire State Building
Hayden Planetarium
One World Observatory
Rockefeller Center
The National 9/11 Memorial & Museum
The Metropolitan Museum of Art
The Museum of Modern Art (MoMA)
Three Unique Experiences in New York
The Explorers Club Headquarters
The Explorers Club was founded in 1904 by seven leading polar explorers to help foster the scientific exploration of land, sea, air, and space by supporting research and education in the physical, natural, and biological sciences.
The Club's headquarters is a 1910 Jacobean revival mansion called the Lowell Thomas building. Originally built for Stephen Clark, grandson of the co-founder of the Singer Sewing Machine Company, it was named after the famed writer who brought Lawrence of Arabia to fame. Here you can see artifacts from a century of explorations to the far corners of the globe, including polar expeditions. The Explorer Club hosts talks with explorers from September through June.
The Met Cloisters
Overlooking the Hudson River, The Met Cloisters is a branch of The Metropolitan Museum of Art opened to the public in 1938 in Manhattan's Fort Tryon Park. According to the museum, its name is inspired by the portions of the five medieval cloisters incorporated into the modern structure of the museum. Rather than reproducing a specific type of building or medieval setting, The Met Cloisters was designed to evoke late Middle Ages architecture, creating an integrated and harmonious context in which visitors can experience the rich tradition of medieval artistic production, including works in metal, painting, sculpture, and fabric.
Statue of Liberty's Original Torch
Envisioned in 1874 by French sculptor Frédéric Auguste Bartholdi, the famous Statue of Liberty was dedicated in 1886 as a gift from France. The Statue of Liberty was a symbol of democratic government and Enlightenment ideals. It became a symbol of freedom for millions of immigrants and tourists that have traveled to New York City. Lady Liberty's torch symbolizes "Liberty Enlightening the World." After nearly a century of weathering on the National Monument, her original torch was replaced in 1986 with a copper flame covered in 24k gold. Fortunately, the original torch was preserved and is on display at the Statue of Liberty Museum.
What Airport Should I Use for a Private Charter from Santiago to New York?
When booking your
private air charter service from Santiago
, five airports serve the New York area:
Teterboro, New Jersey Airport (TEB) is 14 miles from Manhattan.
Westchester County Airport (HPN) is 37 miles from New York and three miles northeast of downtown White Plains.
John F. Kennedy International Airport (JFK) is the primary international airport serving New York City.
Newark Liberty International Airport (EWR) is in New Jersey, 9 miles from Manhattan.
LaGuardia Airport (LGA) is in the northern part of the New York City borough of Queens.
Airport Distances and Flight Times from Santiago to New York
Private Jet from Santiago (SCEL) to New York
Destination Airport
Airport Code
Distance (Nautical Miles)
Miles
Estimated Flight Time
Heavy
Super Midsize
Teterboro, New Jersey Airport
TEB
4,458
5,134
10 hr

58 min

12 hrs 9 min
Westchester County Airport
HPN
4,470
5,148
10 hrs

59 min

12 hrs

11 min

John F. Kennedy International Airport
JFK
4,445
5,119
10 hrs

55 min

12 hrs

7 min

Newark Liberty International Airport
EWR
4,449
5,123
10 hrs

57 min

12 hrs

8 min

LaGuardia Airport
LGA
4,453
5,128
10 hrs

57 min

12 hrs

8 min
Distances and flight times shown in the charts above should be considered as estimates only. One (1) nautical mile is equal to 1.1508 statute miles.
What Type of Aircraft Should I Use for a Private Charter Flight from Santiago to New York?
A private jet from Santiago and a
private jet to New York
, flights typically operate using
heavy or super-midsize aircraft
:
Heavy jets such as Gulfstream G450, the Bombardier Global 6000, and the Dassault Falcon 900LX offer a spacious configuration for larger groups and zones for privacy.
Heavy jets have unmatched versatility with the ability to carry up to 19 passengers in comfort. A professional charter coordinator can match the specific purpose of the flight, whether it be for business meetings, privacy, or to maximize the comfort and enjoyment of amenities that come standard with this class of jet.
Gulfstream designed the G450 to fly farther and faster and with more fuel-efficient than its predecessor. Each cabin detail is devoted to providing a highly personalized experience that defines private flying. Entertainment features include two large LCD screens and headphones at each seat integrated with a state-of-the-art cabin entertainment system.
At a cruise speed of 564 miles per hour, the Bombardier Global 6000 can fly high above most commercial airliners, with a ceiling of 51,000 feet. The Global 6000 is frequently configured with three seating areas. Each area has two windows that maximize natural light in the cabin to enhance mood and interior design aesthetics.
The versatile Falcon 900LX can significantly reduce commute time. Because the jet can take off and land on shorter runways than other jets, it can operate out of airports closest to the client's departure and arrival points. Additionally, the Falcon 900LX's spacious cabin provides three separate areas for work and relaxation.
The Embraer Lineage 1000E is one of the best options for clients who desire the best versatility, and luxury offers dozens of configuration options.
Heavy jet amenities include Wi-Fi, digital entertainment, catering, a full galley, and flight attendant service.
Super Midsize jets such as the Cessna Citation X+, Gulfstream G280, and the Hawker 1000 offer passengers a comfortable transcontinental flight to New York. A spacious cabin design allows passengers more room to move about, relax or work during the flight.
The Cessna Citation X+ features a stand-up cabin, luggage space, and ample legroom. The jet can fly passengers from Santiago to New York at a maximum speed of 700 miles per hour, faster than any other business jet. This jet satisfies the most seasoned private jet charter clients with its perfect mix of speed, utility, and comfort.
Popular features of the Gulfstream G280 include a range of 3,600 nautical miles and a cabin pressurized to a lower, more easily breathable altitude to help ensure passengers arrive in Los Angeles rested.
The Hawker 1000 is selected for its spacious cabin and extended range capabilities. This jet has a fully accessible baggage compartment behind the lavatory, doubling the available baggage space from the previous model. It also features a range of more than 3,000 nautical miles, allowing for nonstop domestic and international flights.
Super midsize jets typically include a full galley, catering, and flight attendant service.
In conclusion, from the awe-inspiring feeling of freedom standing before the Statue of Liberty, the dazzling marquis lights of Broadway and the stories told by the intriguing artifacts art the Explorers Club, centuries-old art at The Met Cloisters, and Lady Liberty's original torch at the Statue of Liberty Museum, your trip to New York will be filled with the sights and sounds of life in motion and the quieter pace of museums and the green meadows of Central Park.