Private Jet Charter from Houston to Big Sky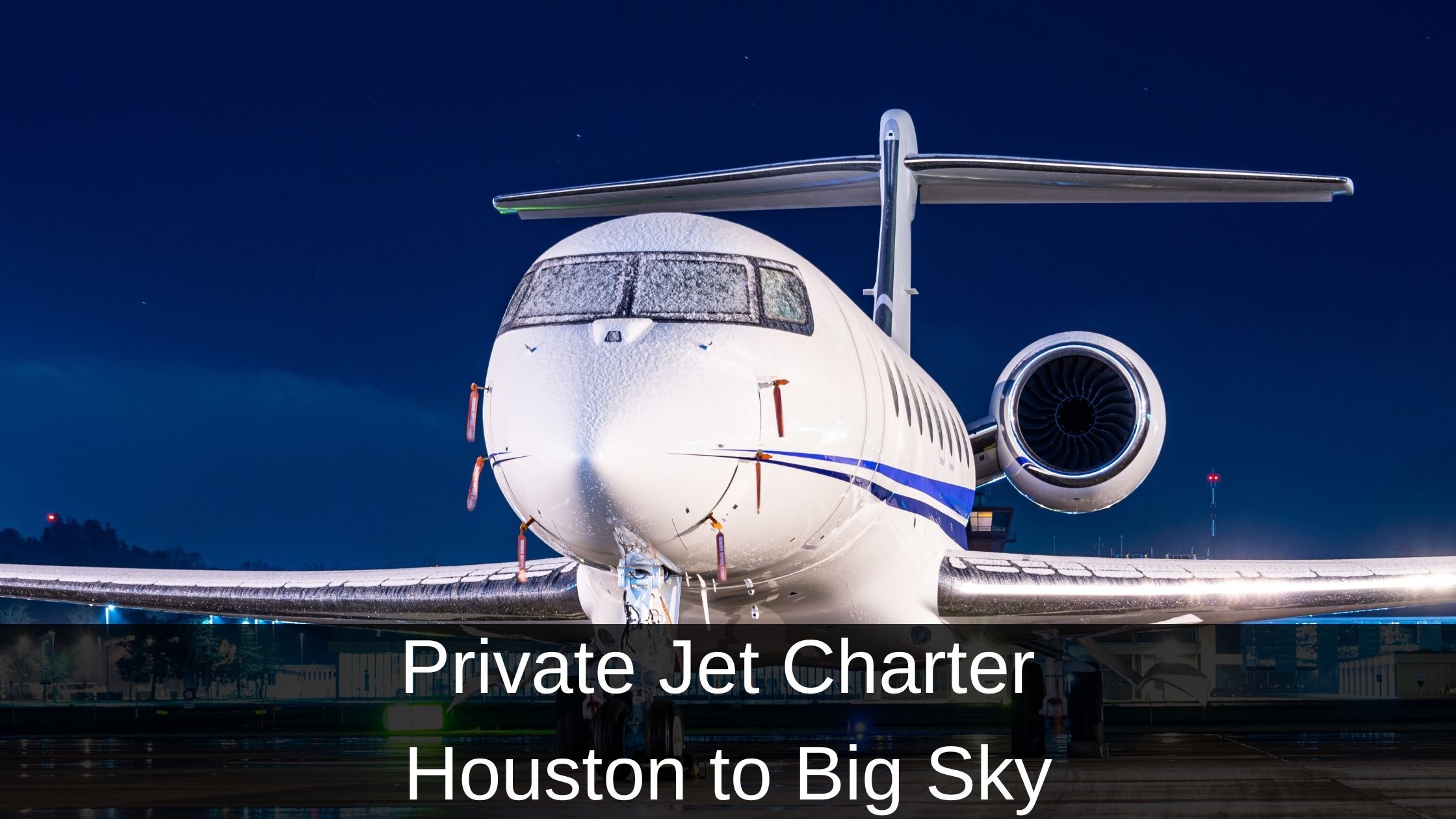 Mercury Jets provides on-demand private jet charter from Houston to Big Sky.
Situated in southwest Montana in the scenic Rocky Mountains, Big Sky is known for breathtaking scenery and year-round outdoor activities. Chartering a private jet between Houston and Big Sky is an excellent way to travel. Traveling via private jet allows you to skip airport lines, avoid crowds, and fly directly to your destination.
Less than twenty miles away, Yellowstone National Park, one of the most visited parks in the U.S., attracts visitors year-round with natural scenery, iconic wildlife, geysers, and hot springs. Big Sky Resort is a top destination for private jet travelers and often serves as a basecamp for exploring Yellowstone.
Big Sky is a perfect place for outdoor activities, skiing, and enjoying the beautiful scenery, it's located in the heart of the Rocky Mountains, and it's considered one of the best ski resorts in the US. When chartering a private jet from Houston to Big Sky also other activities such as hiking, fishing and horseback riding are also possible in summer, and in winter it is a great place for skiing and snowboarding.
Things to explore in Big Sky
Beehive Basin Trail;
Big Sky Community Park;
Big Sky Golf Course;
Big Sky Resort;
Canyon Adventures Snowmobile Tours;
Fly Fishing;
Geyser Whitewater Expeditions;
Lone Mountain Ranch Outdoor Shop;
Lone Peak;
Mammoth Hot Springs;
Moonlight Basin;
Old Faithful;
Ousel Falls Trail;
Whitewater Rafting;
Yellowstone National Park.
How Much Does a Private Jet Cost from Houston to Big Sky?
The estimated cost of a private jet from Houston to Big Sky (one-way) is as follows:
Light Jet $28,000;
Midsize Jet $30,880;
Super Midsize Jet $31,680;
Heavy Jet $49,050.
The final cost of renting a private jet from Houston to Big Sky will depend on a number of factors, such as the type of aircraft, the number of passengers, and the specific amenities and services you require.
Get an Instant Quote Houston to Big Sky Jet Charter Price Estimate
Excellent 5.0 out of 5
Private Jets Options for a Flight from Houston to Big Sky
From Houston to Big Sky, private charter flights typically operate using midsize and light aircraft types:
Midsize jet options for private jet charters from Houston to Big Sky include the Hawker 700, Bombardier Learjet 60, and Embraer Legacy 500.
The Hawker 700 is a capable business jet that can carry up to eight passengers. A quick climb rate and 2,000 nautical mile range are two of the jet's sought-after performance characteristics.
Bombardier's Learjet 60 is one of the most requested midsize jets. This reliable business jet is known amongst private jet travelers for its comfortable cabin and fuel-efficient performance.
The Embraer Legacy 500 has a spacious seating arrangement for up to 12 passengers. From the flight deck to the passenger cabin, the Legacy 500 features innovative technologies that enhance the private flying experience.
Midsize jets typically include a galley, catering, and flight attendant service.
Light jet options include the Learjet 75, the Cessna Citation CJ4, and Embraer Phenom 100.
Up to seven people can travel in the Learjet 75 for the charter flight to Big Sky. This jet features a coveted flat floor design and an intuitive cabin management system that boosts in-flight work productivity.
The Citation CJ4 offers private jet clients traveling to Big Sky efficiency, performance and simplicity. The interior of this business jet feels larger because of its full-length lowered aisle. Cessna's exclusive Venue HD integrated cabin management system offers high-definition digital television and audio choices to passengers.
Because it can take off from shorter runways, the Embraer Phenom 100 is an excellent choice for private jet clients who prefer to travel out of the smaller regional airports that are located close to major urban areas, including Houston and Big Sky.
Light jets typically include digital entertainment, a galley, and Wi-Fi for in-flight entertainment.
In conclusion, Big Sky is an ideal destination to experience the freedom of wide-open spaces and untamed mountain landscapes of the western U.S. Traveling to Big Sky by private jet is especially appealing due to the city's direct access to year-round outdoor attractions, including hiking trails for exploring mountain scenery and the geologic wonders of nearby Yellowstone National Park. By selecting the perfect private jet for your trip, you'll be toasting your trip to Big Sky from Houston for years to come.
Airport Distances and Flight Times from Houston to Big Sky
When booking your private air charter service from Houston to Big Sky, the Boseman Yellowstone International Airport (BZN) is less than 45 minutes from downtown.
Private Jet from Houston (IAH) to Montana
Destination Airport
Airport Code
Distance (Nautical Miles)
Miles
Estimated Flight Time
Midsize
Light
Boseman Yellowstone Intl. Airport
BZN
1,059
1,219
3 hrs

11 min

3 hrs

11 mins
Private Jet from Houston (HOU) to Montana
Destination Airport
Airport Code
Distance (Nautical Miles)
Miles
Estimated Flight Time
Midsize
Light
Boseman Yellowstone Intl. Airport
BZN
1,221
1,407
3 hrs

34 min

3 hrs

14 mins
Distances and flight times shown in the charts above should be considered as estimates only. One (1) nautical mile is equal to 1.1508 statute miles.
Choose Mercury Jets
Mercury Jets' on-demand white glove charter coordinators can assist you in choosing your preferred aircraft. To book a flight, call + 1 212-840-8000 for our charter department. Mercury Jets offers an instant quote request. Submit your request here to price out your flight immediately.