Private Jet from West Palm Beach to Bahamas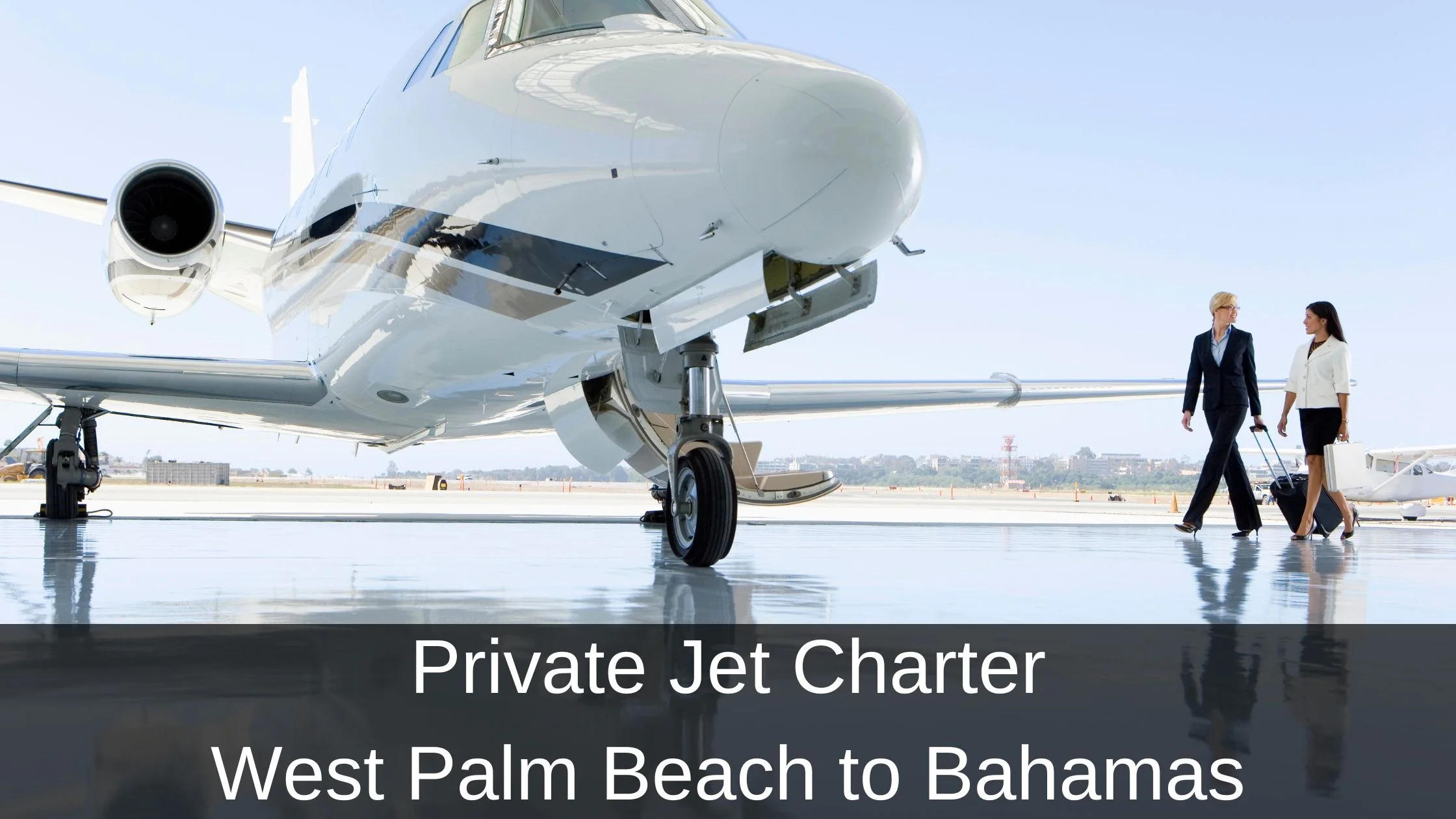 Mercury Jets provides on-demand private jet charters from West Palm Beach to the Bahamas.
The Bahamas is a popular tropical destination for private jets. Located on New Providence Island, Nassau is the capital of The Bahamas. When getting caught up in the windswept beauty of the islands, visitors quickly learn that each island has its own character and unique twist on tropical beauty. Sunshine, powder-soft sand, shallow reefs, clear blue waters, and an abundance of marine life are just some of the reasons why Floridians are drawn to The Bahamas.
Charter a private jet from West Palm Beach to the Bahamas
Airport Distances and Flight Times from West Palm Beach to the Bahamas
Private Jet from West Palm Beach (PBI) to the Bahamas
Destination
Destination Airport
Airport Code
Distance (Nautical Miles)
Miles
Flight Time
Super Midsize
Midsize
Turboprop
Cockburn Town, San Salvador
San Salvador Airport
MYSM
340
392
50 min
50 min
1 hr
22 min
Governor's Harbour, Eleuthera
Governor's Harbour Airport
MYEM
220
253
32 min
32 min
53 min
Grand Bahama
Grand Bahama Airport
MYGF
75
87
19 min
19 min
22 min
Marsh Harbour, Abacos
Leonard M. Thompson Intl. Airport
MYAM
162
186
19 min
19 min
22 min
Matthew Town, Inagua
Inagua Airport
MYIG
492
566
1 hr
8 min
1 hr
8 min
1 hr
56 min
Nassau
Lynden Pindling Intl. Airport
MYNN
173
199
34 min
31 min
45 min
South Bimini
South Bimini Airport
MYBS
74
85
21 min
19 min
22 min
Treasure Cay, Abacos
Treasure Cay Airport
MYAT
145
167
26 min
26 min
38 min
Distances and flight times shown in the charts above should be considered as estimates only. One (1) nautical mile is equal to 1.1508 statute miles.
Types of Private Jets for Jet Charters between West Palm Beach to the Bahamas
A private jet from West Palm Beach to the Bahamas, flights typically operate using midsize, light, or turboprop aircraft types:
Midsize jet options for private charters include the Hawker 850XP, Cessna Citation XLS+, and the Learjet 60XR.
With decades of innovation in the Midsize class, the modern Hawker 850XP performance is enhanced with the use of winglets that improve the jet's fuel efficiency in demanding environments. The aircraft typically seats up to eight passengers.
The Cessna Citation XLS+ is known for its quiet cabin and functional spaces with fold-out tables convenient for catching up on work and sliding headrests that easily adjust to enhance the comfort of passengers during the private flight to The Bahamas.
Families who charter the versatile Learjet 60XR enjoy its large cabin. This top-performing aircraft accommodates up to seven passengers. The 60XR excels with a fast climb at 6,000 feet per minute to a comfortable cruising altitude.
Midsize jets typically include a galley, catering and flight attendant service.
Light jet options include the Cessna Citation M2, Learjet 75, and Embraer Phenom 100.
Cessna's innovative Citation M2 is ideal for the short charter flight to The Bahamas. The jet seats up to seven passengers in a sleek cabin with features designed to enhance short or extended charter flights with Cessna's custom entertainment system called Cessna Clairity.
The Learjet 75 is especially popular with pet parents with its flat floor design. Inside the inviting cabin, nine passengers can relax and look forward to touching down in an eco-paradise.
Embraer's Phenom 100E can operate with ease on the shorter runways of the islands of The Bahamas. The Phenom 100E has seating for up to six passengers.
Light jets typically include digital entertainment, a galley, and Wi-Fi for in-flight entertainment.
Turboprop aircraft provide an economical option for a private charter flight from West Palm Beach to The Bahamas.
The Beechcraft King Air C90 GTX offers value for passengers traveling to The Bahamas for an island getaway. This efficient aircraft seats eight passengers in an aesthetically pleasing, quiet cabin that typically includes a club seating arrangement.
The versatile Beechcraft King Air 350i can transport a group of up to 11 passengers to the Bahamas. The inviting cabin is designed to enhance the private flying experience.
The versatile Pilatus PC-12 NGX aircraft cabin accommodates up to nine passengers in a cabin designed with BMW Designworks. The Pilatus PC-12 NGX is an economical option for a jet charter to The Bahamas.
How much does a private jet cost from West Palm Beach to the Bahamas?
The estimated cost of a private jet to West Palm Beach to the Bahamas (one-way) is as follows:
Piston to the Bahamas: starting at $3,950.
Light jet to the Bahamas: starting at $6,870.
Midsize jet to the Bahamas: starting at $8,650.
In conclusion, just a short flight from West Palm Beach, the island paradise of The Bahamas is a destination where leisure travelers can unplug and relax in a world of natural wonders. Private charter clients will enjoy traveling to the island of their choice in a private jet designed to exceed expectations.
Choose Mercury Jets for a Private Jet Charter from West Palm Beach to the Bahamas
Mercury Jets' on-demand white-glove charter coordinators can assist you in choosing your preferred aircraft. To book a flight, call +1 212-840-8000 for our charter department. Mercury Jets offers an instant quote request. Submit your request here to price out your flight immediately.