What is the Hourly Rate for a Private Jet Charter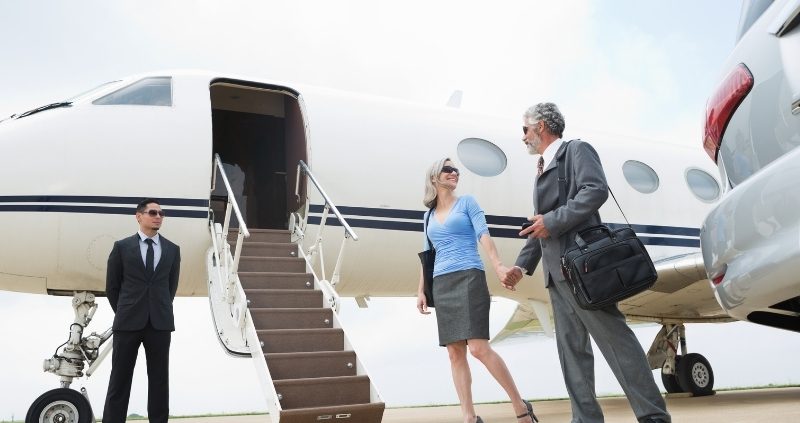 Private jets are chartered by travelers who recognize the value of spending less time commuting and cabin space designed for productive work and passenger comfort.
Our team of experienced charter coordinators can help you find the best jet with features suited to accommodate you and your guests, in addition to the best possible pricing. Factors that affect the cost of your charter flight include the hourly rate of the aircraft, crew, landing fees, and other costs.
Mercury Jets' experienced team of charter coordinators can provide you with the most competitive pricing in the private charter market. When you book a private jet charter flight, our real-time quotes are based on the availability of all aircraft suited to your requirements and pricing inclusive of all fees and positioning costs.
Charter a private jet
Scanning our network...
24/7 Customer support
Here are examples of pricing for seven popular private jets:
Aircraft
Description
Passengers
Speed
Range
(nm)
Hourly Rate
Gulfstream G650
One of the fastest jets in the Gulfstream family with a configuration for overnight flights for up to 10.
Up to 19
530 knots
8,000 miles
TBD
Bombardier Global 6000
This Heavy jet can fly at 51,000 feet, has three seating areas and plenty of natural light.
Up to 13
0.89 Mach
7,077 miles
TBD
Dassault Falcon 50EX
This Super Midsize tri-jet is typically configured with two passenger zones to enhance privacy.
Up to 10
468 knots
3,200
TBD
Dassault Falcon 900LX
This Super Midsize jet features nonstop mission flexibility.
Up to 8
0.80 Mach
4,750
TBD
Learjet 45
This Midsize jet features excellent range capability and economy.
Up to 9
435 knots
3,700
TBD
Learjet 60XR
This Midsize jet combines technology and comfort with a fast climb rate to cruising altitude in 18.5 minutes.
Up to 8
457 knots
2,405
TBD
Embraer
Phenom 300
This Light jet incorporates spacious cabin seating configured for productive meetings or relaxation.
Up to 11
520 knots
2,268
TBD
Choose Mercury Jets
Mercury Jets has access to the largest number of private jets on the market. By offering white-glove concierge service, we ensure our clients are provided with the best available jet options to suit their group travel requirements.
A professional charter coordinator will ensure your privately chartered flight experience is flawless. To obtain a charter quote, please use our real-time quoting tool or call our experts 24/7 at 1-877-281-3051.