How to Do San Francisco with Your Pet: An On-Demand Private Jet Charter and Pet-Friendly Restaurants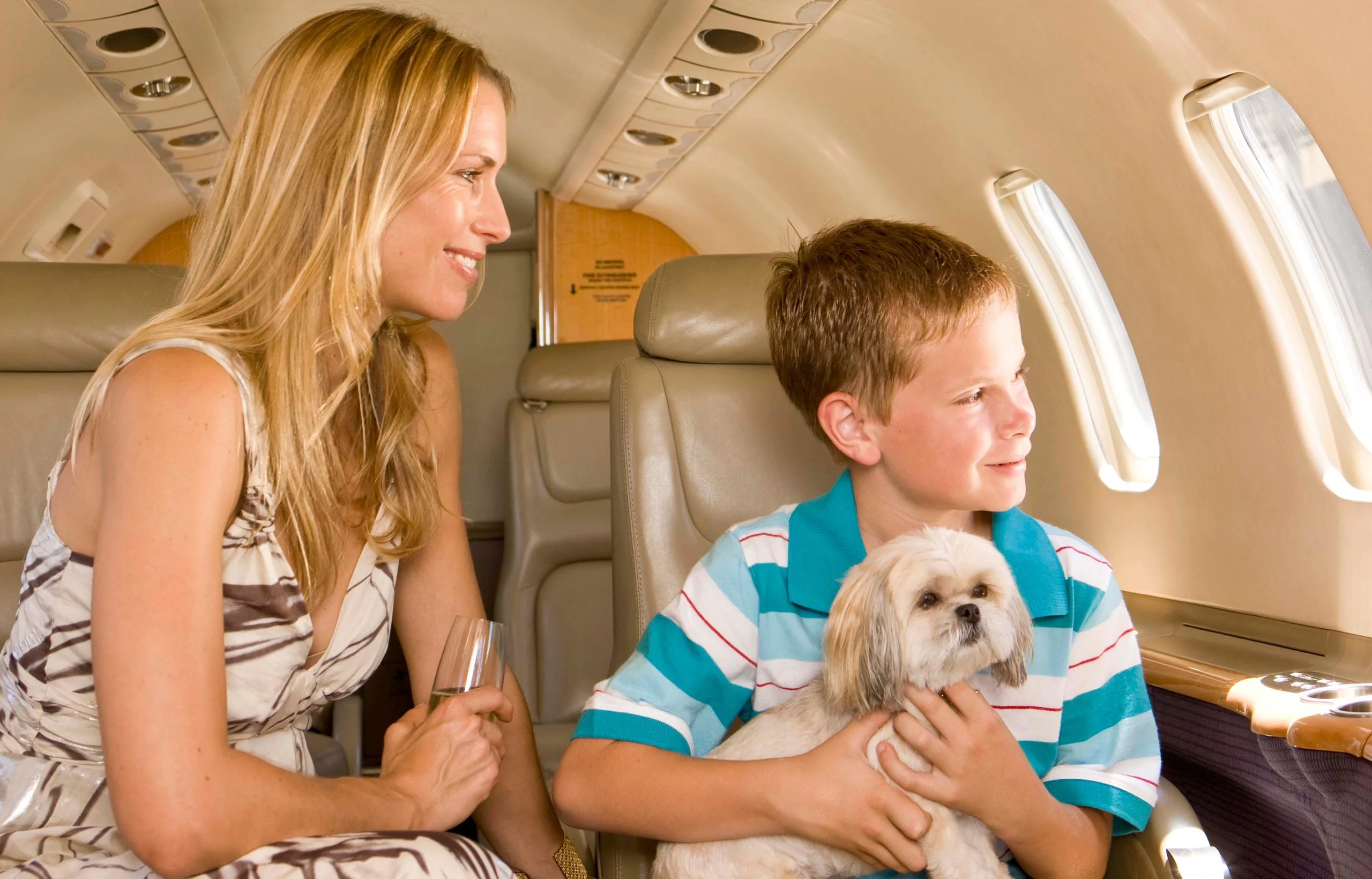 San Francisco was founded in 1776 and was named after St. Francis of Assisi by colonists from Spain.
The cosmopolitan city is known for its world-famous landmarks, including the Golden Gate Bridge, Fisherman's Wharf, Alcatraz Island and the historical 11-mile cable car system that runs from Union Square to Fisherman's Wharf.
Aside from its landmarks, San Francisco is famous for its cuisine. The city's proximity to the Pacific Ocean provides an abundant and diverse selection of fresh seafood. Its modern culinary culture is the result of a combined heritage from countless immigrants who have come to California from all over the world. Together, these immigrants have helped shape San Francisco's urban culture and the blend of culinary dishes that have become synonymous with its name.
Traveling to San Francisco with Your Pet on a Privately Chartered Jet
Traveling with your pet on a privately chartered flight to San Francisco will allow you to avoid many of the restrictions of commercial airlines. Here are a few of the benefits of flying private with your pet:
Your pet will travel comfortably in the cabin with you
On commercial flights, your pet will likely have to travel in the cargo hold if it is more than 15 pounds. Whether your pet is five pounds or fifty, you can rest assured your pet will be able to travel with you in the cabin on your privately chartered flight.
Fewer logistics and less stress
You and your pet can avoid crowded airports and long security lines when flying private. As a private jet passenger, you can choose your aircraft, arrival and destination airports and travel to San Francisco according to your schedule.
No seasonal weather restrictions
Pets that don't meet the commercial airline's criteria for traveling in the cabin are not permitted to travel at all when temperatures are extreme. When flying private, your pet can accompany you year-round.
Mercury Jets can assist you with preparations to ensure you and your pet are comfortable, safe and well taken care of during your chartered flight to San Francisco.
Pet-Friendly Places to Dine in San Francisco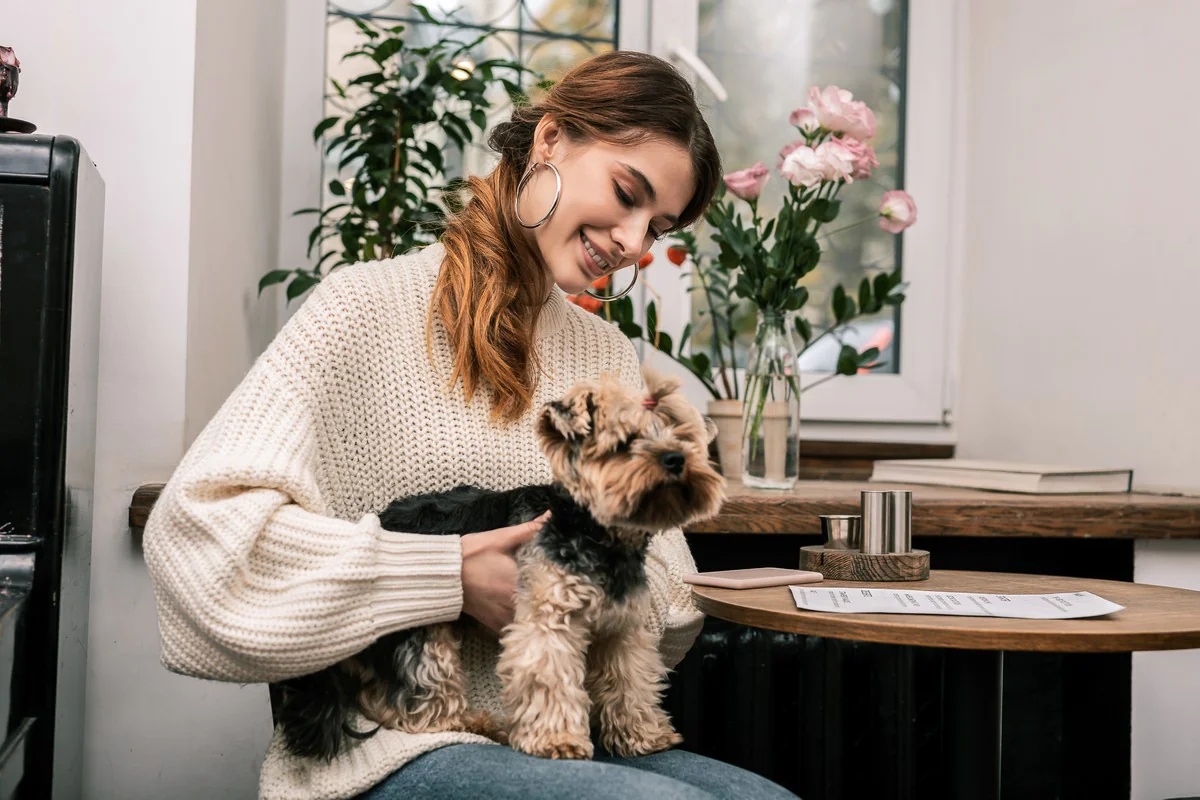 San Francisco is one of the most pet-friendly cities in the U.S. We've curated a list of places where leisure travelers enjoy spending time with their pets exploring San Francisco, from the city's breathtaking beauty to its sumptuous culinary delights.
1. Café Bastille
22 Belden Pl, San Francisco, CA, US, 94104
At this charming Parisian-style restaurant in the heart of San Francisco's Financial District, on Belden Place, you'll be transported to France with the adornment of twinkling strands of terrace lights overhead. French-bistro style dining on the terrace with your pet in chillier months is comfortable and cozy with the Café's heat lamps.
2. Cups and Cakes Bakery
451 9th St, San Francisco, CA, US, 94103
With flavors like Deep Dark Chocolate, Grandma's Apple Pie, Black & Tan and Strawberry & Champagne, this bakery specializes in homemade cupcakes in dozens of delicious flavors. Cups and Cakes has plenty of outdoor tables to enjoy a treat with your pet.
3. Ghirardelli Square
A landmark in itself, Ghirardelli Square is a bustling center with a common area and many retail shops and restaurants that welcome dogs. Ghirardelli Square is the original site of a chocolate factory established by Domenico "Domingo" Ghirardelli. Born in 1817 in Rapallo, Italy, Ghirardelli's world travels would eventually lead him to meet James Lick in Peru. After Lick departed Peru for San Francisco in January 1848 with 600 pounds of chocolate, Ghirardelli decided to join him a year later and opened a general store supplying a variety of goods, including mustard, coffee, spices and, of course, chocolate.
4. Fisherman's Wharf
Fisherman's Wharf is a must-visit location for leisure travelers. Its lively atmosphere is filled with a colorful dance of street performers and vendors. Pet-friendly walkways along the Bayshore are perfect way to enjoy a walk your canine companion.
5. Paluca Trattoria
6 Old Fisherman's Wharf, Monterey, CA, US, 93940
For a taste of traditional seafood dishes of San Francisco and afar, Paluca Trattoria menu options include Smoked Salmon Bruschetta, Lobster Ravioli, Prawn Carbonara, Linguini with Clams and Sicilian Meatballs. The restaurant's casual waterfront setting has a welcoming patio seating area.
6. Southern Pacific Brewing
620 Treat Ave, San Francisco, CA, US
This converted warehouse brewery offers 21 beers on tap, delicious eats and a dog-friendly outdoor seating inspired by the Southern Pacific Railroad. Southern Pacific Brewing is an enjoyable stop for a crafted beer or cocktail. If you decide to stay longer, menu favorites include Coconut Fried Chicken Wings, Crispy Brussel Sprouts, Southwest Salads, Black Bean Burger and Cheddar Bratwurst. For dessert, try the Double Chocolate Chip Bread Pudding. The inviting front patio has plenty of space for dogs and their owners.
7. Tartine Bakery
600 Guerrero St, San Francisco, CA, US, 94110
Tartine Bakery is a modern cafe with a diverse menu that includes sandwiches, fresh bread, and delicious pastries, including a local favorite, banana cream tart. Tartine's co-founder, Chad Robertson, applies a modern approach to baking bread "with an old soul." He works with grain farmers to expand upon the diversity of grains he incorporates into bread making, techniques he has honed throughout his career. With this level of dedication to quality, selections on the menu are a glorious deep-dive into the depths of our culinary past with a modern twist. Try a Frangipane Croissant or a Croque Monsieur with country bread, béchamel, gruyère, pepper, seasonal produce – choice of ham, turkey, shiitake mushroom or fromage blanc, or a Humboldt Fog Goat Cheese served with local goat cheese on walnut bread. Don't forget to save space for a banana cream tart. Lastly, take a loaf of bread with you to enjoy later with a bottle of California wine. Tartine welcomes dogs and has comfortable outdoor seating.
8. The Cask
782 Laurel St, San Carlos, CA, US, 94070-3114
This dog-friendly restaurant boasts a welcoming and friendly atmosphere with an elegant selection of burgers, fish, and pasta. The Cask's expansive wine bar includes selections from nearby Sonoma County, Napa Valley, and Mendocino County. They also have an inspired list of Italian wines. You can enjoy a glass of wine and the company of your pooch at one of the Cask's ten outdoor tables. For dessert, try the Caramel Vanilla Sea Salt Gelato or Blackberry Cabernet Sorbet.
9. Universal Cafe
2814 19th St, San Francisco, CA, US, 94110
A staple in San Francisco's Mission District for over 25 years, Universal Café's menu changes seasonally to feature what's new, local and fresh. Organic and American contemporary menu options include Brioche French Toast, Fresh Spinach Linguini and a Detox Bowl with summer greens, baked sweet potato fries, kokuho rose brown rice, a poached egg, and dill tahini. For dessert, try the Blueberry Crisp with vanilla gelato or the Hazelnut-Almond Biscotti. These desserts offer a perfect end to a delicious meal with your best friend.
Mercury Jets has immediate access to the largest number of jets on the market, so if you choose to travel to San Francisco tomorrow or next month, we've got you covered.