GET AN INSTANT QUOTE

Scanning our network...
24/7 Customer support
Private jet charter in San Francisco
Mercury Jets is an on demand air charter provider specializing in private jet charter and services in San Francisco. Our team is composed of industry-leading professionals dedicated to providing our customers with the ultimate air charter experience. We are committed to safety, reliability, and white glove customer service. To obtain a charter quote tailored to your specific needs, please fill in the request form or call our agents 24/7 at +1-212-840-8000.
Mercury Jets offers private jet charter services to and from San Francisco, CA. We have access to over 150 private jets available for charter in the area. The most common aircraft types are turboprops including the King Air 200, King Air 350, and Pilatus PC-12, light jets including the Citation V, Learjet 35A, Citation CJ2, midsize jets, large jets including the Gulfstream G-IV-SP, Challenger 604's, and Falcon 2000EX, and ultra-long-range jets including the Gulfstream V, Gulfstream G550, and Global 5000. The airport options include over 10 executive airports within a 50-mile radius of San Francisco International Airport(SFO) – the major aviation entry to San Francisco. The other most common airports are San Jose International Airport(SJC), which is located 31 miles southeast of Downtown San Francisco, and the Metropolitan Oakland International Airport(OAK), which is located 12 miles northeast of Downtown San Francisco. We can also provide you with an Airbus Corporate Jetor a Boeing Business Jet.
San Francisco`s Places to See
San Francisco is one of the country's most cosmopolitan cities, which is packed with great shopping at places like Market Street or Union Square, several performing arts and opera centers, beautiful museums, great restaurants, lively bars and nightclubs, and nice coffee houses. The most famous places of interest are the Aquarium of the Bay, Golden Gate Bridge, Alcatraz Island, Golden Gate Park, San Francisco Museum of Modern Art, California's Great America, Bayview Opera House, Conservatory of Flowers, Boudin at the Wharf, Driven Raceway and Fox Theater.
With a big seaport, San Francisco provides tourists with several waterfront attractions such as dining, shopping, and recreational activities. San Francisco is a perfect place to visit regardless of business or personal affairs. San Francisco's natural beauty, cosmopolitan atmosphere, high quality of life, and reputation for technological and entrepreneurial innovation, make it a popular travel destination for both domestic and international travelers.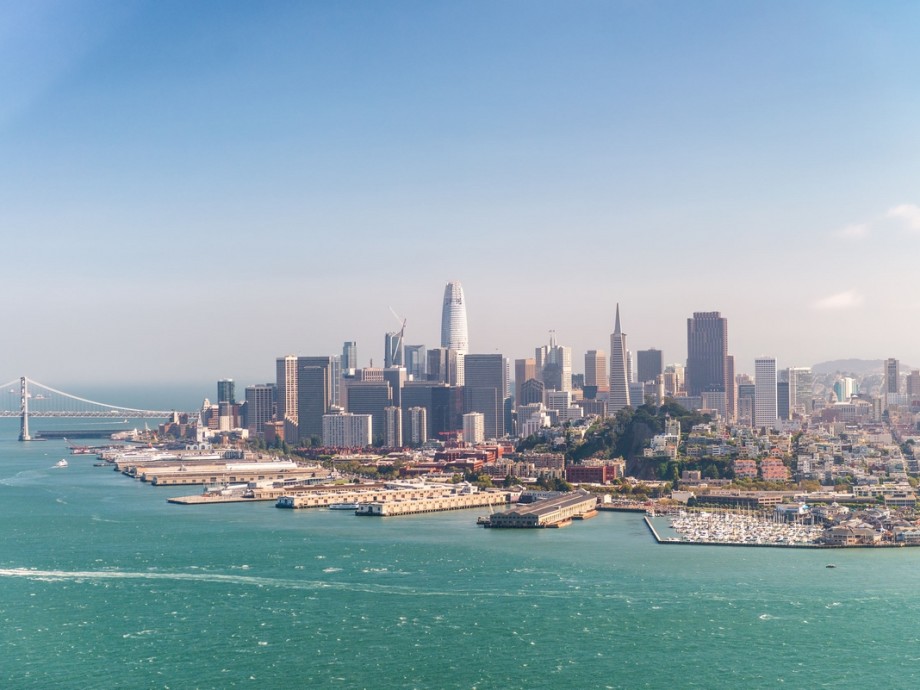 AIRPORTS NEAR SAN FRANCISCO
Napa County, Napa (APC)
Buchanan Fld, Concord (CCR)
Embarkadero, San Franc (EMB)
Half Moon, Half Moon (HAF)
Air Terminal, Hayward (HWD)
Berkeley, Berkeley (JBK)
Hacienda Bus.Park H/P, Pleasanton (JBS)
China Basin Heliport, San Francisco (JCC)
Convention Center H/P, Oakland (JCE)
Heliport, Emeryville (JEM)
Marin County, Sausalito, CA (JMC)
Livermore, Livermore (LVK)
NAS, Alameda (NGZ)
Novato, Novato (NOT)
Moffett Field, Mountain View (NUQ)
Oakland International Airport, Oakland (OAK)
Palo Alto, Palo Alto (PAO)
Reid-hillview, (RHV)
Stockton Metropolitan Airport, Stockton (SCK)
San Francisco International, San Francisco, CA (SFO)
Hotel Nikko San Francisco, 222 Mason Street, San Francisco.
Hotel Palomar San Francisco, 12 Fourth Street, San Francisco.
Mandarin Oriental Hotel, San Francisco, 222 Sansome Street, San Francisco.
Hotel Monaco San Francisco, a Kimpton Hotel, 501 Geary Street, San Francisco.
Serrano, 405 Taylor Street, San Francisco.
Queen Anne Hotel, 1590 Sutter Street, San Francisco.
Hotel Vertigo San Francisco, 940 Sutter Street, San Francisco.
Hotel Whitcomb, 1231 Market Street, San Francisco.
WEATHER FOR SAN FRANCISCO