Private Jet Charter Santiago to Miami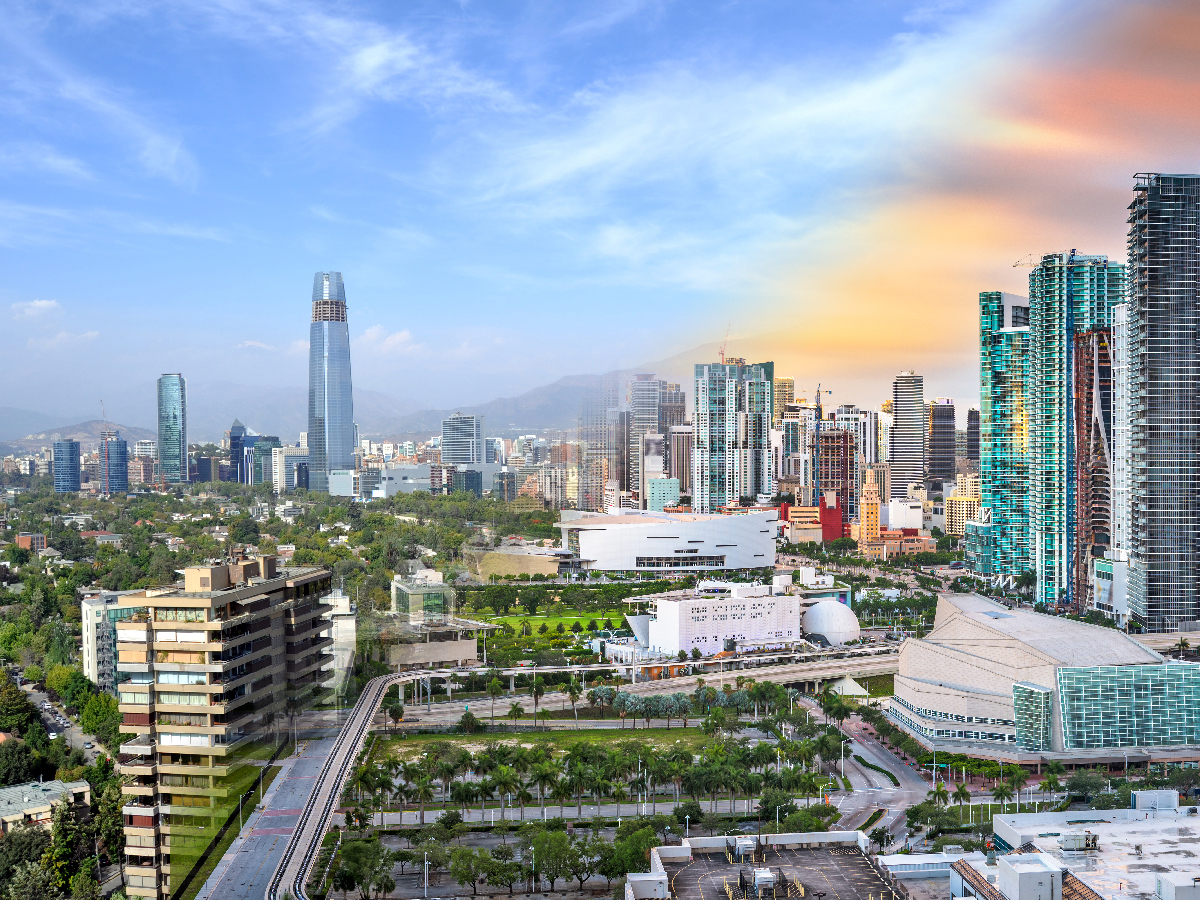 Mercury Jets provides on-demand private jet charters from Santiago to Miami.
Miami is a colorful, vibrant city and the economic and financial center of South Florida. Located just east of Miami on Biscayne Bay, PortMiami is known as the "Cruise Capital of the World." Leisure travelers enjoy the diversity of attractions Miami has to offer for all ages, including its arts culture, Cuban cuisine, lush tropical gardens, and the famous Art Deco architecture of South Beach.
Charter a private jet Santiago to/from Miami
Private Jet Travel to a Miami: The City of Pleasant Living
The Top 15 Attractions in Miami:
Art Deco Historic District
Bayside Marketplace
Everglades National Park
Key Biscayne and Bill Baggs State Park
Jungle Island
Little Havana Food and Walking Tour
Miami Beach
Miami Beach Botanical Garden
Miami Children's Museum
Miami Seaquarium
Phillip and Patricia Frost Museum of Science
South Beach Cultural Food and Walking Tour
Vizcaya Museum & Gardens
Wynwood Walls
Zoo Miami
Three Unique Experiences in Miami
Coral Castle Museum
The Coral Castle Museum is a unique attraction built from the imagination of Edward Leedskalnin between 1923 and 1951 with handmade tools. No one knows how he managed to build the limestone structures because he kept his methods private and wouldn't allow anyone to watch him work. He would only say that he knew the secrets used to build the ancient pyramids, and if he could learn them, you could too. Carved over 28 years, the collection of work at Coral Castle includes a mysterious limestone gate that weighs 9 tons but can be opened with the touch of a finger, a Polaris telescope, and functioning rocking chairs – all made entirely of stone.
Deering Estate at Cutler
Nestled on the Miami coast amidst lush tropical grounds, the 1920s-era Deering Estate at Cutler was built by Charles Deering. The estate preserves an exuberant time in American culture when people defied Prohibition and took part in a new dress and dance style. From Chicago, Deering was an industrialist, conservationist, environmentalist, art collector, philanthropist, and first chairman of the International Harvester Company. The architectural style of Deering's estate is Mediterranean Revival, a style popular with the upper class at the turn of the century because it reflects the grandeur of Spanish Renaissance seaside villas and other styles used in Spanish Colonial, Venetian Gothic, and Italian Renaissance architecture.
The Kampong Plant Collections
This lush tropical oasis of The Kampong Plant Collections on Biscayne Bay in Coconut Grove began as a personal scientific interest of Dr. David Fairchild in botanical species of Southeast Asia, Central, and the South Americas. Still studies today by scientists from around the world, the Kampong Plant Collections include a diverse range of species, including fruits, palms, flowering trees, aroids, and bamboo.
What Airport Should I Use for My Private Charter to Miami?
Airport Distances and Flight Times from Santiago to Miami
Private Jet from Santiago (SCEL) to Miami
Destination Airport
Airport Code
Distance (Nautical Miles)
Miles
Estimated

Flight Time

Heavy
Super Midsize
Miami International Airport
MIA
3,592
4,137
8 hrs

55 min

9 hrs

54 min

Miami-Opa Locka Executive Airport
OPF
3,599
4,144
8 hrs

56 min

9 hrs

54 min

Fort Lauderdale–Hollywood International Airport
FLL
3,608
4,154
8 hrs

57 min

9 hrs

56 min

Fort Lauderdale Executive Airport
FXE
3,615
4,163
8 hrs

58 min

9 hrs

57 min

Pompano Beach Airpark
PMP
3,618
4,166
8 hrs

59 min

9 hrs

57 min
Distances and flight times shown in the charts above should be considered as estimates only. One (1) nautical mile is equal to 1.1508 statute miles.
What Type of Aircraft Should I Use for a Private Charter Flight from Santiago to Miami?
A
private jet from Santiago
and a private jet to Miami, flights typically operate using
heavy or super midsize aircraft
:
Heavy jets such as Gulfstream G450, the Bombardier Global 6000, and the Dassault Falcon 900LX offer a spacious configuration for larger groups and zones for privacy.
Heavy jets have unmatched versatility with the ability to carry up to 19 passengers in comfort. A professional charter coordinator can match the specific purpose of the flight, whether it be for business meetings, privacy, or to maximize the comfort and enjoyment of amenities that come standard with this class of jet.
Gulfstream designed the G450 to fly farther and faster and with more fuel-efficient than its predecessor. Each cabin detail is devoted to providing a highly personalized experience that defines private flying. Entertainment features include two large LCD screens and headphones at each seat integrated with a state-of-the-art cabin entertainment system.
At a cruise speed of 564 miles per hour, the Bombardier Global 6000 is capable of flying high above that of most commercial airliners, with a ceiling of 51,000 feet. The Global 6000 is frequently configured with three seating areas. The placement of windows on the fuselage maximizes natural light in the cabin, greatly enhancing the interior design aesthetics.
The versatile Falcon 900LX can significantly reduce commute time. Because the jet can take off and land on shorter runways than other jets, it can operate out of airports that are closest to the client's departure and arrival points. Additionally, the Falcon 900LX's spacious cabin provides three separate areas for work and relaxation.
The Embraer Lineage 1000E is one of the best options for clients who desire the best versatility and luxury has to offer with dozens of configuration options.
Heavy jet amenities include Wi-Fi, digital entertainment, catering, a full galley, and flight attendant service.
Super Midsize jets such as the Citation X+, Gulfstream G280, and the Hawker 1000 offers passengers a comfortable transcontinental flight to Miami. A spacious cabin design allows passengers more room to move about, relax or work during the flight.
The Citation X+ features a stand-up cabin, luggage space, and ample legroom. The jet can fly passengers from Santiago to Miami at a maximum speed of 700 miles per hour, faster than any other business jet. This jet satisfies the most seasoned private jet charter clients with its perfect mix of speed, utility, and comfort.
The Gulfstream G280 features include a range of 3,600 nautical miles, a cabin pressurized to a lower, more easily breathable altitude. This feature allows passengers to arrive in Miami rested and focused on their stay in South Florida.
The Hawker 1000 is selected for its spacious cabin and extended range capabilities. This jet has a fully accessible baggage compartment behind the lavatory, which in turn doubles the available baggage space from the previous model. It also features a range of more than 3,000 nautical miles, allowing for nonstop flights coast to coast.
Super midsize jets typically include a full galley, catering, and flight attendant service.
Private jet travelers who spend time in Miami enjoy the city's vibrant culture. The city is known for its iconic building styles, including Art Deco, Mediterranean Revival, and Miami Modern. Popular activities in Miami include watching the sunrise on South Beach, taking in the art of the Wynwood Arts District, the Art Deco architecture of Miami Beach, and the ambiance of restaurants that celebrate Miami's cultural influences, especially Cuban cuisine.