7 Heavy Jets for Popular On-Demand Private Jet Charter International Routes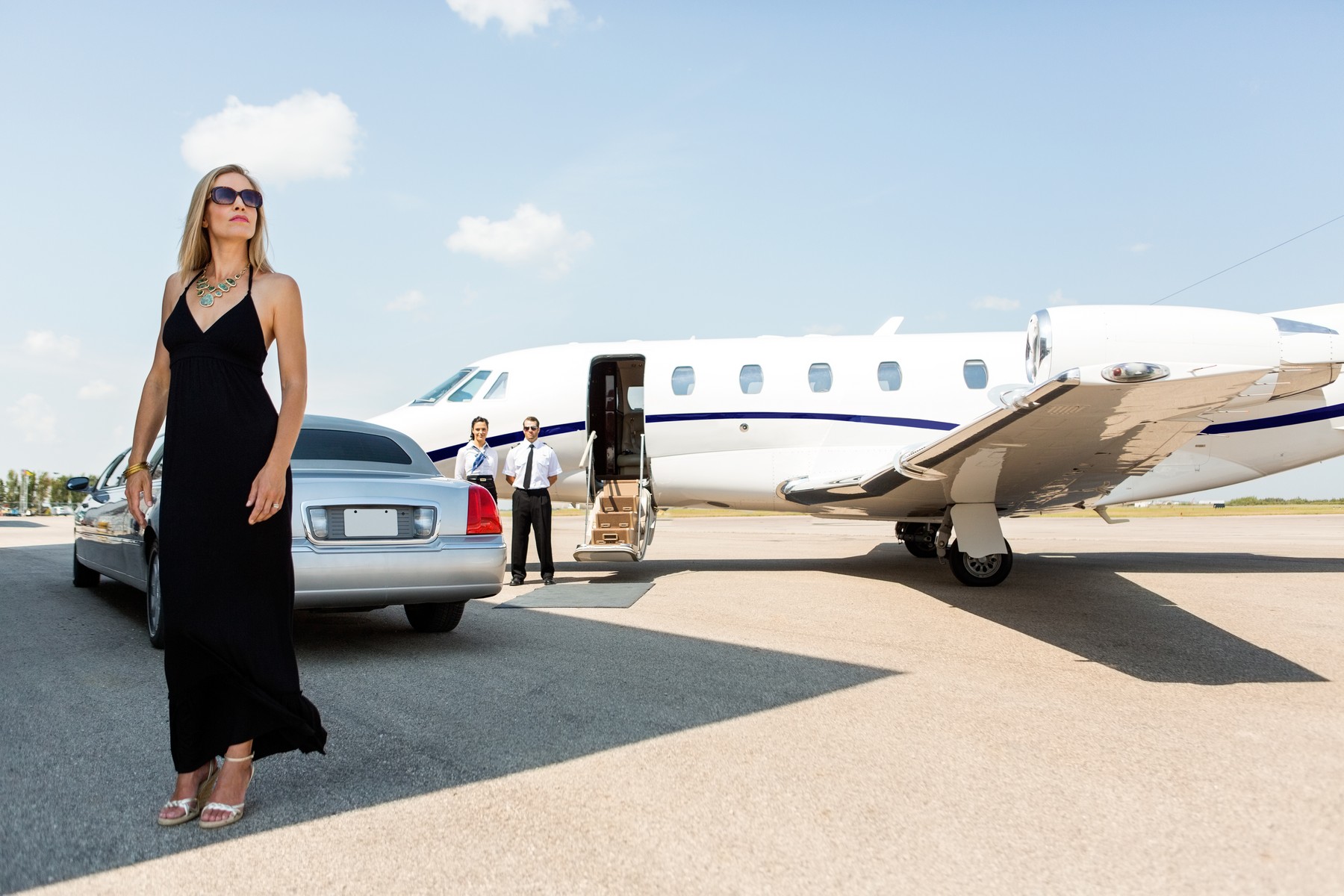 Heavy jets are the preeminent class of private jets, offering the best private aviation has to offer with enhanced performance, versatility, and passenger comfort. Heavy jets are designed by aviation manufacturers to accommodate up to 19 passengers. Cabin space is configured into separate zones to maximize privacy and comfort.
Get an instant quote
Heavy jets can fly long-range routes non-stop, including many transcontinental routes. Heavy jets offer a range of amenities that include a full galley, flight attendant service, and the latest in digital entertainment systems. Here are some popular private jet charter routes matched with some of the fastest, most versatile heavy jets available for your next private charter.
1. New York to London
Distance: 2,999 nautical miles (3,451 miles)
Flight Time: 7 hrs 3 mins

Cessna Citation Hemisphere
Maximum Speed: Mach 0.90
Maximum Range: 4,500 nautical miles
Passengers: Up to 12
Baggage Capacity Volume: 112 cubic meters
Whatever your purpose is for visiting London, Cessna's Citation Hemisphere will deliver on every aspect of performance and utility. Whether your private charter flight requires productive spaces for business meetings or space for relaxation, the Citation Hemisphere has a three-zone cabin configuration that provides the most generous space in its class.
The Citation Hemisphere cabin is designed for passenger comfort with oversized seating and large windows that let natural light into the cabin while offering spectacular views from 35,000 feet. Charter clients can select from six interior cabin design options. Cessna's designs are inspired by the Old World with earthy organic textures and inviting warm or cool color palettes. The Citation Hemisphere will provide you with a superior private flight experience from New York to London.
2. New York to Paris
Distance: 3,158 nautical miles (3,635 miles)
Flight Time: 7 hr 22 mins
Embraer Lineage 1000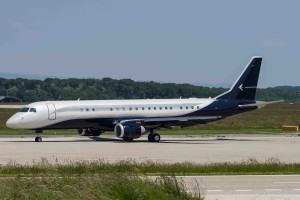 Maximum Speed: Mach 0.82
Range: 4,600 nautical miles
Passengers: up to 19
Baggage Capacity: 127 cu ft
Your private charter flight to Paris will be an unforgettable experience in the Embraer Lineage 1000. This heavy jet can accommodate up to 19 passengers in a cabin that can be configured to suit the requirements of any charter.
Embraer's efficient design divides the cabin space into five sections with an optional bedroom. The jet has ample baggage capacity and a walk-in cargo area, so all passengers can rest assured they will have everything they need for their stay in the City of Lights. The jet's enhanced performance features extend to the cabin with an enhanced noise reduction system that allows pilots to monitor and control noise, enhancing passenger comfort.
3. New York to Amsterdam
Distance: 3,166 nautical miles (3,644 miles)
Flight Time: 7 hrs 33 mins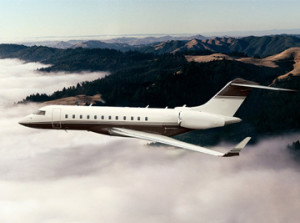 Bombardier Global 6000 Jet
Maximum Speed: 478 knots
Maximum Range: 3,500 nautical miles
Passengers: up to 12
Baggage Capacity: 112 cubic ft
With a cruise speed of 564 miles per hour, the Bombardier Global 6000 can fly at a maximum ceiling of 51,000 feet, higher than the altitude flown by most commercial airliners. The Global 6000 is most often configured with three seating areas, each with three windows. Large windows are also used between the forward and mid-cabin seating sections and the aft lavatory.
Bombardier's use of windows throughout the cabin allows natural light in, greatly enhancing the passenger experience. Bombardier's overall design enhancements create a unique private charter experience from hardwood flooring in the galley to seats designed to naturally fit the shape of the human body with higher armrests. Private charter clients also enjoy the Global 6000's state-of-the-art cabin management system with wireless access to a large media bay for watching presentations, live streaming video or displaying documents onto the largest high definition TV monitors available in its class.
The Global 6000's design aesthetics will provide you with an unforgettable private flying experience from New York to Amsterdam.
4. Miami to Madrid
Distance: 3,844 nautical miles (4,424 miles)
Flight Time: 8 hrs 53 mins
Falcon 900 LX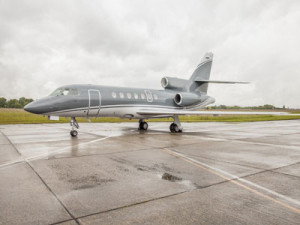 Maximum Speed: 0.84 Mach
Range: 4,750 nautical miles
Passengers: up to 12
Baggage Capacity: 1,264 cu ft
Business executives frequently request this private jet charter route for travel from Miami to Madrid. The versatile Falcon 900LX can take off and land on shorter runways than other jets. This allows clients to significantly reduce their commute time by operating out of smaller regional airports that are closest to their departure or arrival points.
The Falcon 900LX's spacious cabin provides three separate areas for work and relaxation and can accommodate up to 19 passengers in a compact configuration or up to 8 passengers in a very comfortable setting. Whether you need to review presentations or relax and enjoy a movie during your private charter flight to Madrid, the Falcon 900 LX features a wide range of digital entertainment options to suit your needs.
This jet indeed satisfies the most seasoned private jet charter clients with its perfect mix of speed, utility, and comfort.
5. Los Angeles to Hong Kong
Distance: 6,294 nautical miles (7,243 miles)
Flight Time: 11 hrs 21 mins
Gulfstream G650


Maximum Speed: 0.925 Mach
Maximum Range: 8,053 nautical miles
Passengers: up to 19
Baggage Capacity: 195 cu ft
Gulfstream's G650, the fastest jet in Gulfstream's fleet, can travel at 92% of the speed of sound. Combined with a remarkable range of more than 7,000 miles, this jet offers the ultimate transcontinental private charter experience.
The G650's cabin can be configured to accommodate up to 19 passengers and has sleeping accommodations for up to 10 for a comfortable, smooth flight from Los Angeles to Hong Kong. The G650 has sixteen panoramic windows that allow sunlight in the cabin. The G650 is a favorite amongst private charter clients traveling to Hong Kong who value performance and maximization of usable cabin space in a well-appointed cabin.
6. Los Angeles to Tokyo (LOS – RJTT)
Distance: 4,737 nautical miles (5,451 miles)
Flight Time: 13 hrs 22 mins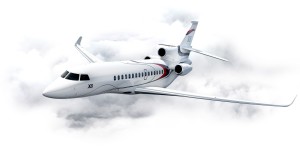 Dassault Falcon 8x
Maximum Speed: Mach 0.80
Maximum Range: 6,450 nautical miles
Passengers: up to 8
Baggage Capacity:  1,695 cu ft
The Dassault 8x offers the longest range in the Falcon family and is one of the fastest and most requested jets in its class for private charter clients flying from Los Angeles to Tokyo.
The Dassault 8x includes more than 30 layouts designed to accommodate the most exacting charter requirements, including a forward cabin configuration; a four place double club; a mid-cabin configuration; and a four place conference group, opposite a credenza; and an aft cabin configuration with a three-place divan opposite three-place divan. Noise and cabin altitude are low. Air quality is high. And connectivity is complete in this Wi-Fi environment, which is equipped with our latest FalconCabin HD+ cabin management system. Thanks to the overall design enhancements, the Falcon 8x is as fuel efficient as its predecessor.
7. Miami to Rio de Janeiro
Distance: 3,617 nautical miles (4,162 miles)
Flight Time: 6 hrs 44 mins
Gulfstream G450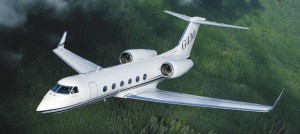 Maximum Speed: 0.88 Mach
Maximum Range: 4,350 nautical miles
Passengers: up to 19
Baggage Capacity: 130 cu ft
Your private charter from Miami to Rio de Janeiro will be a smooth, productive flight in the G450, a jet that has earned a loyal following for its reliability, speed, and versatility making it one of the best-selling business jets of all time. The Gulfstream G450 can carry up to 19 passengers comfortably in its spacious, luxurious cabin, equipped with three distinct living areas.
Gulfstream designed the G450 with enhanced performance capabilities; flying farther and faster and more fuel-efficient than its predecessors. In the cabin, every detail is devoted to providing a highly personalized private flying experience with the best in interior design. The G450 represents the speed, versatility, and enhanced cabin amenities that define the best in private flying. Entertainment features include CD/DVD/VHS players connected to two large LCD screens and headphones at each seat integrated with the state-of-the-art cabin entertainment system.
Charter a Heavy Jet with On-Demand Service Provided by Mercury Jets
Mercury Jets' on-demand client-focused charter coordinators can assist you in choosing the right jet for your destination. To book a flight, call +1-212-840-8000 for our charter department. Mercury Jets offers an instant quote request. Submit your request here to price out your flight immediately.