Charter a Falcon 900LX Private Jet
Get an Instant Falcon 900LX Charter Cost Estimate
Private Jets Type:
Long Range Jet
Estimated Price Per Hour:
$7,250
Falcon 900LX Private Charter Flights
Dassault Aviation's Falcon 900 is a French-built corporate jet aircraft. The 900 is an evolution of the Falcon 50, which is an evolution of the older Falcon 20. Falcon 900LX is the most recent model of the Falcon 900, and like prior 900 versions, the LX provides operators with great flexibility in load-carrying capacity, range, and short-field capabilities. The aircraft's maximum range is increased to 4,750 NM in part due to its "High-Mach" blended winglets, allowing it to cover practically any continent or ocean. Falcon 900LX private jet charter is a high-performance, comfortable, and reliable business jet, ideal for long-range travel and executive transport.
Falcon 900LX Price Rental
The average cost to charter Falcon 900LX is around $7,250 per hour.
For charter rates and availability of Falcon 900LX, please submit the flight request form, or call our agents 24/7 at +1 (212) 840 8000.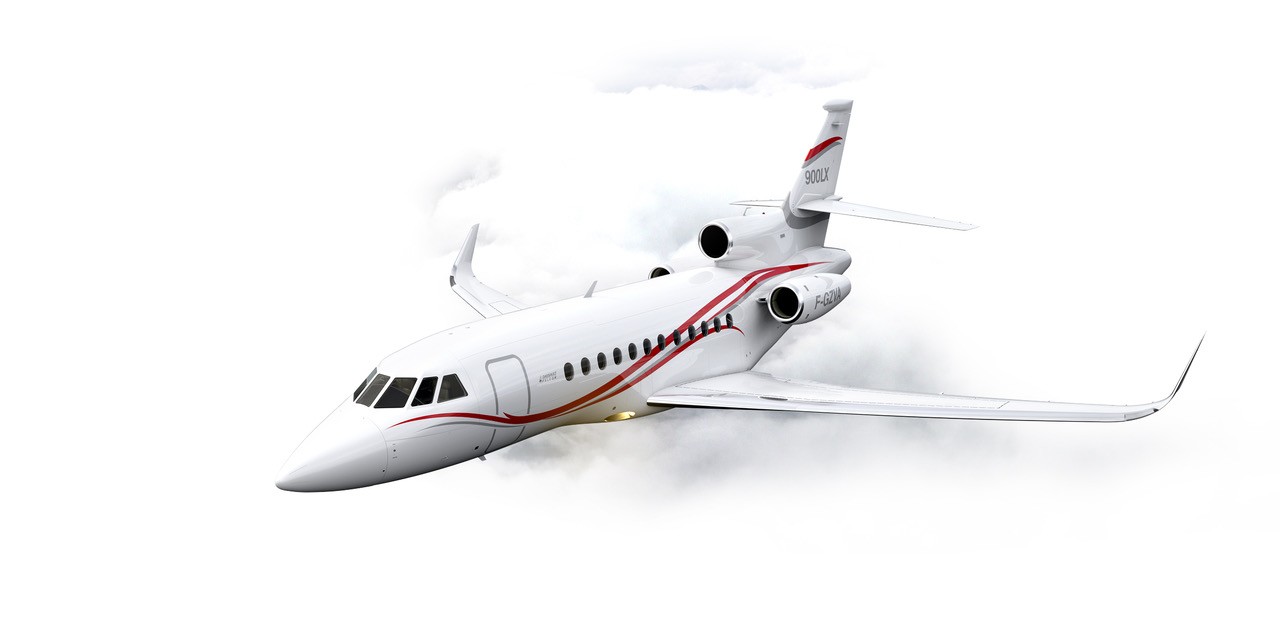 Overview Falcon 900LX
Falcon 900LX is a luxurious, long-range business jet manufactured by Dassault Aviation, a French aerospace company. It is an improved version of Falcon 900EX, with increased range, improved fuel efficiency, and reduced emissions. Dassault Falcon 900LX can fly at altitudes of up to 51,000 feet. Furthermore, it has an hourly fuel burn of 260 Gallons per Hour (GPH).
Falcon 900LX private jet charter boasts a total thrust output of 15,000 lbs due to its Honeywell TFE731-60 engines. In terms of avionics, the aircraft is equipped with the EASy II flight deck, which includes a four-display Honeywell Primus Epic avionics suite, featuring synthetic vision, enhanced ground proximity warning, and satellite-based navigation. Falcon 900LX also has a range of safety features, including automatic descent mode, electronic flight bag, and runway overrun prevention system.
General Performance
| | |
| --- | --- |
| Luggage Capacity | 127 ft³ |
| Cruise Speed | 479 KTAS |
| Certified Ceiling | 51000 ft |
| Takeoff Distance | 5,360 ft |
| Landing Distance | 2,415 ft |
| Max Takeoff Weight | 48301 lbs |
| Max Landing Weight | 41998 lbs |
Cabin Size
| | |
| --- | --- |
| Length | 33 ft 2 in |
| Width | 6 ft 2 in |
| Height | 7 ft 8 in |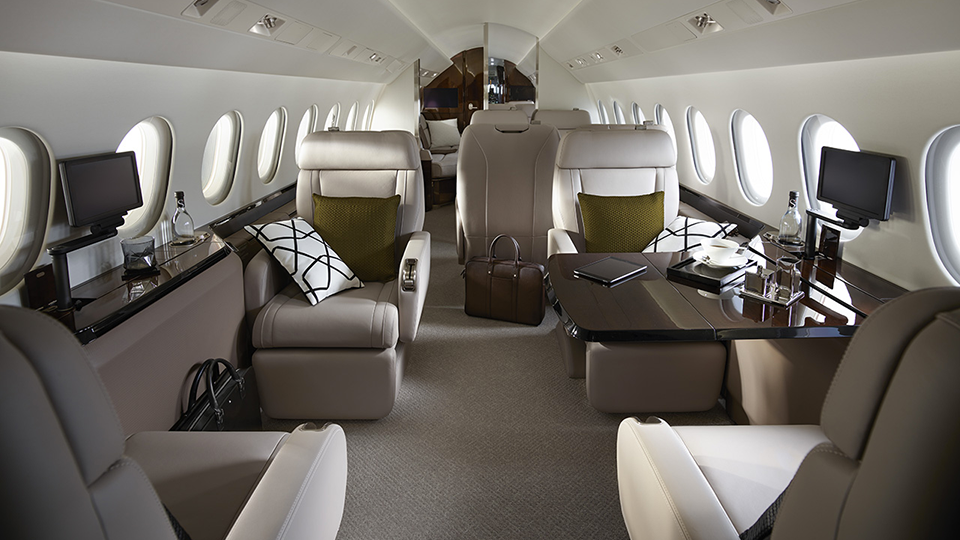 Falcon 900LX Interior
The cabin of the Falcon 900LX private jet charter is spacious and comfortable, with a length of 33 feet, 2 inches, a width of 7 feet, 8 inches, and a height of 6 feet, 2 inches. It can accommodate up to 14 passengers in a standard configuration, with a variety of seating options available, including club seating, a divan, and fully flat beds. The cabin also features a galley, a lavatory, and a baggage compartment with a capacity of 127 cubic feet.
What is the flight range of Falcon 900LX?
Falcon 900LX has a range of, 4750 nm, which allows you to travel really far. A Falcon 900LX charter might, for example, fly from New York to London or from San Antonio to Madrid.
How many hours can a Falcon 900LX fly?
On average, a Falcon 900LX charter journey lasts 8–9 hours. This could alter based on the flight conditions.
How long of a runway does a Falcon 900LX need?
The runway for Falcon 900LX private jet charter is about 5,360 ft for takeoff and 2,415 ft for landing.
Similar Private Jets to Falcon 900LX