7 Lights Jets for Popular On-Demand Private Jet Charter Routes

Aviation manufacturers designed lights jets for speed, economy and passenger comfort. These enhancements provide improved fuel economy and access to smaller regional airport runways, taking passengers closer to their final destination, thus reducing commute time.
The performance of light jets is frequently regarded as the most agile and efficient way to travel on private air charters.These jets offer a range of amenities that rival their counterparts in the midsize range by delivering value through lower operating costs. Here are some popular private jet charter routes matched with some of the fastest, most versatile light jets available for your next charter.
1. New York to Chicago (JFK – ORD)
Distance: 641 nautical miles (738 miles)
Flight Time: 2 hrs. 12 mins.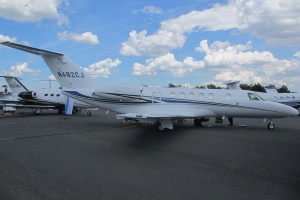 Cessna Citation CJ4
Maximum Speed: 451 knots
Maximum Range: 2,165 nautical miles
Passengers: Up to 10
Baggage Capacity Volume: 77 cu ft.
An on-demand private jet charter from New York to the city of Chicago in the heart of the Midwest is a popular route served by light jets. One of the world's leading global financial centers, Chicago is one of the most popular destinations for business executives. Leisure travelers enjoy exploring this city famous for its food and arts and culture scene. Whatever your purpose is for visiting the Windy City, the Citation CJ4 delivers on every aspect.
A serious contender in the light jet class, the Citation CJ4 is a triple threat with simplicity, economy and performance. The seating has deep-cushioned, oversized leather seats. The jet's full-length dropped aisle gives the cabin a roomier feel. Passengers enjoy Cessna's proprietary Venue HD integrated cabin management system includes high-definition digital video and audio options. Whatever the purpose of your travel, this jet's versatility will not disappoint.
2. Pittsburgh to New York (PIT – EWR)
Distance: 277 nautical miles (318 miles)
Flight Time: 1 hr 22 mins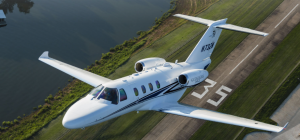 Cessna Citation M2
Maximum Speed: 404 knots
Maximum Range: 1,550 nautical miles
Passengers: up to 7
Baggage Capacity: 46 cu ft.
This private jet charter route is frequently requested by business executives who need to maximize their travel time from Pittsburgh to New York and leisure travelers answering the call of the world's most iconic city, electrified with the sights and sounds of life in motion. The Citation M2 delivers clients fast and efficient performance with a cabin featuring the latest in technology. The M2's signature is a combination of elegant design and efficiency. This entry level member of the Cessna fleet is a favorite go-to private jet for private jet charters due to its agile performance, including an extended range and the ability to take off and land on shorter runways which means you'll spend less time commuting to your destination. The M2's cabin design features a club configuration with fully tracking swing-out seats, a side-facing seat and executive tables that stow neatly. Eight large windows allow natural light to illuminate the cabin for reading in natural light and not to mention, a beautiful view at 40,000 feet.
3. Houston to New York (HOU – JFK)
Distance: 1,239 miles (1,427 miles)
Flight Time: 2 hrs 58 mins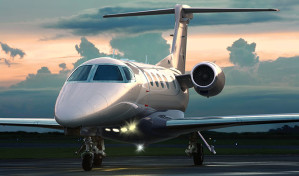 Embraer Phenom 300E
Maximum Speed: 418 knots
Maximum Range: 1,971 nautical miles
Passengers: up to 10
Baggage Capacity: 84 cu ft.
A best-selling business jet for several years in a row, Brazilian aerospace manufacturer Embraer's popular Phenom 300E builds on the design of its highly successful Phenom 300, featuring a cabin that has room for up to ten passengers. Highly intuitive interior design features include oversized windows for plenty of natural light. Cleverly designed storage drawers in the cabin neatly stow items so passengers can easily access them during flight. The airplane's full-size seats feature enhanced cushioning and custom sew styles that enhance the cabin's exceptional comfort and sophisticated design. The Phenom 300E features one of the largest baggage compartments in its class, so you can rest assured that you will have everything you need for your trip. Whether for business or pleasure, your private charter flight from Houston to the Big Apple will be a satisfying experience.
4. New York to Boston (EWR – BOS)
Distance: 174 nautical miles (200 miles)
Flight Time: 44 mins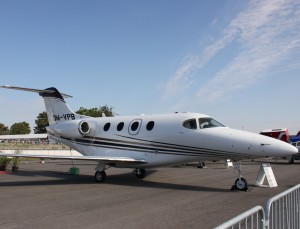 Hawker Beechcraft Premiere 1
Maximum Speed: 451 knots
Range: 1,350 miles
Passengers: up to 7
Baggage Capacity: 77 cu ft.
Business executives frequently request this private jet charter route for traveling to Boston. This bustling East Coast city is regarded by many Americans as the unofficial Capital of New England. For leisure travelers, Boston is a city chock full of history, fully accessible by strolling along the historic Freedom Trail.
At a maximum operating altitude of 41,000 feet, the Premier 1A is capable of flying well above inclement weather at lower altitudes. The jet's fast climb rate allows it to reach an optimal cruising altitude quickly for a smooth flight to Boston. The Premiere 1's cabin is one of the largest in its class. Seats include contoured headroom for premium passenger comfort and fold-out tables on both sides of the aircraft and efficient LED lighting for utility. Whether you need to review presentations or watch your favorite movie, the Premiere 1 features digital entertainment options to suit your needs. This jet truly satisfies the most seasoned private jet charter clients with its perfect mix of speed, utility and comfort.
5. Los Angeles to Las Vegas (VNY – LAS)
Distance: 199 nautical miles (229 miles)
Flight Time: 51 mins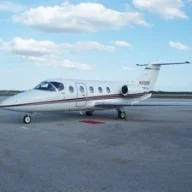 Hawker 400XP
Maximum Speed: 451 knots
Maximum Range: 1,333 nautical miles
Passengers: up to 8
Baggage Capacity: 53 cu ft.
The private air charter route will take you from Los Angeles directly to a desert oasis of thriving domestic and international businesses. If your travel purpose is leisure, Las Vegas is one of the most renowned tourist spots in the U.S. for fine dining, nightlife and world-class entertainment. Built by Raytheon's Beechjet Aircraft Corporation, the Hawker 400XP is considered one of the fastest light jets available and a favorite amongst private charter clients traveling to Las Vegas who value performance and maximization of usable cabin space in a well-appointed cabin.
6. Seattle to San Diego (SEA – SAN)
Distance: 914 nautical miles (1,051 miles)
Flight Time: 2 hrs.16 mins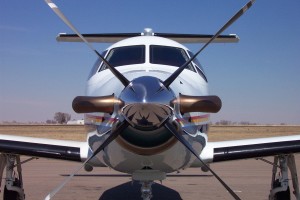 Pilatus PC24
Maximum Speed: 313 knots
Range: 1,742 miles
Passengers: up to 9
Baggage Capacity: 77 cu ft.
San Diego's southern location on the Pacific Coast is ideal for private jet charter clients traveling from Seattle for business or leisure travelers seeking the warm welcome of California sunshine. San Diego has some of the best beaches and bays on the West Coast of the U.S. Visitors who prefer solitude hike at famous Torrey Pines State Reserve to see awe-inspiring unobstructed views of the Pacific Ocean. The Pilatus PC24 was designed to take passengers to their favorite destinations in style by Swiss aircraft manufacturer Pilatus. The jet's design was inspired by the versatile, powerful and extraordinary nature of a Swiss mountain crystal. The refined cabin design enhances the passenger experience with the use of supple leathers and hardwood cabinetry. The PC24 offers the spaciousness of a midsize jet and lower operating costs that make light jets an increasingly more practical option for a new generation of travelers.
7. Austin to Houston (AUS – HOU)
Distance: 129 nautical miles (148 miles)
Flight Time: 38 mins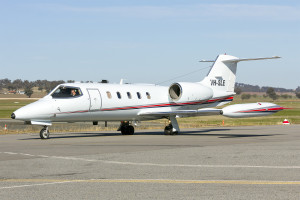 Learjet 70
Maximum Speed: 464 knots
Maximum Range: 2,000 nautical miles
Passengers: up to 8
Baggage Capacity: 40 ft.
Your private charter flight between Austin and Houston will be a smooth, productive flight in the jet with a legacy as big as the State of Texas. The Learjet 70 ranks among one of the most trusted light jets amongst business charterers. Designed by Canadian aircraft manufacturer Bombardier Aerospace, the Learjet 70's performance boasts "power with purpose." The jet is fast, fuel-efficient and offers the longest seated length in its class. Thoughtfully executed design details, such as storage compartments, allows passengers to stow and access items during flight easily. Industry-leading technology features in the cabin include integrated sidewall speakers and ergonomic pop-up touch screens that simplify access to technology.
Charter a Light Jet with On-Demand Service Provided by Mercury Jets
Mercury Jets' on-demand client-focused charter coordinators can assist you in choosing the right jet for your destination. To book a flight, call +1-212-840-8000  for our charter department.Mercury Jets offers an instant quote request. Submit your request here to price out your flight immediately.

Excellent 5.0 out of 5