Charter a Diamond D-Jet Private Jet
Get an Instant Diamond D-Jet Charter Cost Estimate
Private Jets Type:
Light Jet
Estimated Price Per Hour:
$2,000
Diamond D-Jet Private Charter Flights
The Diamond D-Jet is a single-engine, very light jet with excellent flight characteristics of the administrative type from the Austrian aircraft company Diamond Aircraft Industries. Chartering a Diamond D-Jet allows flying long distances with a maximum speed of 315 kts. Moreover, it is a striking representative of business jets with light composite construction and one of the best safety features.
Diamond D-Jet Price Rental
The average cost to charter a Diamond D-Jet is around $2,000 per hour.
For charter rates and availability of the Diamond D-Jet, please submit the flight request form, or call our agents 24/7 at +1 (212) 840 8000.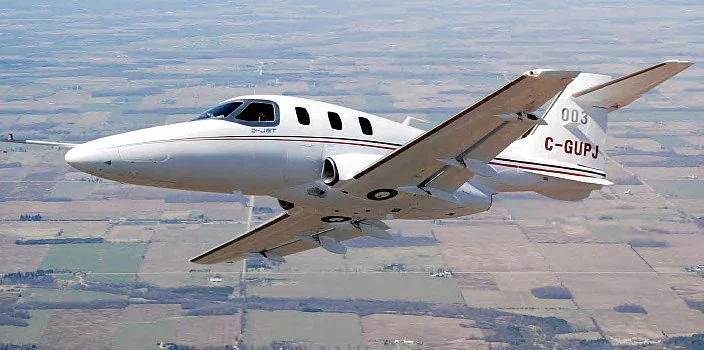 Overview Diamond D-Jet
The Diamond D-Jet sets a high standard by conforming to international aviation regulations and requirements. It is equipped with a powerful and reliable Williams FJ33-4A-19 turbofan engine, known for its exceptional performance and efficiency. This engine ensures optimal thrust and fuel efficiency, improving the aircraft's overall performance and range capabilities.
The cockpit of the Diamond D-Jet features a modern three-panel glass display, providing pilots with comprehensive and intuitive flight instrumentation. This advanced glass cockpit enhances situational awareness and facilitates precise navigation and flight control. Additionally, the aircraft incorporates a sophisticated automatic flight control system, further enhancing flight management and safety.
To ensure redundancy and reliability, the Diamond D-Jet utilizes four power sources. This multi-source power system provides backup and backup power options, ensuring the aircraft's electrical systems remain operational despite a failure or emergency. The model has a certified global positioning system (GPS), enabling accurate navigation and precise position tracking. This GPS capability enhances flight planning, route optimization, and overall navigation efficiency.
Furthermore, the Diamond D-Jet features a dual set of communications for weather data, enabling pilots to stay informed about real-time weather conditions. This weather data communication system assists in making informed decisions during flight, ensuring the safety and comfort of passengers.
General Performance
| | |
| --- | --- |
| Luggage Capacity | 40 cu.ft |
| Cruise Speed | 315 ktas |
| Certified Ceiling | 25000 ft |
| Takeoff Distance | 2,897 ft |
| Landing Distance | 2,556 ft |
| Max Takeoff Weight | 5115 lb |
| Max Landing Weight | – |
Cabin Size
| | |
| --- | --- |
| Length | 11.6 ft |
| Width | 4.8 ft |
| Height | 4.8 ft |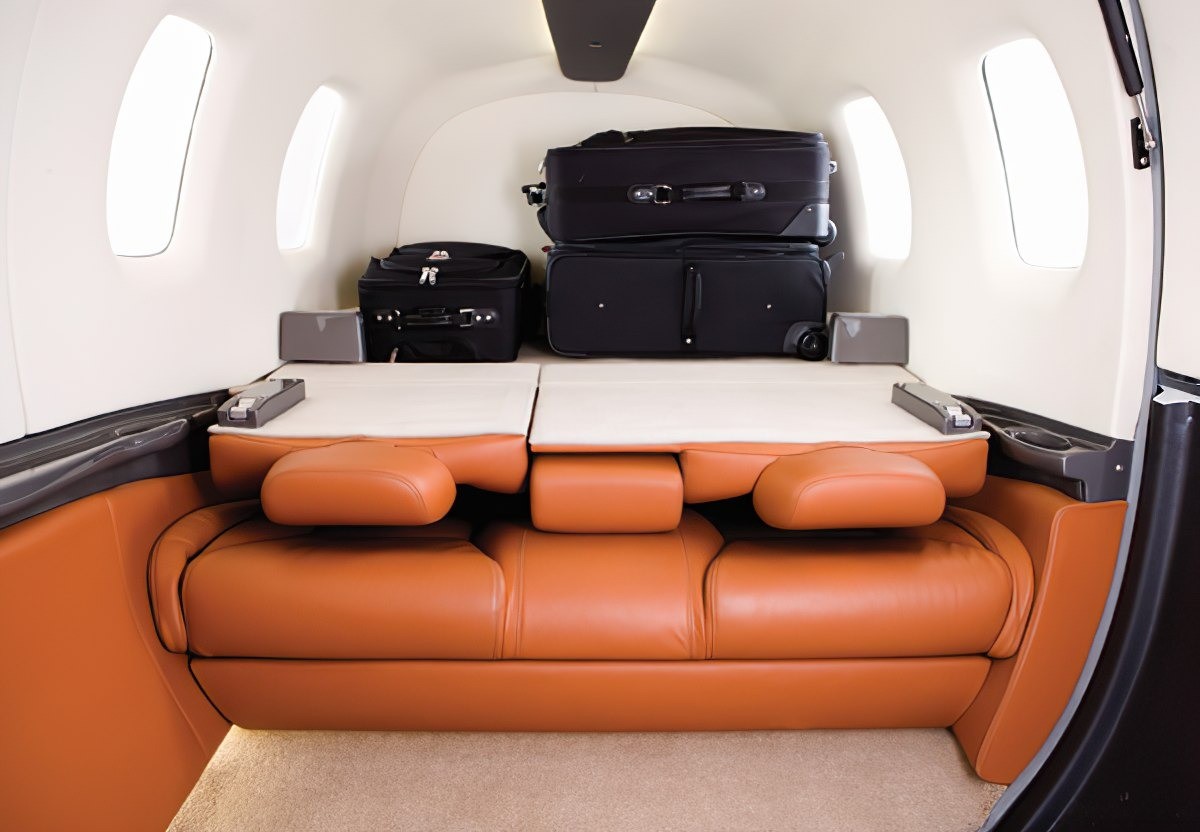 Diamond D-Jet Interior
The Diamond D-Jet offers a luxurious and comfortable experience with its three spacious leather seats, each equipped with armrests for added comfort. The cabin is thoughtfully designed to provide both work and rest areas, catering to the diverse needs of passengers. Whether conducting business or seeking relaxation, the Diamond D-Jet ensures a versatile and enjoyable travel experience.
Thanks to the onboard internet and communication systems, passengers can stay connected and productive throughout the journey. These advanced systems enable seamless connectivity, allowing passengers to access emails, browse the web, or engage in virtual meetings while in the air. Effective communication channels ensure uninterrupted connectivity with the outside world.
The versatility of the Diamond D-Jet makes it ideally suited for flights within the United States or Europe. Its efficient performance and range of capabilities offer flexibility in reaching various destinations within these regions. The Diamond D-Jet provides reliable and comfortable transportation for business or leisure purposes.
Safety is a top priority in the Diamond D-Jet, equipped with passive and active safety systems. These systems are designed to enhance passenger comfort and instill confidence during the flight. The Diamond D-Jet ensures a secure and worry-free travel experience, from advanced avionics to state-of-the-art safety features.
What is the flight range of a Diamond D-Jet?
Diamond D-Jet charter provides 1,553 nm of uninterrupted flight.
How many hours can a Diamond D-Jet fly?
A Diamond D-Jet private jet charter can transport you nonstop for around 2 hours.
How long of a runway does a Diamond D-Jet need?
Diamond D-Jet private jet charter requires a runway length of approximately 2,897 feet for takeoff and 2,556 feet for landing.
Similar Private Jets to Diamond D-Jet