Charter a Vision Jet Private Jet
Get an Instant Vision Jet Charter Cost Estimate
Private Jets Type:
Light Jet
Estimated Price Per Hour:
$2,300
Vision Jet Private Charter Flights
The Vision Jet is regarded as the world's smallest private jet and a revolution in the business aviation market. It is the world's first single-engine business jet from Cirrus Aircraft and the first very light aircraft with a parachute rescue system. In addition, this model does not require a professional pilot and is equipped to be operated by the owner.
Vision Jet Price Rental
The average cost to charter a Vision Jet is around $2,300 per hour.
For charter rates and availability of the Vision Jet, please submit the flight request form, or call our agents 24/7 at +1 (212) 840 8000.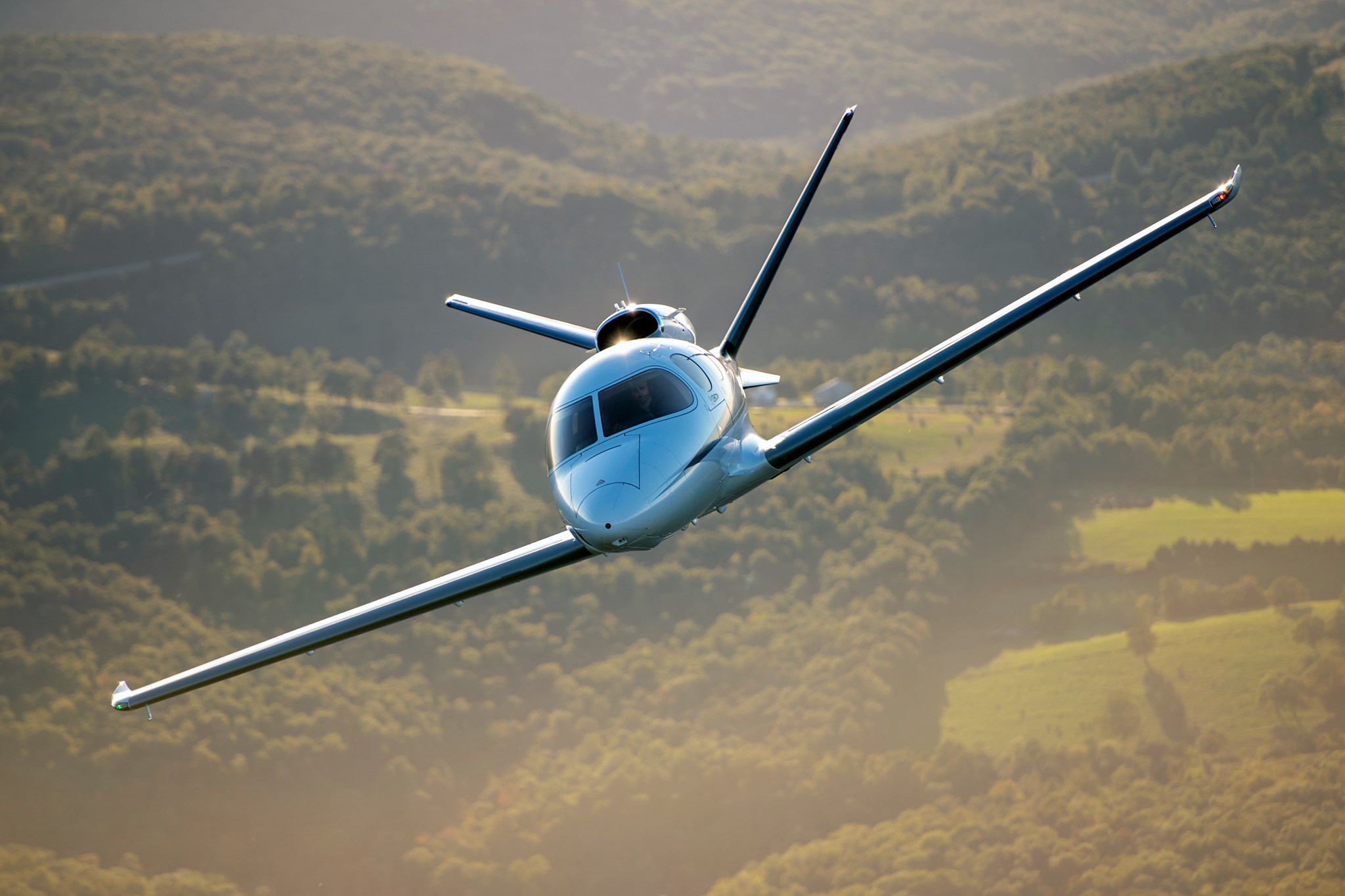 Overview Vision Jet
The Vision Jet stands out with its remarkable design features, incorporating advanced technologies and safety systems to ensure an exceptional flight experience. One prominent feature is its distinctive V-shaped tail section, meticulously engineered to enhance stability and control during all phases of flight. This unique design element contributes to the aircraft's exceptional maneuverability and provides passengers with a smooth and comfortable journey.
In addition to its innovative tail section, the Vision Jet boasts a lightweight and durable carbon fiber fuselage. This cutting-edge construction material offers superior strength while reducing weight, resulting in improved fuel efficiency and performance. Complementing the fuselage are panoramic windows that envelop the cabin, providing passengers with breathtaking views and an immersive flying experience.
To further enhance safety and security, the Vision Jet is equipped with an electronic stabilization and protection system. This advanced system utilizes sophisticated sensors and algorithms to assist pilots in maintaining stable flight parameters and protects against potential deviations. It serves as an additional layer of safety, ensuring a smooth and controlled flight experience.
In situations where emergencies may arise, the Vision Jet incorporates the Cirrus Airframe Parachute System (CAPS) and Safe Return capabilities. The CAPS offers an invaluable layer of protection by providing the aircraft with a parachute deployment system, allowing for a controlled descent and soft landing in unforeseen circumstances. Additionally, the Safe Return feature assists pilots in automatically guiding the aircraft to the nearest suitable airport, providing an added level of reassurance and emergency preparedness.
General Performance
| | |
| --- | --- |
| Luggage Capacity | 50 cu.ft |
| Cruise Speed | 311 ktas |
| Certified Ceiling | 31000 ft |
| Takeoff Distance | 2,036 ft |
| Landing Distance | 1,628 ft |
| Max Takeoff Weight | 6000 lbs |
| Max Landing Weight | 5550 lbs |
Cabin Size
| | |
| --- | --- |
| Length | 11.5 ft |
| Width | 5.12 ft |
| Height | 4.08 ft |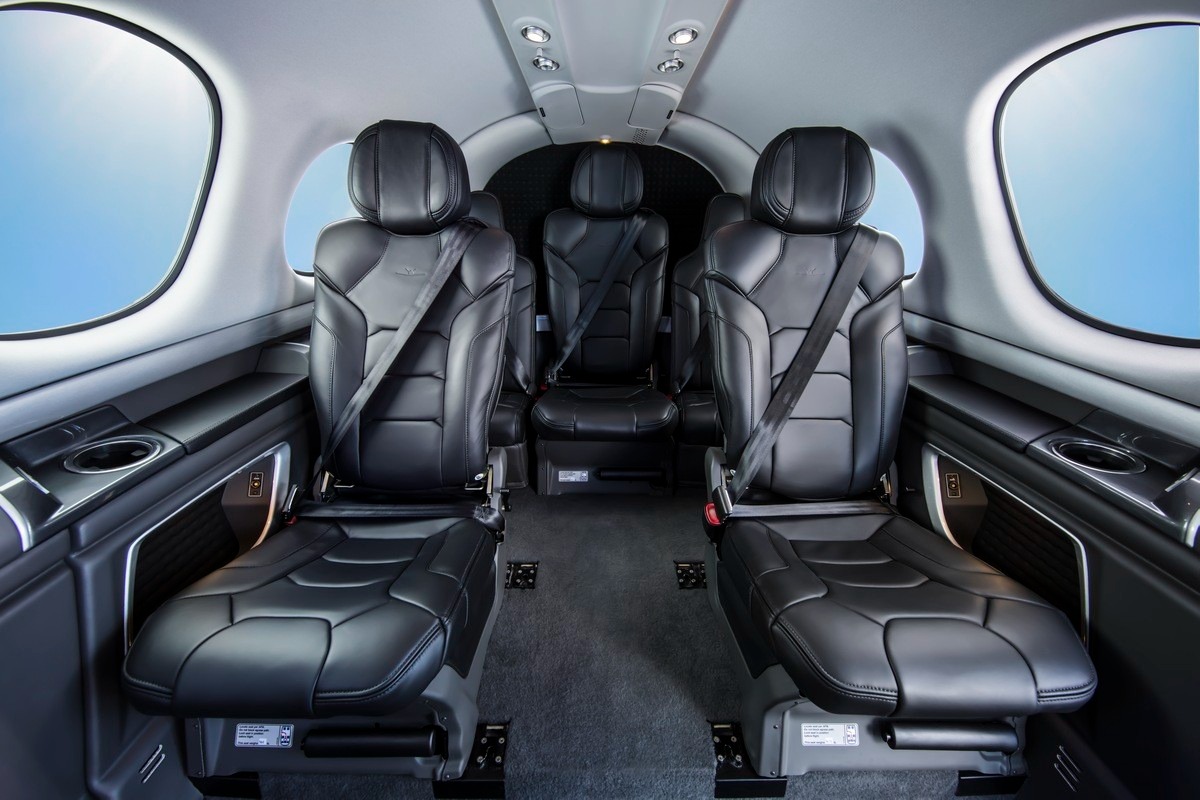 Vision Jet Interior
Passengers chartering a Vision Jet are treated to an exceptional level of comfort and luxury within its exquisitely designed cabin. Every detail has been thoughtfully considered ensuring an unparalleled experience.
The cabin of the Vision Jet is adorned with plush leather seats that not only provide an opulent aesthetic, but also offer unparalleled comfort. These seats are equipped with armrests, adding an extra layer of relaxation and support for passengers throughout the flight. Whether it's for business or leisure, these premium seats create an inviting and comfortable environment for passengers to enjoy their journey.
To enhance the in-flight entertainment experience, the cabin is equipped with a state-of-the-art monitor. This high-resolution display allows passengers to access a variety of content, from flight information to a selection of films, ensuring that there is always something to captivate and entertain. Whether passengers want to stay informed about the flight progress or simply enjoy their favorite movies, the monitor adds an element of convenience and enjoyment to the overall travel experience.
Moreover, the Vision Jet goes above and beyond to provide additional amenities and features that contribute to the overall comfort and satisfaction of passengers. From ample storage space for personal belongings to carefully curated lighting that creates a serene ambiance, every aspect of the cabin has been designed with passenger comfort in mind.
What is the flight range of a Vision Jet?
Vision Jet charter provides 1,200 nm of uninterrupted flight.
How many hours can a Vision Jet fly?
A Vision Jet private jet charter can transport you nonstop for around 8 hours.
How long of a runway does a Vision Jet need?
Vision Jet private jet charter requires a runway length of approximately 2,036 feet for takeoff and 1,628 feet for landing.
Similar Private Jets to Vision Jet