Charter a Phenom 100E Private Jet
Get an Instant Phenom 100E Charter Cost Estimate
Private Jets Type:
Light Jet
Estimated Price Per Hour:
$2,860
Phenom 100E Private Charter Flights
Phenom 100E is a relatively light business jet with comfortable seating for up to six people. It is made by the Brazilian aerospace corporation Embraer, which is located in Sao Paulo State and is a six-time winner of Robb Report's Best of the Best award in its segment. Phenom 100E private jet charter is a popular choice among owner-operators, corporate flight departments, and business travelers.
Phenom 100E Price Rental
The average cost to charter Phenom 100E is around $2,860 per hour.
For charter rates and availability of Phenom 100E, please submit the flight request form, or call our agents 24/7 at +1 (212) 840 8000.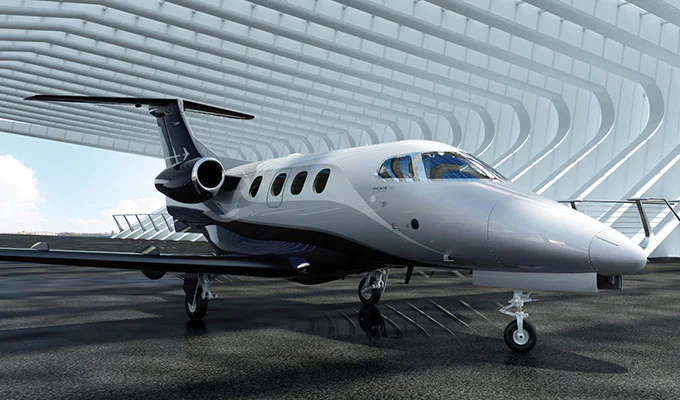 Overview Phenom 100E
Phenom 100E private jet charter is the performance leader. It has a range of about 1,200 nautical miles and can take off from runways as short as 3,125 feet. It is also one of the quickest jets in its class, with operating costs comparable to a turboprop. Embraer's Phenom 100E is a VLJ jet that was produced between 2014 and 2017.
The aircraft is driven by two Pratt & Whitney Canada PW617F-E engines that consume 90 gallons of gasoline per hour. Embraer Phenom 100E cockpit is equipped with an SVT Garmin Prodigy G1000 Flight Deck Display and TAWS Class.
General Performance
| | |
| --- | --- |
| Luggage Capacity | 18 ft³ |
| Cruise Speed | 359 KTAS |
| Certified Ceiling | 41000 ft |
| Takeoff Distance | 3400 ft |
| Landing Distance | 3150 ft |
| Max Takeoff Weight | 10580 lbs |
| Max Landing Weight | 9875 lbs |
Cabin Size
| | |
| --- | --- |
| Length | 10.98 ft |
| Width | 5.1 ft |
| Height | 4.92 ft |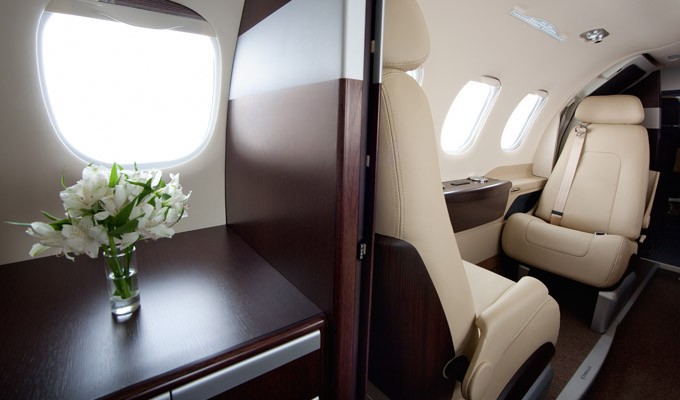 Phenom 100E Interior
In addition to being one of the most spacious aircraft in its class, Phenom 100E private jet charter features a new floor sill with a straight-line design to increase aisle space, as well as relocated power receptacles with USB chargers. Standard innovations such as upscale automotive-style accents, LED illumination, and one-piece sidewalls and headliners make the 4'11" cabin height and 5'1″ cabin width appear and feel even more spacious.
What is the flight range of Phenom 100E?
Phenom 100E boasts a good range of, 1265 nautical miles, enabling it to cover long distances effortlessly. This means that a Phenom 100E charter could easily travel from Sydney to Auckland or from Miami to San Jose, for example.
How many hours can a Phenom 100E fly?
A typical Phenom 100E charter flight is about three hours long. This may vary based on flight conditions.
How long of a runway does a Phenom 100E need?
The runway for Phenom 100E private jet charter is about 3400 ft for takeoff and 3150 ft for landing.
Similar Private Jets to Phenom 100E