Charter a Beechcraft Baron 58 Private Jet
Get an Instant Beechcraft Baron 58 Charter Cost Estimate
Estimated Price Per Hour:
$2,760
Beechcraft Baron 58 Private Charter Flights
A striking representative of the family of American light twin-engine aircraft is the Baron 58. Beech Aircraft Corporation developed the aircraft; currently, Hawker Beechcraft Corporation is producing it. It is perfect for private flights of high comfort. For example, a charter flight on the Baron 58 enables seamless travel from Berlin to London, Chicago to New York, Rio de Janeiro to Buenos Aires.
Beechcraft Baron 58 Price Rental
The average cost to charter a Beechcraft Baron 58 is around $2,760 per hour.
For charter rates and availability of the Beechcraft Baron 58, please submit the flight request form, or call our agents 24/7 at +1 (212) 840 8000.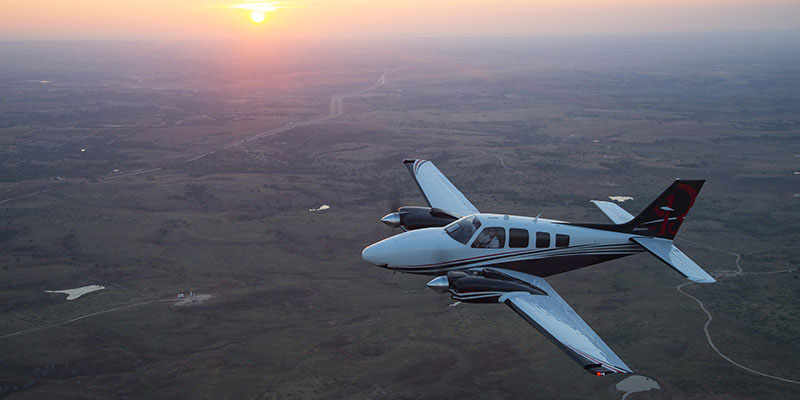 Overview Beechcraft Baron 58
The Baron 58 is part of a new generation of classic piston airplanes and was introduced in 1969. The aircraft was based on the Baron 55, with a powerful Continental IO-520 or IO-550 engine and increased gross weight. Also, a significant change was the lengthening of the fuselage and improved rear cockpit access. These improvements made Baron 58 much more popular for private charter flights. It was produced until 2004, and after this, a few more models like 58P with two-piston engines or G58 with Garmin G1000 avionics in a glass cabin.
General Performance
| | |
| --- | --- |
| Luggage Capacity | 18.02 ft³ |
| Cruise Speed | 208 ktas |
| Certified Ceiling | 20686 ft |
| Takeoff Distance | 2,303 ft |
| Landing Distance | 2,415 ft |
| Max Takeoff Weight | 5501 lbs |
| Max Landing Weight | 5399 lbs |
Cabin Size
| | |
| --- | --- |
| Length | 12.6 ft |
| Width | 3.5 ft |
| Height | 4.18 ft |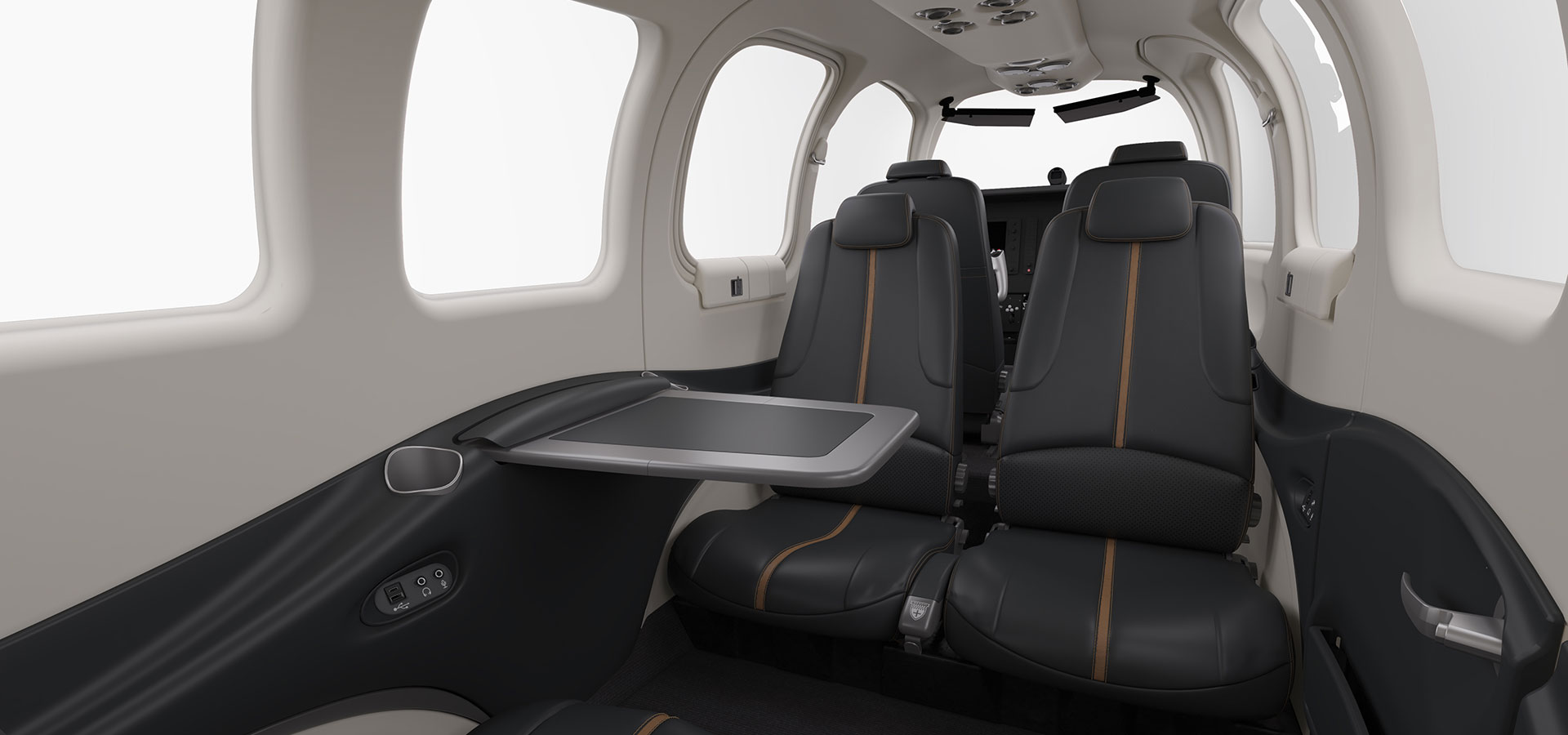 Beechcraft Baron 58 Interior
The interior of the Beechcraft Baron 58 is designed to provide a comfortable and inviting atmosphere, akin to a luxurious retreat. The cabin of the Baron 58 is adorned with high-quality leather seats, adding a touch of elegance and sophistication. The inclusion of powered headset jacks allows passengers to connect their headsets conveniently, enabling seamless communication or entertainment. Dual USB ports are available for charging electronic devices, ensuring connectivity and convenience for all occupants.
The interior is well-lit, with reading lights available for each passenger to indulge in their favorite books or magazines. Additionally, the cabin is equipped with climate-controlled individual air vents, enabling personalized temperature control and ensuring a pleasant environment for all.
The cabin configuration of the Baron 58 is highly versatile and adaptable to meet specific needs. Whether it's maximizing legroom, accommodating large baggage, or transporting cargo, the cabin can be easily configured to suit different requirements. This flexibility adds to the overall convenience and practicality of the aircraft.
What is the flight range of a Beechcraft Baron 58?
Beechcraft Baron 58 charter provides 993 nm of uninterrupted flight. It can fly from Berlin to London, Chicago to New York, Rio de Janeiro to Buenos Aires.
How many hours can a Beechcraft Baron 58 fly?
A Beechcraft Baron 58 private jet charter can transport you nonstop for around 5 hours.
How long of a runway does a Beechcraft Baron 58 need?
Beechcraft Baron 58 private jet charter requires a runway length of approximately 2,303 feet for takeoff and 2,415 feet for landing.
Similar Private Jets to Beechcraft Baron 58