Charter a Cessna Skylane Private Jet
Get an Instant Cessna Skylane Charter Cost Estimate
Estimated Price Per Hour:
N/A
Cessna 182 Skylane Private Charter Flights
The Cessna 182 Skylane is a single-engine piston light aircraft from a well-known American manufacturer. Production was announced in 1956, and about 25,000 aircraft were produced. Several more modifications were introduced nine months after the primary model was released.
The best known are the Cessna 182A Skylane with increased takeoff weight and the Cessna 182B Skylane, 182C, and 182D with the possibility of installing float landing gear, new avionics, and seats. In addition, a Cessna 182 Skylane charter allows you to travel in the shortest possible time from Berlin to Rome, New York to Chicago, or Lisbon to London.
Cessna 182 Skylane Price Rental
For charter rates and availability of the Cessna 182 Skylane, please submit the flight request form, or call our agents 24/7 at +1 (212) 840 8000.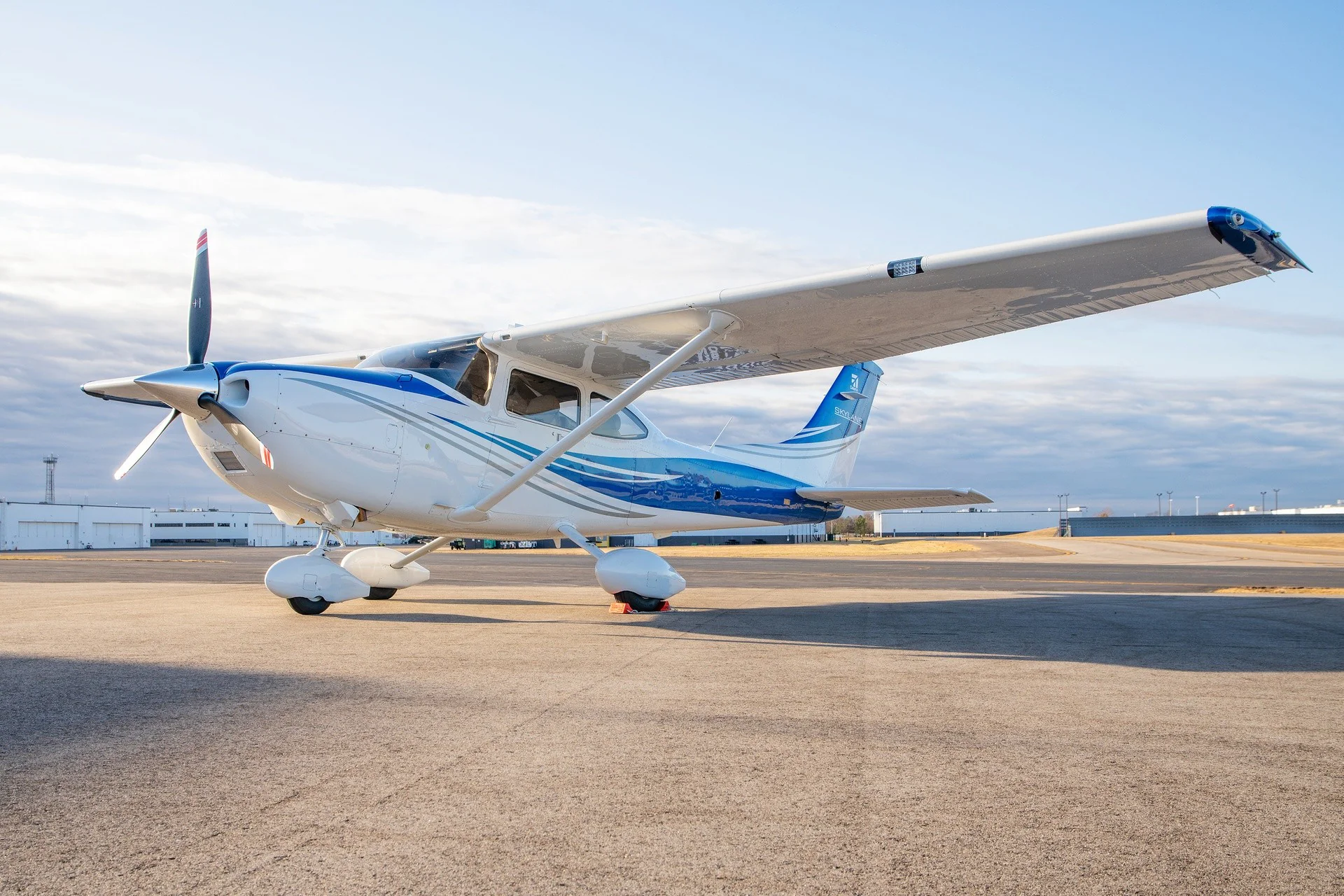 Overview Cessna 182 Skylane
The Cessna 182 Skylane is the three-wheeled version of the 180. It is currently recognized as the second most produced aircraft in the world. Technical features of the 182 Skylane include a Lycoming IO-540-AB1A5 engine, GARMIN G1000 NXi avionics, integrated VFR section maps, selectable visual approaches, and Garmin electronic stabilization and protection systems. All this makes the Cessna 182 Skylane an absolute legend and significantly improves flight performance.
General Performance
| | |
| --- | --- |
| Luggage Capacity | 32 cu.ft |
| Cruise Speed | 145 ktas |
| Certified Ceiling | 18,100 ft |
| Takeoff Distance | 1,514 ft |
| Landing Distance | 1,350 ft |
| Max Takeoff Weight | 3,100 lb |
| Max Landing Weight | 2,950 lb |
Cabin Size
| | |
| --- | --- |
| Length | 11.2 ft |
| Width | 0.42 ft |
| Height | 0.49 ft |
Cessna 182 Skylane Interior
The Cessna 182 Skylane boasts a well-appointed cockpit that accommodates up to four passengers alongside the pilot. The ergonomic seating ensures a comfortable and enjoyable experience for everyone on board. With a focus on convenience and functionality, the cabin is thoughtfully designed to facilitate a smooth and pleasurable flight.
What is the flight range of a Cessna 182 Skylane?
Cessna 182 Skylane charter provides 915 nm of uninterrupted flight. It can fly from Berlin to Rome, New York to Chicago, or Lisbon to London.
How many hours can a Cessna 182 Skylane fly?
A Cessna 182 Skylane private jet charter can transport you nonstop for around 4 hours. 
How long of a runway does a Cessna 182 Skylane need?
Cessna 182 Skylane private jet charter requires a runway length of approximately 1,514 feet for takeoff and 1,350 feet for landing.
Similar Private Jets to Cessna Skylane