Private Jet Charter Austin to Las Vegas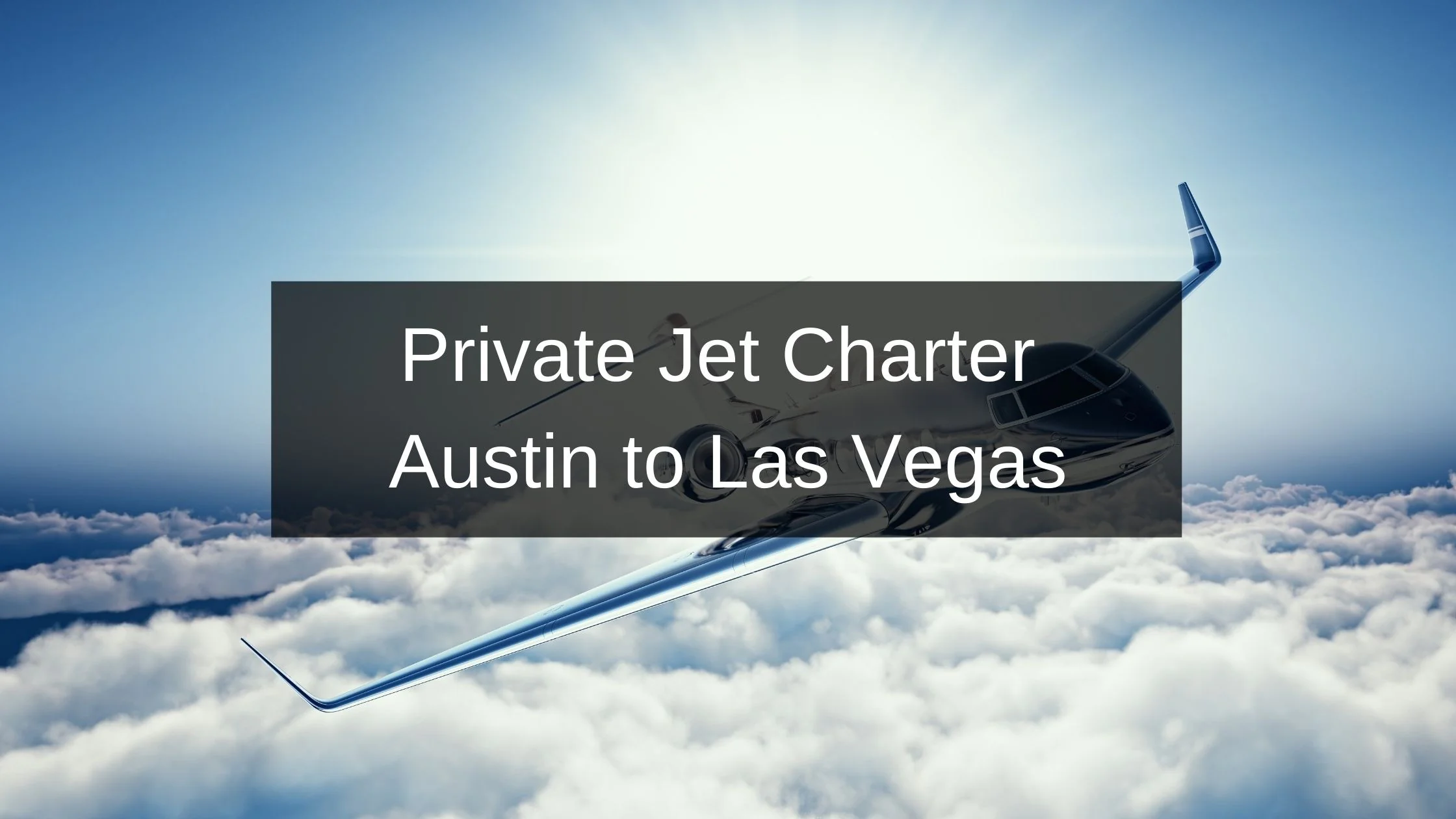 Mercury Jets provides on-demand private jet charters from Austin to Las Vegas. This popular private air charter route transports passengers nonstop to the dazzling desert oasis of Las Vegas for a one-of-a-kind vacation experience.
Charter a private jet Austin to/from Las Vegas
Top Attractions in Las Vegas:
Allegiant Stadium
Aliante Golf Club
Antelope Canyon Excursion
Appian Way Shops
Bellagio Pool
Cowboy Trail Rides
Ethel M Chocolates & Cactus Garden
Gondola Ride at the Venetian
Black Canyon Kayak Excursion
Grand Canyon Excursion
Las Vegas ATV Tour
LINQ Ferris Wheel
The Big Apple Coaster
The Aquarium
The Stratosphere
When booking your private air charter service from Austin, three primary airports serve Las Vegas:
Airport Distances and Flight Times from Austin to Las Vegas
Private Jet from Austin (AUS) to Las Vegas
Destination Airport
Airport Code
Distance (Nautical Miles)
Miles
Estimated Flight Time
Midsize
Light
Turboprop
McCarran International Airport
LAS
945
1,088
2 hrs

42 min

2 hrs

42 min

4 hrs
28 min
Henderson Executive Airport
HND
942
1,085
2 hrs

42 min

2 hrs

42 min

4 hrs
27 min
North Las Vegas
VGT
949
1,093
2 hrs
43 min
2 hrs
43 min
4 hrs
27 min
Distances and flight times shown in the charts above should be considered as estimates only. One (1) nautical mile is equal to 1.1508 statute miles.
Charter flights from Austin and charter flights to Las Vegas, flights typically operate using midsize, light, and turboprop aircraft types:
Midsize jet options for private jet charters from Austin to Las Vegas include the Learjet 60XR, Citation XLS+, and Hawker 850XP.
The Learjet 60XR has one of the largest cabins in the Learjet family, with seating for up to nine passengers. The 60XR's cabin management system has an intuitive interface for controlling the cabin lighting, temperature, and access to entertainment options.
A popular Citation series jet, the Citation XLS+ has one of the shortest takeoff distances of any business jet. This versatility makes it popular with private jet clients who prefer to minimize commute time.
The Hawker 850XP typically seats up to nine passengers. The jet's innovative wing design incorporates winglets that help improve fuel efficiency and a fast climb rate. Comfortable passenger seating incorporates touch-screen seat controls, LED lighting, and clever storage space.
Midsize jets typically include a galley, catering, and flight attendant service.
Light jet options include the Learjet 75, Cessna Citation CJ4, and Phenom 100.
The Learjet 75 was designed for performance. Aside from its fuel efficiency, clients choose this aircraft because of its thoughtful interior design with a flat floor, luxury finishes, and seating for up to nine passengers.
Private charter clients request the efficient Cessna Citation CJ4 for its comfortable cabin with oversized leather seats. Passengers can easily adjust the cabin temperature, lighting and select from a variety of entertainment options with the jet's cabin management system.
The takeoff performance of Embraer's Phenom 100 makes this jet an excellent option for passengers who choose to utilize regional airports. The interior with seating for up to seven passengers was designed by BMW DesignworksUSA.
Light jets typically include digital entertainment, a galley, and Wi-Fi for in-flight entertainment.
Turboprop options include the Piper PA-42 Cheyenne, Cessna Denali, and King Air 250.
The Piper PA-42 Cheyenne seats up to nine passengers. The Cheyenne has a fuel-efficient non-stop range of 2,200 nautical miles. The aircraft's large windows allow natural light to flow through the cabin.
The Cessna Grand Caravan EX turboprop, well known for its robust and productive performance, is ideal for private charter customers. Additionally, the aircraft holds about 10 passengers and provides reliable operation and superb efficiency. The Grand Caravan EX is well suited for travelers from Austin to enjoy the Las Vegas attractions.
The Beechcraft King Air 250 is another economical option for the charter flight from Austin to Las Vegas. Configured for up to ten passengers, this versatile turboprop has a nonstop range of 1,720 nautical miles with performance features and versatility that rivals other aircraft in its class.
How much does a private jet cost from Austin to Las Vegas?
The estimated cost of a private jet from Austin to Las Vegas(one-way) is as follows:
Light jet: starting at $ 17,140.
Midsize jet: starting at $ 15,120.
Super midsize jet: starting at $ 17,770.
Choose Mercury Jets
Mercury Jets' on-demand white-glove charter coordinators can assist you in choosing your preferred aircraft. To book a flight, call + 1 212-840-8000 for our charter department. Mercury Jets offers an instant quote request. Submit your request here to price out your flight immediately.