Charter a Embraer Praetor 500 Private Jet
Get an Instant Embraer Praetor 500 Charter Cost Estimate
Private Jets Type:
Super Midsize Jet
Estimated Price Per Hour:
$4,500
Praetor 500 Private Charter Flights
The Praetor 500 is a super-midsize mid-range business jet from Brazilian aircraft manufacturer Embraer. It has held honorably in the business aviation market for many years and is based on the Legacy 450 model. Furthermore, this model was introduced in 2018 and afterward received EASA and FAA-type certificates. Chartering on the Praetor 500 allows customers to cover long distances in the shortest possible time.
Praetor 500 Price Rental
The average cost to charter a Praetor 500 is around $4,500 per hour.
For charter rates and availability of the Praetor 500, please submit the flight request form, or call our agents 24/7 at +1 (212) 840 8000.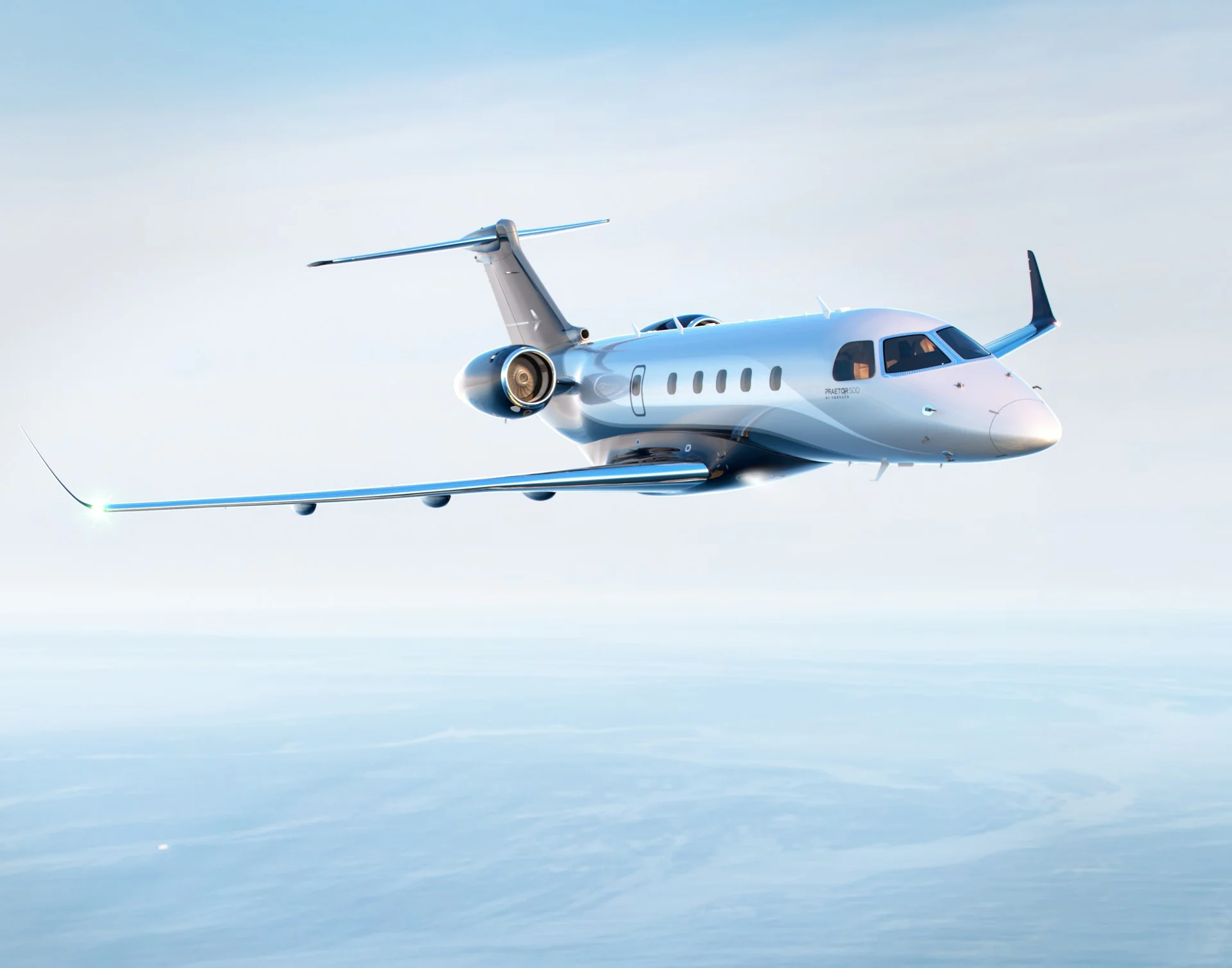 Overview Praetor 500
The Praetor 500 distinguishes itself from previous models through several key differences, showcasing its advancements and superior performance. One notable upgrade includes the new Honeywell HTF7500E engines, which offer increased capacity and power. These engines enhance performance, improving speed, efficiency, and flight capabilities.
Another significant difference is incorporation of larger fuel tanks in the Praetor 500. The expanded fuel capacity extends the aircraft's range, enabling it to travel longer distances without refueling. This feature enhances flexibility and opens up a wider range of travel destinations. The Praetor 500 also features wider portholes, offering passengers an enhanced viewing experience. These larger windows provide abundant natural light, a greater field of vision, and a heightened sense of space, contributing to a more enjoyable and immersive journey.
Moreover, the wing aerodynamics of the Praetor 500 have been improved, further optimizing the aircraft's performance. These aerodynamic enhancements result in reduced drag, increased efficiency, and improved stability during flight, ultimately enhancing the overall flying experience for both passengers and pilots.
General Performance
| | |
| --- | --- |
| Luggage Capacity | 150 cu.ft |
| Cruise Speed | 462 ktas |
| Certified Ceiling | 45000 ft |
| Takeoff Distance | 4,263 ft |
| Landing Distance | 2,091 ft |
| Max Takeoff Weight | 37567 lbs |
| Max Landing Weight | 34172 lb |
Cabin Size
| | |
| --- | --- |
| Length | 24 ft |
| Width | 6.82 ft |
| Height | 6 ft |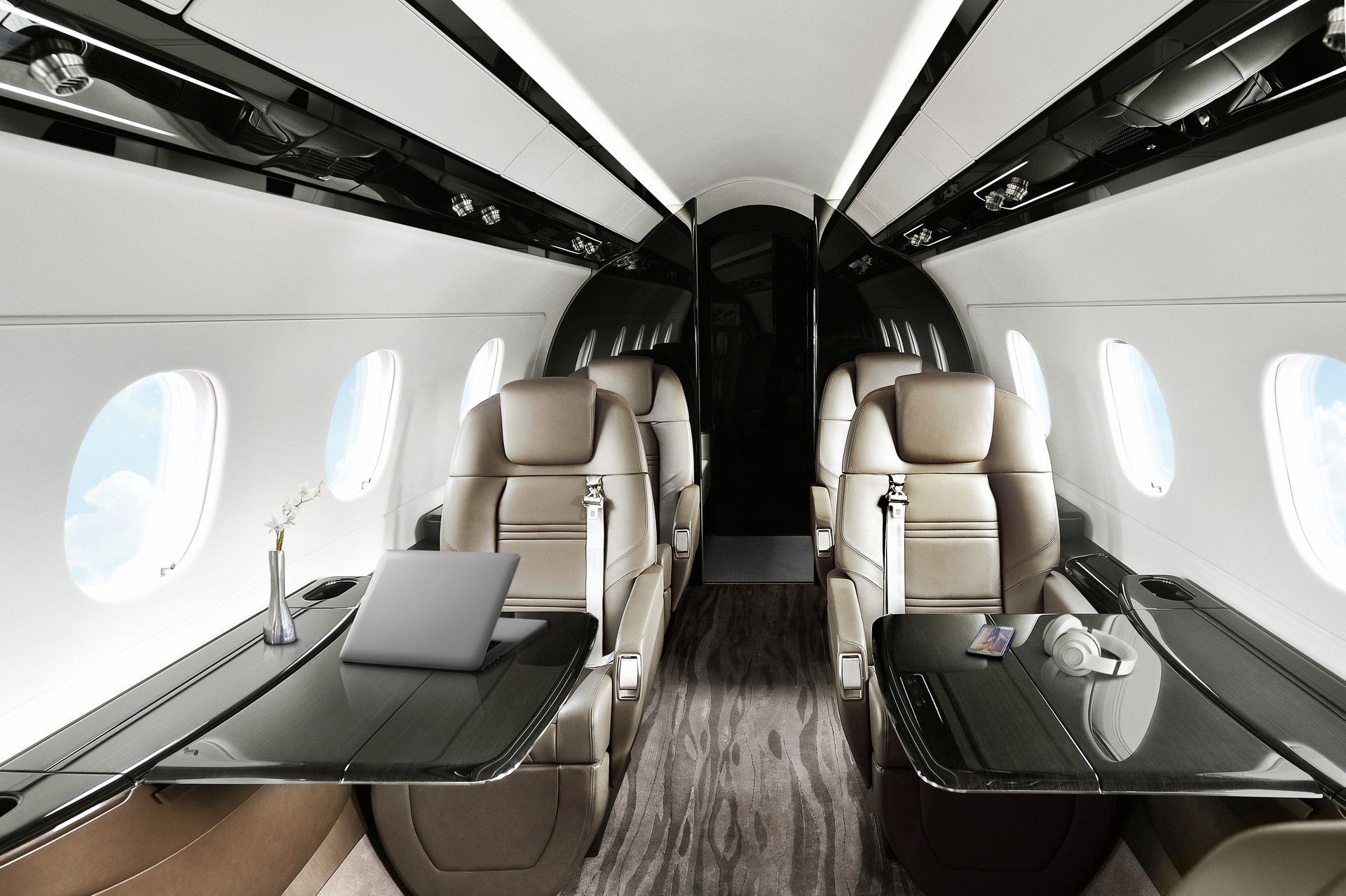 Praetor 500 Interior
The Praetor 500 offers diverse stylish options to cater to individual preferences. Its exquisite design extends to the elegant seats, providing unparalleled comfort for passengers. Including multimedia entertainment systems ensures a delightful in-flight experience, offering various entertainment choices to suit various preferences. Additionally, the aircraft is equipped with state-of-the-art onboard control monitors, enabling passengers to effortlessly manage multiple aspects of their journey, including lighting, temperature, and audiovisual settings.
The Praetor 500 also features a comfortable restroom designed for passenger convenience and relaxation. The restroom offers a serene and hygienic environment, allowing travelers to freshen up and attend to their needs throughout the flight.
Furthermore, the Praetor 500 boasts additional amenities to enhance the overall experience. These include sophisticated lighting systems, allowing passengers to create the desired ambiance for relaxation or productivity. The aircraft's spacious interior will enable passengers to move freely and enjoy their journey comfortably.
What is the flight range of a Praetor 500?
Praetor 500 charter provides 3,250 nm of uninterrupted flight. 
How many hours can a Praetor 500 fly?
A Praetor 500 private jet charter can transport you nonstop for around 8 hours.
How long of a runway does a Praetor 500 need?
Praetor 500 private jet charter requires a runway length of approximately 4,263 feet for takeoff and 2,091 feet for landing.
Similar Private Jets to Praetor 500