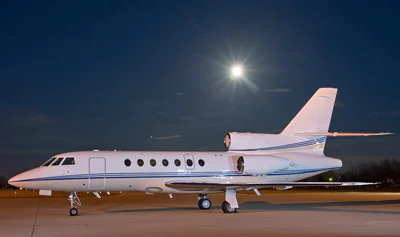 The aircraft has three-engine Honeywell turbofan engines that give Falcone 50 a longer flying range. The design also includes larger supercritical wing and an area-ruled tail section.
It is recognized by its low/swept wing.
Seating can customized as desired, using folding tables, additional individual seats, and a three-place sofa. Full size private lavatory and a full galley are present in the aircraft.
General characteristics
Capacity: Up to 9 passengers
Cabin Length, Height, Width: 23.5 ft, 5.8 ft, 6.1 ft
Performance
Cruise speed: 480 kts
Range: 3528 mi