Charter a Beechcraft King Air 250 Private Jet
Get an Instant Beechcraft King Air 250 Charter Cost Estimate
Private Jets Type:
Turboprop
Estimated Price Per Hour:
$1,760
Beechcraft King Air 250 Private Charter Flights
The most popular and versatile turboprop aircraft globally, the Beechcraft King Air 250 from American manufacturer Beech Aircraft, is widely used for business, leisure, and unique private transportation. The airplanes of this line were produced in many modifications, and at first, these were used for general aviation. However, during serial production since 1963, about 7 thousand Beechcraft King Air 250 aircraft were produced.
Beechcraft King Air 250 Price Rental
The average cost to charter a Beechcraft King Air 250 is around $1,760 per hour.
For charter rates and availability of the Beechcraft King Air 250, please submit the flight request form, or call our agents 24/7 at +1 (212) 840 8000.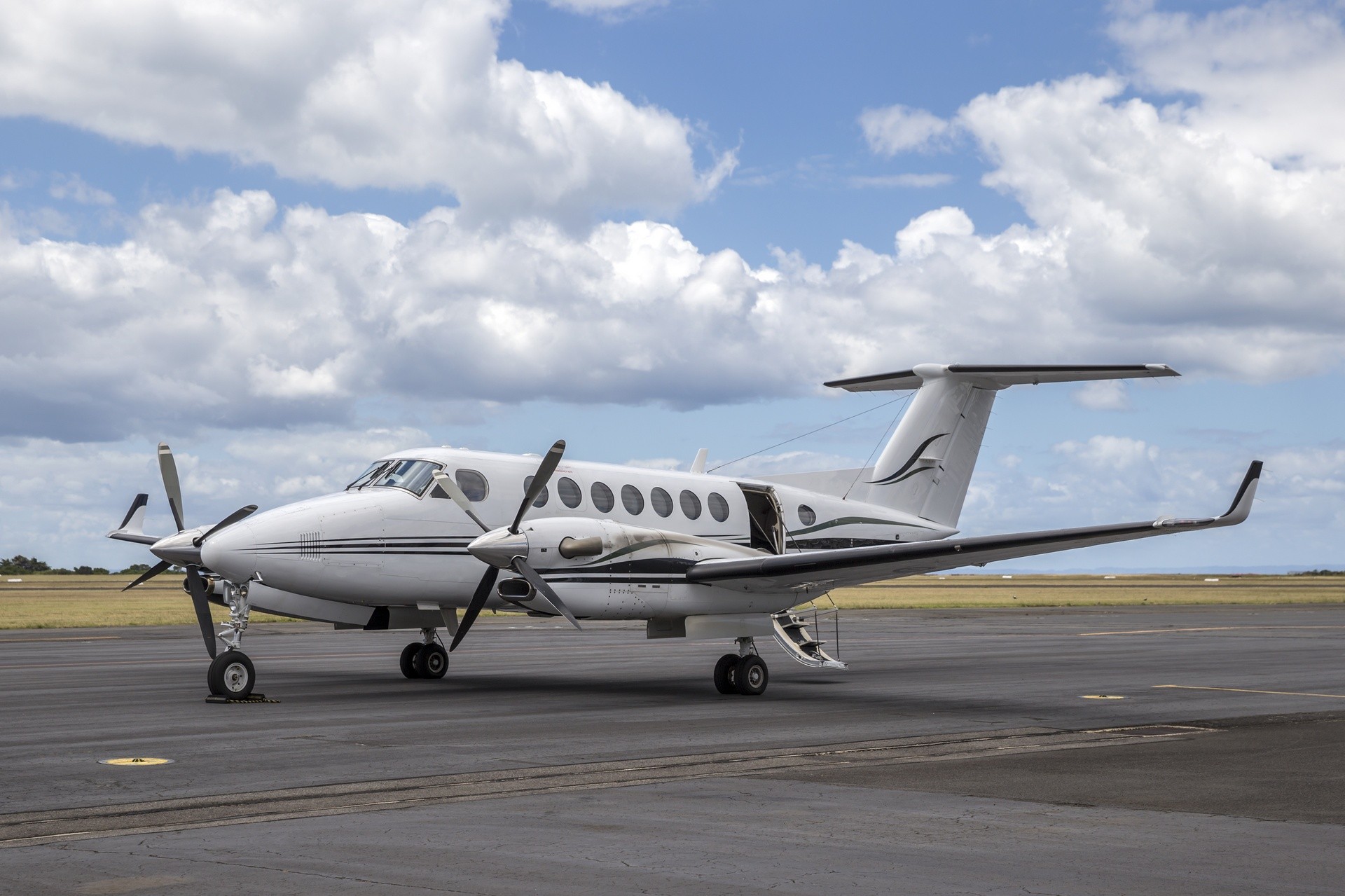 Overview Beechcraft King Air 250
The King Air 250 stands out with impressive performance characteristics. It excels in takeoff, needing only 2,111 feet of runway length at sea level, granting it vast options for landing and takeoff locations. With a remarkable maximum range of 1,800 nautical miles and a swift cruising speed of 310 ktas, it proves ideal for transcontinental travel. These capabilities stem from its powerful Pratt & Whitney PT6A-52 engines, providing 850 shaft horsepower each. With a maximum payload of 2,220 pounds, the 250 offers flexibility in passenger capacity and ample space for luggage and cargo. Its versatility makes it a highly efficient and sought-after choice for various missions, whether for business or leisure, particularly for transcontinental voyages. 
General Performance
| | |
| --- | --- |
| Luggage Capacity | 55.3 ft³ |
| Cruise Speed | 310 ktas |
| Certified Ceiling | 35000 ft |
| Takeoff Distance | 2,600 ft |
| Landing Distance | 2,111 ft |
| Max Takeoff Weight | 12500 lbs |
| Max Landing Weight | 12500 lbs |
Cabin Size
| | |
| --- | --- |
| Length | 16.68 ft |
| Width | 4.48 ft |
| Height | 4.76 ft |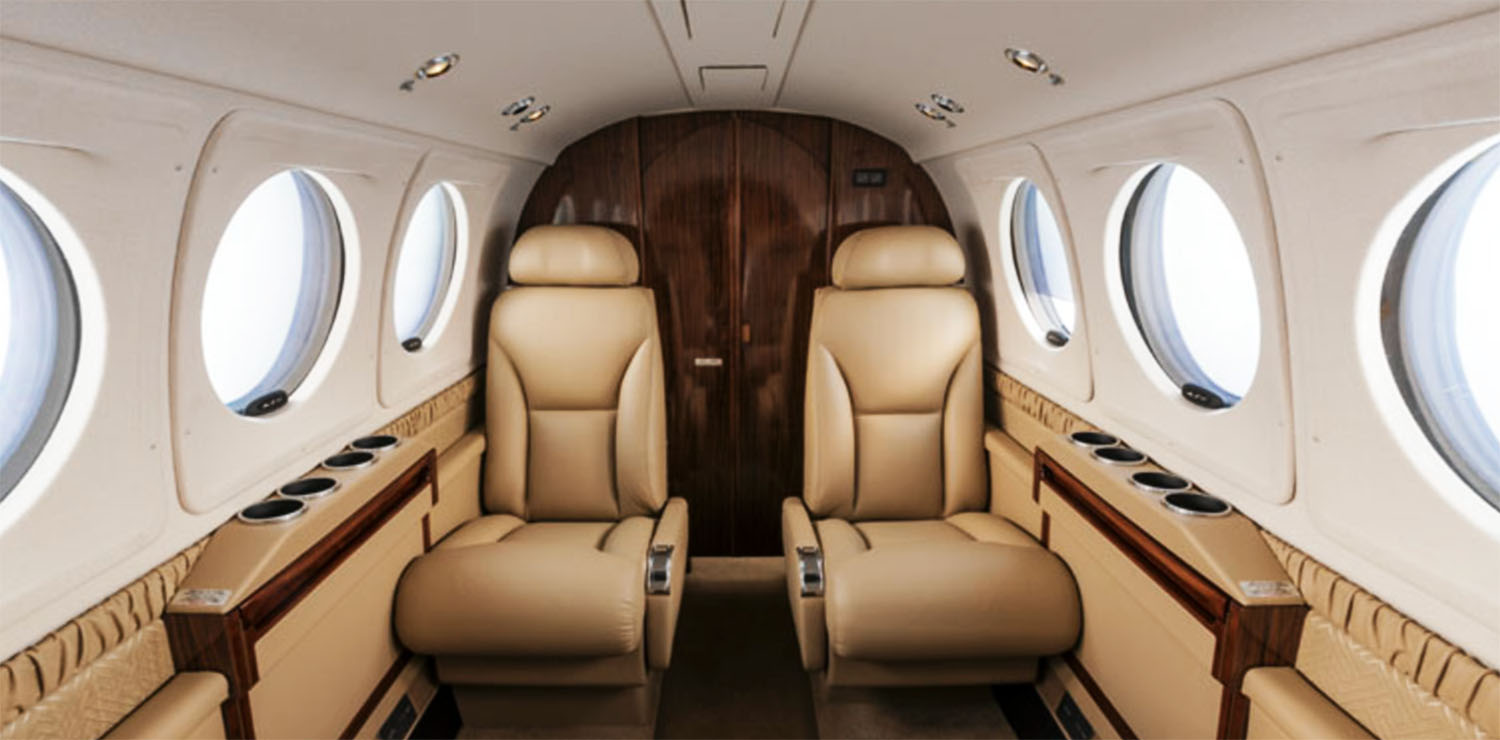 Beechcraft King Air 250 Interior
The King Air 250's interior cabin is meticulously handcrafted, offering a spacious and comfortable environment. Its square-oval design cleverly maximizes head and shoulder room, creating a remarkably airy atmosphere. The flight deck features convenient lighted chart holders and ergonomic yokes, ensuring pilot comfort and enhancing cockpit efficiency. The elegant and comfortable first-class seating, along with the meticulously designed interior cabin, provides passengers with an enjoyable in-flight experience. 
The aircraft offers various amenities for further customization. While accommodating up to ten passengers, the 250 is most comfortable with eight or fewer, and its higher wing loading delivers a smoother ride with minimal airframe vibration compared to competitors. With its exceptional safety record, the King Air 250 stands as a well-rounded and reliable choice among business aircraft worldwide. 
FAQ: Beechcraft King Air 250
What is the flight range of a Beechcraft King Air 250?
Beechcraft King Air 250 charter provides 1,184 nm of uninterrupted flight. 
How many hours can a Beechcraft King Air 250 fly?
A Beechcraft King Air 250 private jet charter can transport you nonstop for around 6 hours. 
How long of a runway does a Beechcraft King Air 250 need?
Beechcraft King Air 250 private jet charter requires a runway length of approximately 2,600 feet for takeoff and 2,111 feet for landing. 
Similar Private Jets to Beechcraft King Air 250