Charter a King Air 350i Private Jet
Get an Instant King Air 350i Charter Cost Estimate
Private Jets Type:
Turboprop
Estimated Price Per Hour:
$2,000 — $2,500
King Air 350i Private Charter Flights
The King Air series of twin-turboprop aircraft is part of a line that is manufactured by Beechcraft Corporation and has its main office in Wichita, Kansas. King Air 350i, the newest model in the B300 series, was unveiled by Beechcraft in October 2008. It features significant modifications to the passenger interior. Walter Beech established Beechcraft in 1939 while operating out of a vacant Cessna factory. Beechcraft has since produced some of the most dependable, secure, and effective business aircraft ever built in addition to a number of critically significant military aircraft, many of which are still in use today. King Air 350i private jet charter is a versatile and reliable aircraft that is well-suited for a wide range of missions.
King Air 350i Price Rental
The average cost to charter King Air 350i is around $2,000 — $2,500 per hour.
For charter rates and availability of King Air 350i, please submit the flight request form, or call our agents 24/7 at +1 (212) 840 8000.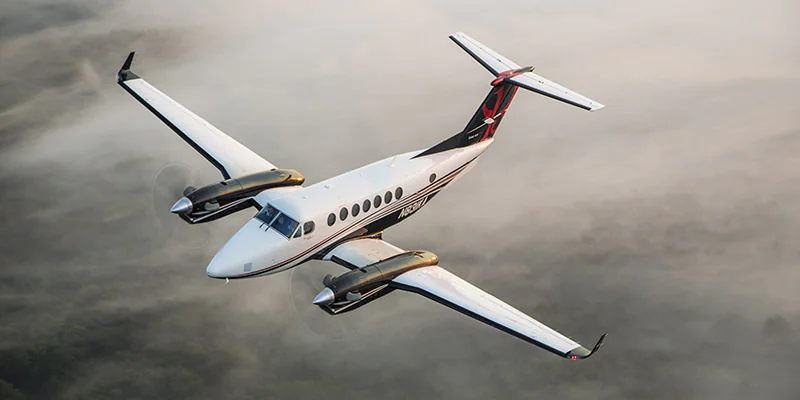 Overview King Air 350i
The 350i model was introduced in 2009 and is an upgraded version of King Air 350, featuring a number of improvements, including a redesigned cockpit, new engines, and improved performance. King Air 350i private jet charter is designed to be a versatile aircraft that can perform a wide range of missions, including corporate travel, air ambulance, cargo transport, and military operations.
King Air 350i is powered by two Pratt & Whitney Canada PT6A-60A engines, which provide a maximum takeoff power of 1,050 shp each. This gives the aircraft a maximum cruising speed of 312 knots (570 km/h) and a range of up to 1,806 nautical miles (3,343 km) with four passengers and two crew members on board. The cockpit of King Air 350i features the Rockwell Collins Pro Line Fusion avionics suite, which includes a touchscreen flight display, synthetic vision system, and integrated navigation and communication systems. The aircraft also has advanced safety features, including a digital autopilot, automatic emergency descent mode, and a weather radar system.
For more information on chartering a King Air 350i private jet, price out your flight up or call our agents 24/7 at +1-212-840-8000.
General Performance
| | |
| --- | --- |
| Luggage Capacity | 71.3 cu.ft |
| Cruise Speed | 312 KTAS |
| Certified Ceiling | 35000 ft |
| Takeoff Distance | 3300 ft |
| Landing Distance | 2692 ft |
| Max Takeoff Weight | 15000 lbs |
| Max Landing Weight | 15000 lbs |
Cabin Size
| | |
| --- | --- |
| Length | 19.48 ft |
| Width | 4.48 ft |
| Height | 4.76 ft |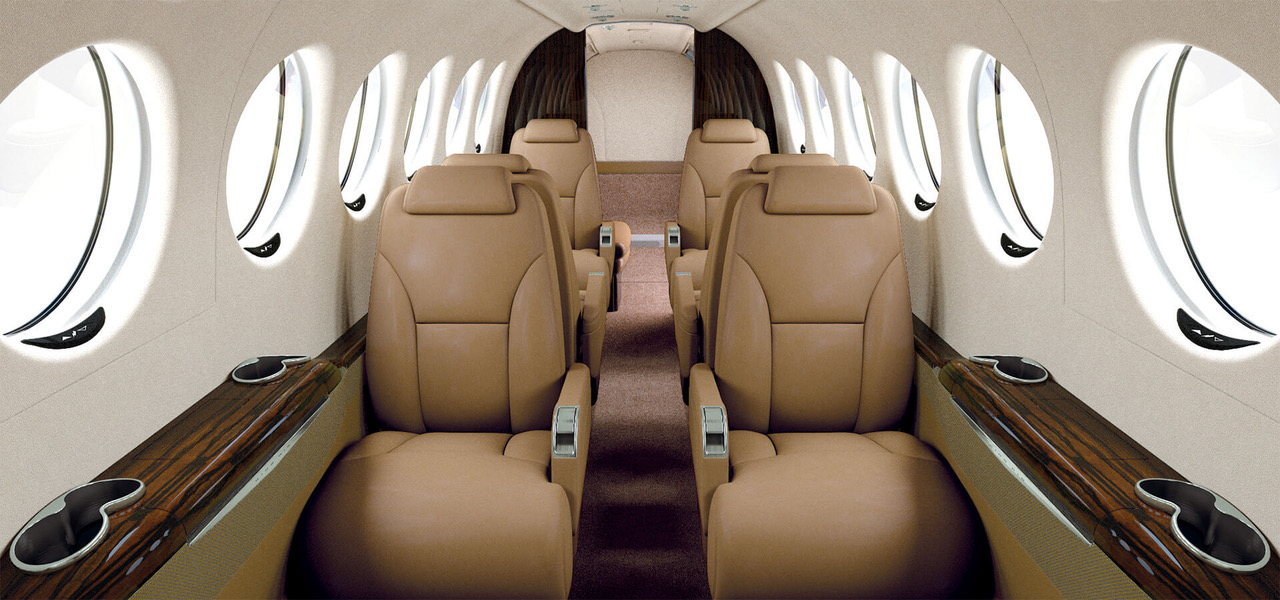 King Air 350i Interior
King Air 350i private jet charter is among the coziest options. In addition, it has incredible range and payload capabilities that are almost unmatched in its class. Modern features introduced to the revised versions of the cabin chairs include recessed headrests, retractable armrests, and inboard and outboard tracking, to name a few. Also, the furnishings in the cabin has been improved with a sizable hot and cold beverage station and cabinets that have been inserted between the seatbacks.
What is the flight range of King Air 350i?
With a range of 1792 nm, King Air 350i allows you to travel quite far. For instance, a King Air 350i charter may travel from Denver to San Diego or Las Vegas to Mazatlan.
How many hours can a King Air 350i fly?
On average, a King Air 350i charter trip can last up to 3.5 hours. However, this could alter based on the flight conditions.
How long of a runway does a King Air 350i need?
The runway for King Air 350i private jet charter is about 3300 ft for takeoff and 2692 ft for landing.
Similar Private Jets to King Air 350i