Charter a Vulcanair Aviator TP600 Private Jet
Get an Instant Vulcanair Aviator TP600 Charter Cost Estimate
Private Jets Type:
Turboprop
Estimated Price Per Hour:
$2,260
Vulcanair Aviator TP600 Private Charter Flights
Vulcanair Aviator TP600 is a modern turboprop aircraft designed and manufactured by Vulcanair Aircraft, an Italian aerospace company. The aircraft is specifically designed for multi-purpose operations, including executive transport, cargo hauling, and special missions. Vulcanair Aviator TP600 private jet charter combines versatility, performance, and reliability, making it a suitable choice for operators seeking a modern turboprop aircraft for executive transport, cargo operations, or special missions.
Vulcanair Aviator TP600 Price Rental
The average cost to charter Vulcanair Aviator TP600 is around $2,260 per hour.
For charter rates and availability of Vulcanair Aviator TP600, please submit the flight request form, or call our agents 24/7 at +1 (212) 840 8000.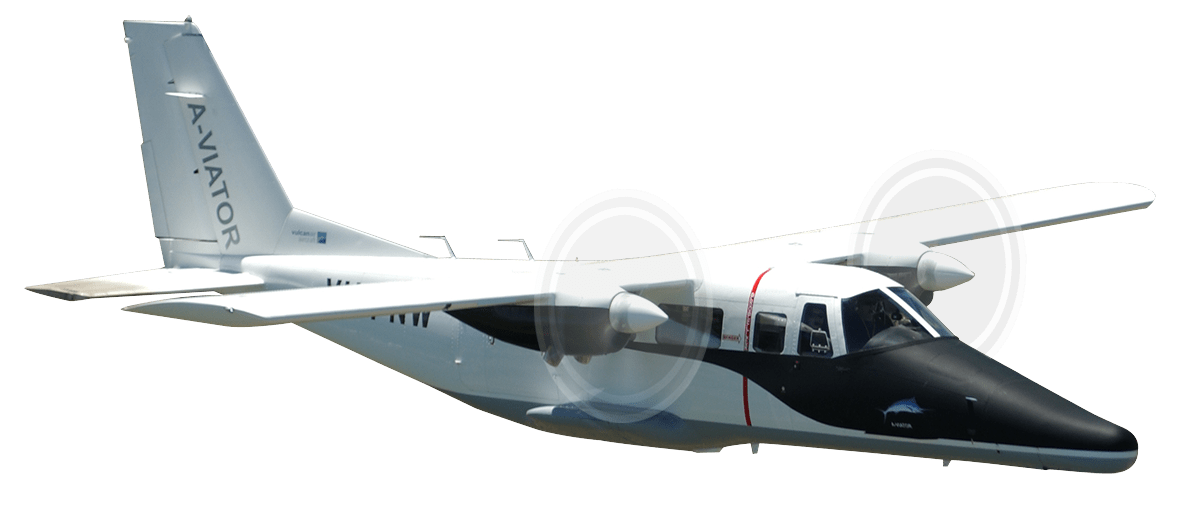 Overview Vulcanair Aviator TP600
Vulcanair Aviator TP600 is a high-performance, low-maintenance turboprop aircraft featuring two powerful turboprop engines. With retractable landing gear and an elongated fuselage, the Aviator TP600 offers enhanced aerodynamics. Equipped with cutting-edge avionics, this model excels in flying under low visibility conditions, allowing it to navigate through thunderstorms, precipitation zones, and turbulence.
In addition, Aviator TP600 private jet charter is propelled by twin Rolls Royce engines, delivering impressive speed. It can reach a maximum speed of 213 KTAS in the shortest possible time, ensuring efficient and swift transportation.
General Performance
| | |
| --- | --- |
| Luggage Capacity | 23.3 ft³ |
| Cruise Speed | 213 KTAS |
| Certified Ceiling | 24869 ft |
| Takeoff Distance | 2034 ft |
| Landing Distance | 2297 ft |
| Max Takeoff Weight | 4594 lbs |
| Max Landing Weight | – |
Cabin Size
| | |
| --- | --- |
| Length | 13.06 ft |
| Width | 3.7 ft |
| Height | 4.1 ft |
Vulcanair Aviator TP600 Interior
Aviator TP600 private jet charter offers a spacious cabin with a seating capacity for up to nine passengers or a cargo capacity of approximately 1,800 kilograms (4,000 pounds). The cabin layout can be customized to meet the specific requirements of operators, enabling comfortable seating arrangements or flexible cargo configurations. Aviator TP600 cabin offers a range of amenities and equipment designed for a comfortable and enjoyable experience. Inside, passengers have access to modern communication systems and convenient workstations, ensuring connectivity and productivity during the journey.
FAQ: Vulcanair Aviator TP600
What is the flight range of Vulcanair Aviator TP600?
The range of a Vulcanair Aviator TP600 private aircraft charter is 850 nautical miles. This enables advantageous travel between major cities and cross-country flights, such as Austin to Kansas City or Chicago to New York.
How many hours can a Vulcanair Aviator TP600 fly?
Vulcanair Aviator TP600 private aircraft can fly without refueling for approximately five hours. In addition, the actual duration may vary depending on aspects such as the exact flight profile.
How long of a runway does a Vulcanair Aviator TP600 need?
The runway for Vulcanair Aviator TP600 private jet charter is about 2034 ft for takeoff and 2297 ft for landing.
Similar Private Jets to Vulcanair Aviator TP600