Charter a Legacy 650 Private Jet
Get an Instant Legacy 650 Charter Cost Estimate
Private Jets Type:
Heavy Jet
Estimated Price Per Hour:
$6,500 – $7,700
Legacy 650 Private Charter Flights
The Embraer Legacy 650 private jet, with its increased range, improved interior soundproofing, new interior trim options, and materials compared to the Legacy 600, is very popular in private aviation. The more extended range was achieved by installing a different wing, an additional fuel tank, and more powerful engines.
The Embraer Legacy 650 jet is ideal for passengers who like to travel comfortably and value their time. Moreover, the Legacy 650 charter jet can take off and land in difficult high-altitude conditions.
Legacy 650 Price Rental
The average cost to charter a Legacy 650 is around $7,000 per hour.
For charter rates and availability of the Legacy 650, please submit the flight request form, or call our agents 24/7 at +1 (212) 840 8000.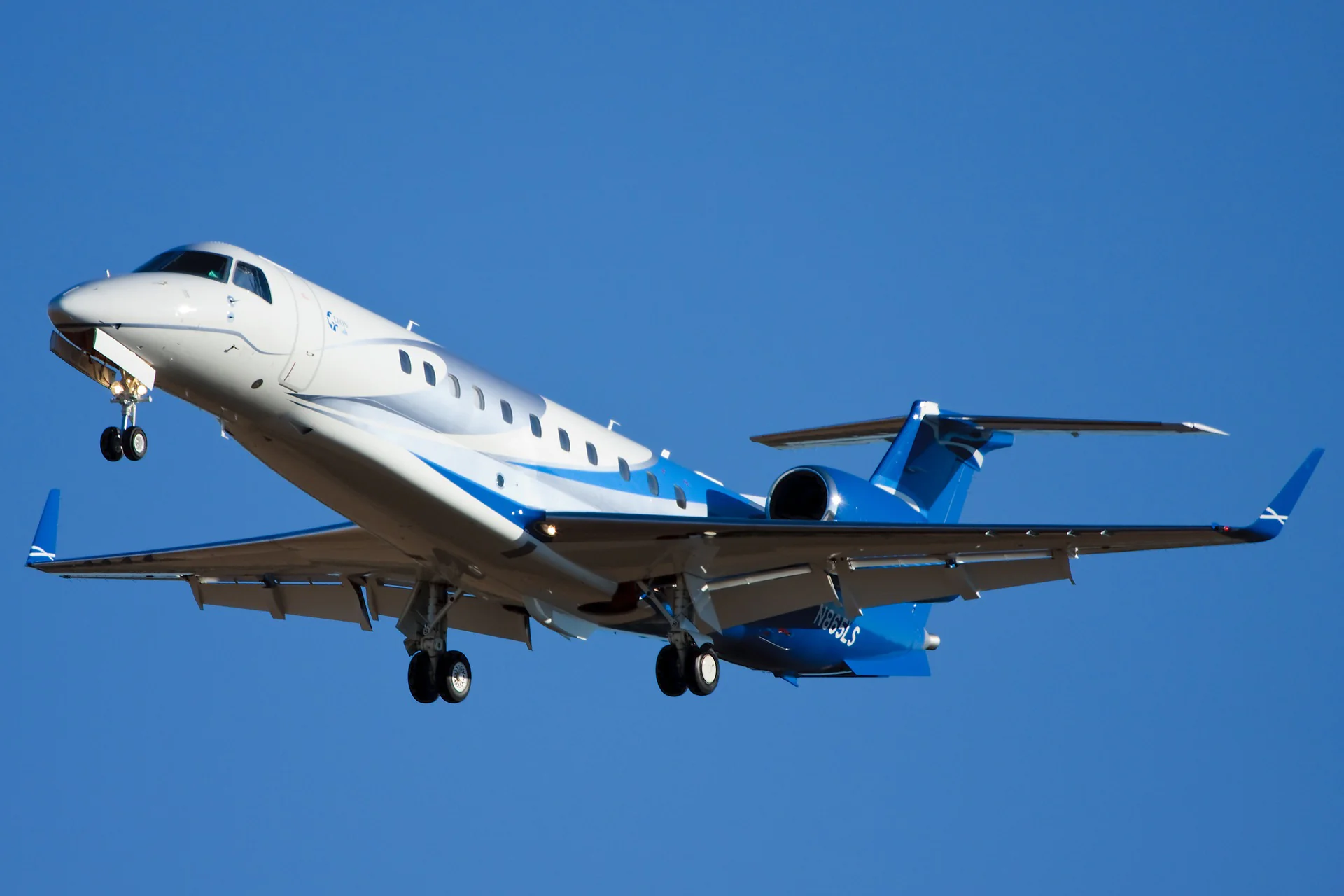 Overview Legacy 650
The Embraer Legacy 650 jet is famous for its optimal range, quiet cabin, safety, and ability to work or rest during the flight. In addition to technical improvements, the private aircraft Legacy 650 has received several interior enhancements, including additional soundproofing, fast internet connectivity, and VPN access.
The Legacy 650 charter, with innovative technology, allows one to cross the Atlantic easily. The jet is equipped with auxiliary fuel tanks to facilitate long-haul flights. Two Rolls Royce AE3007A2 engines increase range and performance and provide 9,020 pounds of thrust each.
A state-of-the-art Primus Elite avionics suite is installed to provide full pilot awareness and reduce overload. Additional range, comfort, and performance are the primary benefits of the Embraer Legacy 650 private jet charter.
For more information on chartering a Legacy 650 private jet, price out your flight up or call our agents 24/7 at +1-212-840-8000.
General Performance
| | |
| --- | --- |
| Luggage Capacity | 286 cu ft |
| Cruise Speed | 459 ktas |
| Certified Ceiling | 41 000 ft |
| Takeoff Distance | 5 741 ft |
| Landing Distance | 2842 ft |
| Max Takeoff Weight | 53 572 lbs |
| Max Landing Weight | 44 092 lbs |
Cabin Size
| | |
| --- | --- |
| Length | 42.46 ft |
| Width | 6.88 ft |
| Height | 5.96 ft |

Legacy 650 Interior
The interior of the jet Legacy 650, with its sophisticated interior design and plenty of natural light, can accommodate up to 12 passengers. It is divided into three full-fledged zones, creating a unique sense of space. With plenty of room on board the Legacy 650 business jet, you can enjoy comfortable air travel even on long routes.
An iPod can be connected via dedicated docking stations to control cabin functions. An entertainment system with surround sound, a Blu-ray player, high-speed Internet, and satellite communication provide passengers with quality entertainment during the flight. A spacious lavatory is located in the tail section with access to the baggage compartment during the private jet flight Legacy 650.
What is the flight range of an Embraer Legacy 650?
A Legacy 650 charter provides non-stop flights of up to 3,500 nautical miles with a maximum passenger capacity. It can speed up to 456 knots and carry up to 12 passengers.
How many hours can a Legacy 650 fly?
A Legacy 650 business jet is among the best and most reliable over long-haul flights. It is ideal for private travel of up to six or seven hours.
How long of a runway does an Embraer Legacy 650 need?
The Legacy 650 requires a 5,741 ft runway to take off. Therefore, for a private flight on a Legacy 650, the landing runway must be about 2,842 ft long, at total weight, at sea level, and on an average day.
What is the difference between Embraer Legacy 600 and 650?
The Legacy 650 jet is an updated version of the previous Legacy 600. Thanks to the additional fuel tank, the range of the Legacy 650 has been significantly increased.
Similar Private Jets to Legacy 650