Charter a Gulfstream G450 Private Jet
Get an Instant Gulfstream G450 Charter Cost Estimate
Private Jets Type:
Heavy Jet
Estimated Price Per Hour:
$8,000 – $11,000
Gulfstream G450 Private Charter Flights
In Savannah, Georgia-based Gulfstream Aerospace manufactures Gulfstream G450, a heavy business aircraft. Private jet charter via G450 is one of the most popular of all time thanks to its reliability, speed, and adaptability. Midsize jets to heavy, long-range aircraft are all designed, developed, and produced by Gulfstream Aerospace Corporation. Gulfstream has built more than 2000 aircraft worldwide since 1958.
Gulfstream G450 Price Rental
The average cost to charter a Gulfstream G450 is around $8,000 – $11,000 per hour. For charter rates and availability of the Gulfstream G450, please submit the flight request form, or call our agents 24/7 at +1 (212) 840 8000.
Overview Gulfstream G450
Modern sophisticated business aircraft customers need top performance throughout the board, from low cabin altitudes to outstanding climbing ability. Gulfstream G450 is a sleek, high-performance airplane designed to withstand the demands of international travel.
With 12,000 hours on its Rolls-Royce engines, G450 private jet charter also offers one of the longest intervals between overhauls. Overall, G450 is a jet that is so well-built and outfitted that Robb Report awarded it the Best of the Best in the big aircraft category in 2012 and 2014.
For more information on chartering a Gulfstream G450 private jet, price out your flight up or call our agents 24/7 at +1-212-840-8000.
General Performance
| | |
| --- | --- |
| Range | 4350 nm |
| Cruise Speed  | 500 ktas |
| Takeoff Distance  | 5600 ft |
| Landing Distance  | 3260 ft |
| Useful Weight | 31600 Ibs |
| Payload with Full Fuel | 2500 |
Cabin Size
| | |
| --- | --- |
| Length  | 40.4 ft |
| Width  | 7.3 ft |
| Height  | 6.1 ft |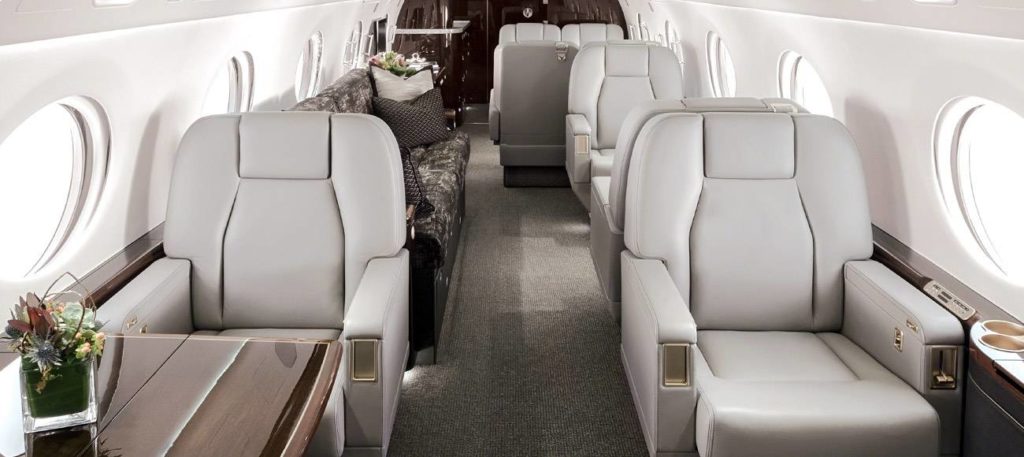 Gulfstream G450 Interior
In comparison to typical business jets, Gulfstream G450 private jet charter's comfortable cabin height gives passengers a lot more standing room, while its width and length offer plenty of room for movement. For pleasant and enjoyable transcontinental trips, a wide range of cabin amenities are available. Each seat can have headphones built into the cutting-edge cabin entertainment system, as well as CD/DVD/VHS players connected to two big LCD panels for amusement.
On the other hand, equipment like satellite phones, a fax machine, work tables, a regular power supply, and LAN capabilities are available for individuals who want to maintain high levels of productivity while in the air. Access panels placed around the cabin make it simple to manage the lighting, temperature, and other entertainment and productivity options when renting a Gulfstream G450 private jet.
What Is the Flight Range of a Gulfstream G450?
Gulfstream G450 charter provides 4350 nm of uninterrupted flight. It can quickly fly from Vancouver to Houston, or from Los Angeles to Montreal or New York to Anthes.
How Many Hours Can a Gulfstream G450 Fly?
A Gulfstream G450 private jet charter can transport you nonstop for around 9 hours.
How Long of a Runway Does a Gulfstream G450 Need?
Gulfstream G450 private jet charter requires a runway length of approximately 5600 feet for takeoff and 3260 feet for landing.
Similar Private Jets to Gulfstream G450