Charter a Grand Caravan Private Jet
Get an Instant Grand Caravan Charter Cost Estimate
Private Jets Type:
Turboprop 
Estimated Price Per Hour:
$1,250 – $1,600
Grand Caravan Private Charter Flights
Cessna Grand Caravan is a single-engine turboprop manufactured in Wichita, Kansas. With sales of more than 1,000 units, the practical Caravan is a well-liked utility workhorse on a global scale. The Caravan's design work began in the early 1980s.
A prototype made its first flight on December 9th, 1982, and certification followed in October 1984. When production started the following year, it was the first entirely new turboprop-powered aircraft to reach production status. Cessna Grand Caravan has a longstanding reputation for providing reliable and efficient service all around the world.
Grand Caravan Price Rental
The average cost to charter a Grand Caravan is around $1,250 – $1,600 per hour.
For charter rates and availability of the Grand Caravan, please submit the flight request form, or call our agents 24/7 at +1 (212) 840 8000.

Overview Grand Caravan
Charter Grand Caravan performs in a variety of operating conditions and climatic zones. There are modifications available for the Cessna 208's various chassis. There are adapted variants for snowy conditions on skis, a version with bigger tires for unequipped airfields, and a version with floats for the Caravan Amphibian model, in addition to the standard wheeled landing gear.
Caravan turboprop's excellent cargo capabilities are due to its powerful, efficient, and durable 675-horsepower PT6A-114A turbine engine. The aircraft's fuselage can be outfitted with either passenger seats or a cargo compartment. The passenger seats are divided into four rows of two or three, with an additional seat adjacent to the pilot. This upgrade enables the carriage of up to 14 passengers if necessary.
For more information on chartering a Grand Caravan private jet, price out your flight up or call our agents 24/7 at +1-212-840-8000.
General Performance
| | |
| --- | --- |
| Cruise Speed  | 186 ktas |
| Certified Ceiling  | 25000 ft |
| Rate of Climb | 1234 fpm |
| Takeoff Distance  | 2,055 ft |
| Landing Distance  | 1,625 ft  |
| Max Takeoff Weight | 8,000 lb  |
| Max Landing Weight | 7,800 lb |
Cabin Size
| | |
| --- | --- |
| Length | 14.82 ft |
| Width | 5.18 ft |
| Height | 4.25 ft |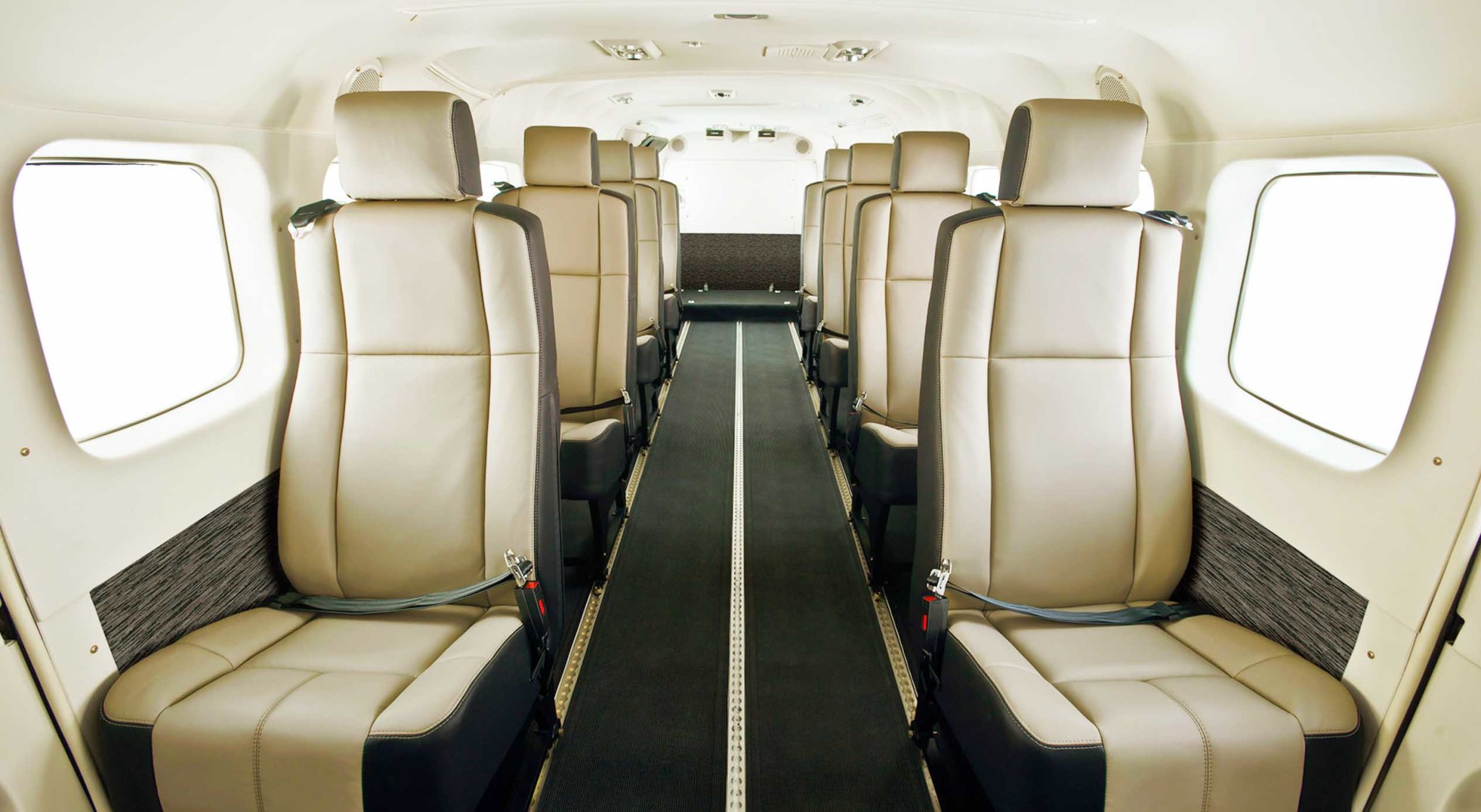 Grand Caravan Interior
Soft leather covers the aircraft's comfy and fully adjustable seats on the charter Grand Caravan. There is bright LED lighting for when it becomes dark, and the cabin is as quiet as that of a light jet, making it the ideal aircraft for safe and enjoyable travel.
What is the flight range of a Grand Caravan?
Grand Caravan private jet charter provides 1,070 nm of uninterrupted flight. Such a range allows flying non-stop from Paris to Berlin and Nashville to Los Angeles.
How many hours can a Grand Caravan fly?
Grand Caravan private jet can fly for 4.6 hours at maximum cruising speed and contains all the greatest features of the prior Cessnas.
How long of a runway does a Grand Caravan need?
Around 2,055 ftof runway is required for takeoff and 1,625 ft for landing for Grand Caravan private jet charter.
Similar Private Jets to Grand Caravan