Charter a King Air 350 Private Jet
Get an Instant King Air 350 Charter Cost Estimate
Private Jets Type:
Turboprop
Estimated Price Per Hour:
$1,600 – $2,200
King Air 350 Private Charter Flights
The turboprop of the King Air family, from the American manufacturer Beech Aircraft Corporation, the King Air 350 is the largest and most spacious business aircraft in its class. It has seven large round windows on both sides of the cabin, retractable work tables, double club seats, and a separate lavatory aft.
Over the years, the top-performing private jet King Air 350, has demonstrated admirable stability, efficiency, and reliability. The aircraft is recognized by its low/straight wing with winglets, two wings mounted, swept T-tail, and swept horizontal stabilizer.
King Air 350 Price Rental
The average cost to charter a King Air 350 is around $2,000 per flight hour.
For charter rates and availability of the private jet charter King Air 350, please submit the flight request form, or call our agents 24/7 at +1 (212) 840 8000.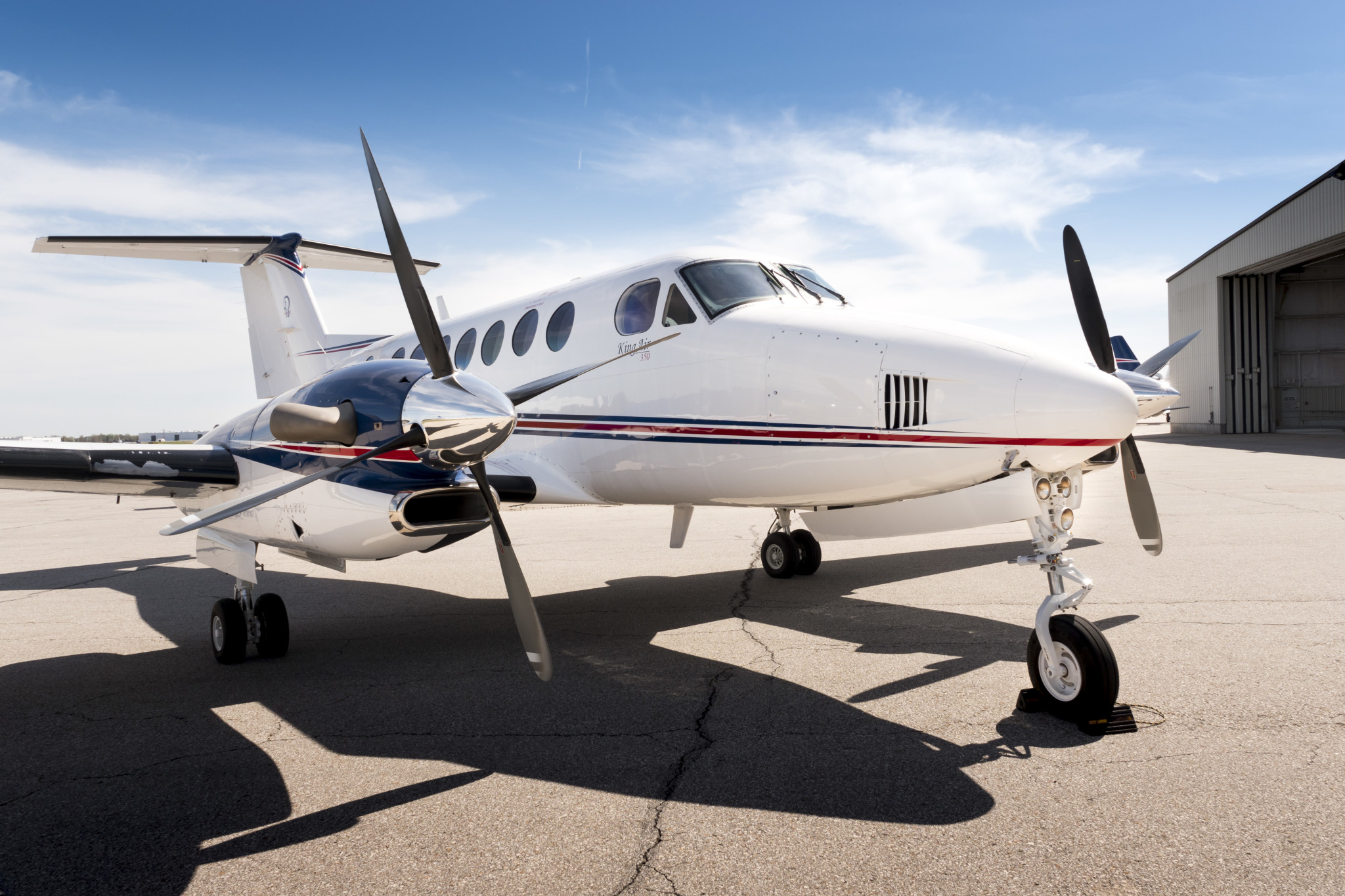 Overview King Air 350
The King Air 350 private jet has two turboprop engines, Pratt & Whitney Canada PT6A-60A, and can climb to an altitude of 25,000 feet in just 15 minutes. To fly to a long-range destination, the aircraft can maintain a speed of 235 knots at 33,000 feet in a long-range flight configuration.
The avionics system, a Rockwell Collins avionics package, includes an electronic flight information system panel, autopilot, weather radar, and two Collins Pro Line II radios for communications. That way, the pilot can keep a close eye on every aspect of your private jet flight King Air 350.
For more information on chartering a King Air 350 private jet, price out your flight up or call our agents 24/7 at +1-212-840-8000.
General Performance
| | |
| --- | --- |
| Luggage Capacity | 55 cu ft |
| Cruise Speed | 313 ktas |
| Certified Ceiling | 35000 ft |
| Takeoff Distance | 3300 ft |
| Landing Distance | 2692 ft |
| Max Takeoff Weight | 15000 lbs |
| Max Landing Weight | 15000 lbs |
Cabin Size
| | |
| --- | --- |
| Length | 19.6 ft |
| Width | 4.48 ft |
| Height | 4.76 ft |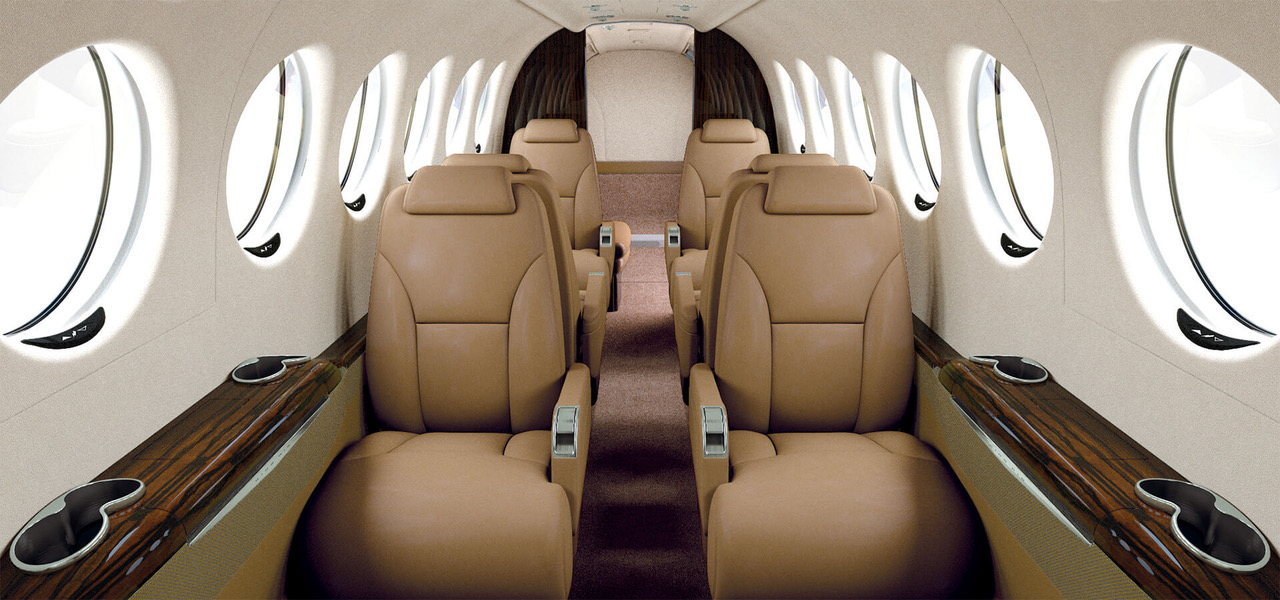 King Air 350 Interior
The King Air 350 jet cabin comfortably accommodates eight or nine passengers, about three feet longer than its predecessor. The cabin size is often more extensive than some light aircraft offered on the private aviation market. For instance, the private business jet King Air 350, can seat 11 passengers in a high-density configuration.
The King Air 350 cabin seats are arranged on a double club principle, with desks between each pair of seats. Also, the cabin of the 350 aircraft has a built-in refreshment center. The extended cabin also includes two additional windows on each side, for a total of 14. Thus, more passengers will be able to enjoy a coveted window seat during the charter King Air 350.
What is the flight range of a King Air 350?
A King Air 350 charter with eight onboard passengers can fly up to 1,739 nautical miles non-stop. It offers optimum performance with a maximum cruise speed of 312 knots and a range of 1,805 nautical miles. 
How fast can a King Air 350 fly?
The King Air 350 private jet has a maximum certified ceiling of 35,000 feet and a range of 1,556 nautical miles. Moreover, the King Air 350 can speed up to 312 knots at 24,000 feet in high-speed mode for fast travel.
How long of a runway does a King Air 350 need?
The two-wheel main landing gear on this model makes for a comfortable landing and quick stop on a private flight on a King Air 350. The aircraft is designed to safely stop on runways up to 3,300 feet long.
Similar Private Jets to King Air 350