Charter a Pilatus PC-12NG Private Jet
Get an Instant Pilatus PC-12NG Charter Cost Estimate
Private Jets Type:
Turboprop
Estimated Price Per Hour:
$2,000
Pilatus PC-12NG Private Charter Flights
Pilatus PC-12 is a single-engine turboprop aircraft produced by the Swiss company Pilatus Aircraft. Pilatus PC-12NG private jet charter is the most recent version of the PC-12, which made its debut in 2006 at NBAA in Orlando. Before the 1991 introduction of the highly well-liked and adaptable single-engine business turboprop, the PC-12, Pilatus Aircraft had a long and interesting history. Pilatus PC-12NG is a versatile and reliable aircraft that has become a favorite among many pilots and operators around the world.
Pilatus PC-12NG Charter Rates
The average cost to charter Pilatus PC-12NG is around $2,000 per hour. For charter rates and availability of Pilatus PC-12NG, please submit the flight request form, or call our agents 24/7 at +1 (212) 840 8000.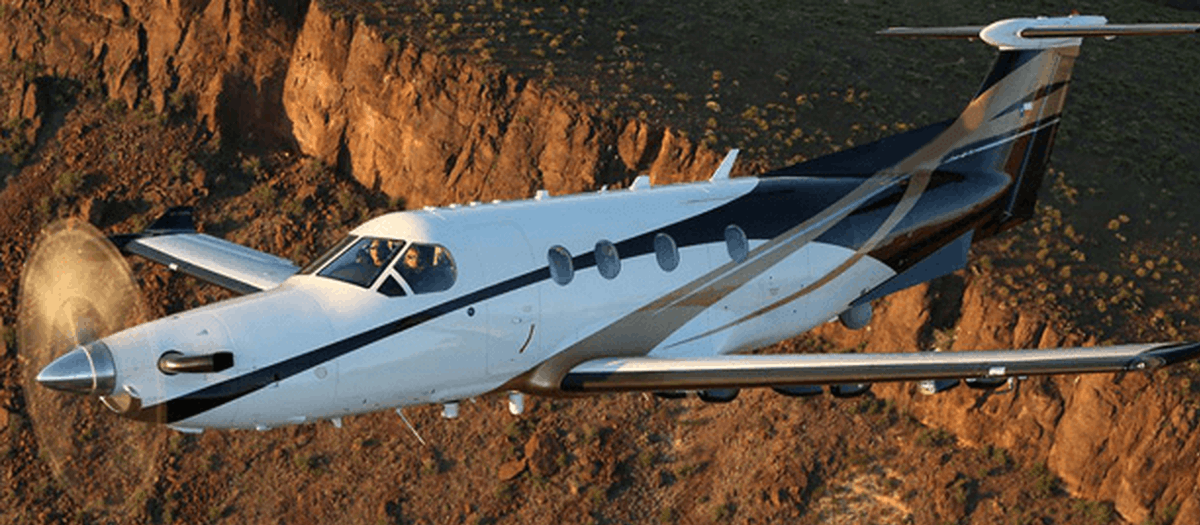 Pilatus PC-12NG Overview
Pilatus PC-12NG private jet charter has been meticulously designed to operate continuously with exceptional resilience in the most adverse weather situations worldwide. The aircraft is powered by a Pratt & Whitney Canada PT6A-67P turboprop engine, which provides a maximum cruise speed of 285 knots (523 km/h) and a range of up to 1,845 nautical miles (3,417 km) with standard fuel tanks. It also features an advanced avionics suite, including a modern glass cockpit with dual Honeywell Primus Apex flight displays, enhanced situational awareness, and a digital autopilot system.
For more information on chartering a Pilatus PC-12NG private jet, price out your flight up or call our agents 24/7 at +1-212-840-8000.
General Performance
| | |
| --- | --- |
| Luggage Capacity | 34.26 ft³ |
| Cruise Speed | 280 KTAS |
| Certified Ceiling | 30000 ft |
| Takeoff Distance | 2650 ft |
| Landing Distance | 1830 ft |
| Max Takeoff Weight | 10449 lbs |
| Max Landing Weight | 9920 lbs |
Cabin Size
| | |
| --- | --- |
| Length |  16.94 ft |
| Width | 4.98 ft |
| Height | 4.82 ft |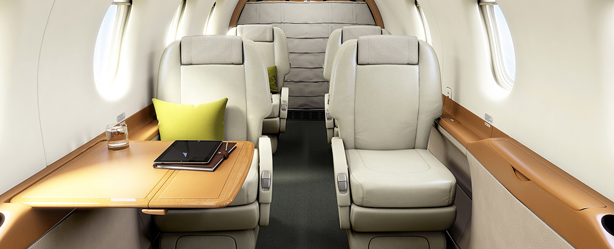 Pilatus PC-12NG Interior
The optional Executive 6 + 2 cabin-seating package is installed on several PC-12NGs. It has a four-seat club section in the center with four fully adjustable chairs, as well as two forward-facing chairs with full extension leg rests in the back of the cabin. The interior configuration of Pilatus PC12-NG private jet charter, developed in collaboration with BMW Designworks, makes the most of the limited cabin space. Large holes in the cabin side panels provide more hip room. The side rails are at the ideal height to serve as armrests for the chairs. To maximize usable space, the worktables fold out flush with the side rails.
What is the flight range of Pilatus PC-12NG?
Pilatus PC-12NG has a range of 1573 nm, allowing you to travel fairly far. For example, a Pilatus PC-12NG charter might fly from New York to Montego or from Dallas to San Jose.
How many hours can a Pilatus PC-12NG fly?
A Pilatus PC-12NG charter trip can last up to 9 hours on average. However, depending on the flight conditions, this could change.
How long of a runway does a Pilatus PC-12NG need?
The runway for Pilatus PC-12NG private jet charter is about 2650 ft for takeoff and 1830 ft for landing.
Similar Private Jets to Pilatus PC-12NG