Charter a Dash 8 Private Jet
Get an Instant Dash 8 Charter Cost Estimate
Private Jets Type:
Airliner
Estimated Price Per Hour:
$4,960
Dash 8 Private Charter Flights
The Dash 8 turboprop airliner from the Bombardier Q-series is a modern and efficient short-haul aircraft. The model was designed to provide increased range and is today a popular choice in the private aviation segment. The new generation airliner has improved flight characteristics compared to its predecessor. A Dash 8 charter makes it possible to fly from Lisbon to Berlin, Chicago to Los Angeles, San Francisco to Mexico City, or Paris to Istanbul without any transfers or refueling.
Dash 8 Price Rental
The average cost to charter a Dash 8 is around $4,960 per hour.
For charter rates and availability of the Dash 8, please submit the flight request form, or call our agents 24/7 at +1 (212) 840 8000.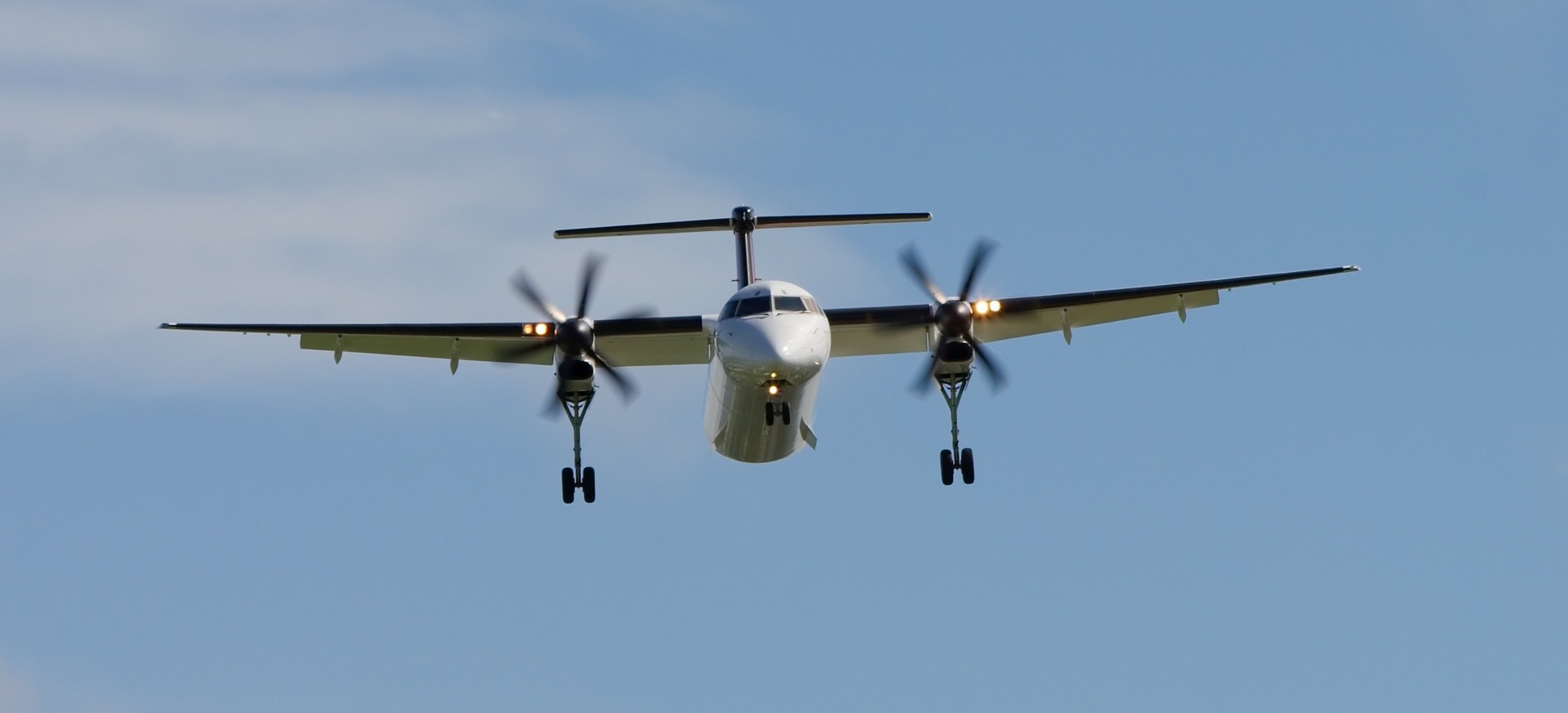 Overview Dash 8
The Dash 8 series has for many years been considered one of the most successful turboprop aircraft in history. This model made its first flight in June 1983, and to date, more than 1,150 aircraft have been built. After the release of the Model 100, the Dash 8 developed the Model 200, and a short time later, the Dash 8-300 and -400 were also produced. As a result, demand for the aircraft grew rapidly, and the largest regional airlines expressed a desire to have the Dash 8 fly.
General Performance
| | |
| --- | --- |
| Luggage Capacity | 135 ft³ |
| Cruise Speed | 287 ktas |
| Certified Ceiling | 25000 ft |
| Takeoff Distance | 3,865 ft |
| Landing Distance | 3,415 ft |
| Max Takeoff Weight | 41099 lbs |
| Max Landing Weight | 34502 lbs |
Cabin Size
| | |
| --- | --- |
| Length | 30 ft |
| Width | 6.8 ft |
| Height | 6.44 ft |
Dash 8 Interior
The passenger cabin of the Dash 8 aircraft is meticulously designed to provide a wealth of convenience and productivity-enhancing features. With seating available for up to 50 passengers, the cabin offers ample capacity while ensuring a comfortable and enjoyable travel experience.
Passengers aboard the Dash 8 can expect state-of-the-art amenities and services that prioritize their satisfaction. The aircraft is equipped with high-quality facilities and services, ensuring that passengers receive the utmost comfort and care throughout their journey. Comfortable seating options are provided, allowing passengers to relax and enjoy their flight. Whether you prefer a window seat to take in the stunning views or an aisle seat for easy accessibility, the cabin ensures a pleasant and accommodating experience for all passengers.
Additionally, the Dash 8 cabin is equipped with modern technology and amenities that support productivity. Passengers can take advantage of various features, such as ample workspace, power outlets, and connectivity options, allowing them to work efficiently and stay connected during their journey. The cabin environment provides a conducive setting for productivity, enabling passengers to make the most of their time in the air.
What is the flight range of a Dash 8?
Dash 8 charter provides 1,359 nm of uninterrupted flight. It can fly from Lisbon to Berlin, Chicago to Los Angeles, San Francisco to Mexico City, or Paris to Istanbul.
How many hours can a Dash 8 fly?
A Dash 8 private jet charter can transport you nonstop for around 4 hours.
How long of a runway does a Dash 8 need?
Dash 8 private jet charter requires a runway length of approximately 3,865 feet for takeoff and 3,415 feet for landing.
Similar Private Jets to Dash 8