Charter a Fokker 100 Private Jet
Get an Instant Fokker 100 Charter Cost Estimate
Private Jets Type:
Airliner
Estimated Price Per Hour:
$9,910
Fokker 100 Private Charter Flights
The medium-range passenger Fokker 100 developed by the Dutch company is a narrow-body jet aircraft. It was designed based on the F-28-4000 passenger aircraft and made its first flight in 1986. The model is excellent for short to medium flights. For example, a charter flight on the Fokker 100 allows you to travel from Los Angeles to Chicago, London to Istanbul, or Lisbon to Rome with maximum comfort.
Fokker 100 Price Rental
The average cost to charter a Fokker 100 is around $9,910 per hour.
For charter rates and availability of the Fokker 100, please submit the flight request form, or call our agents 24/7 at +1 (212) 840 8000.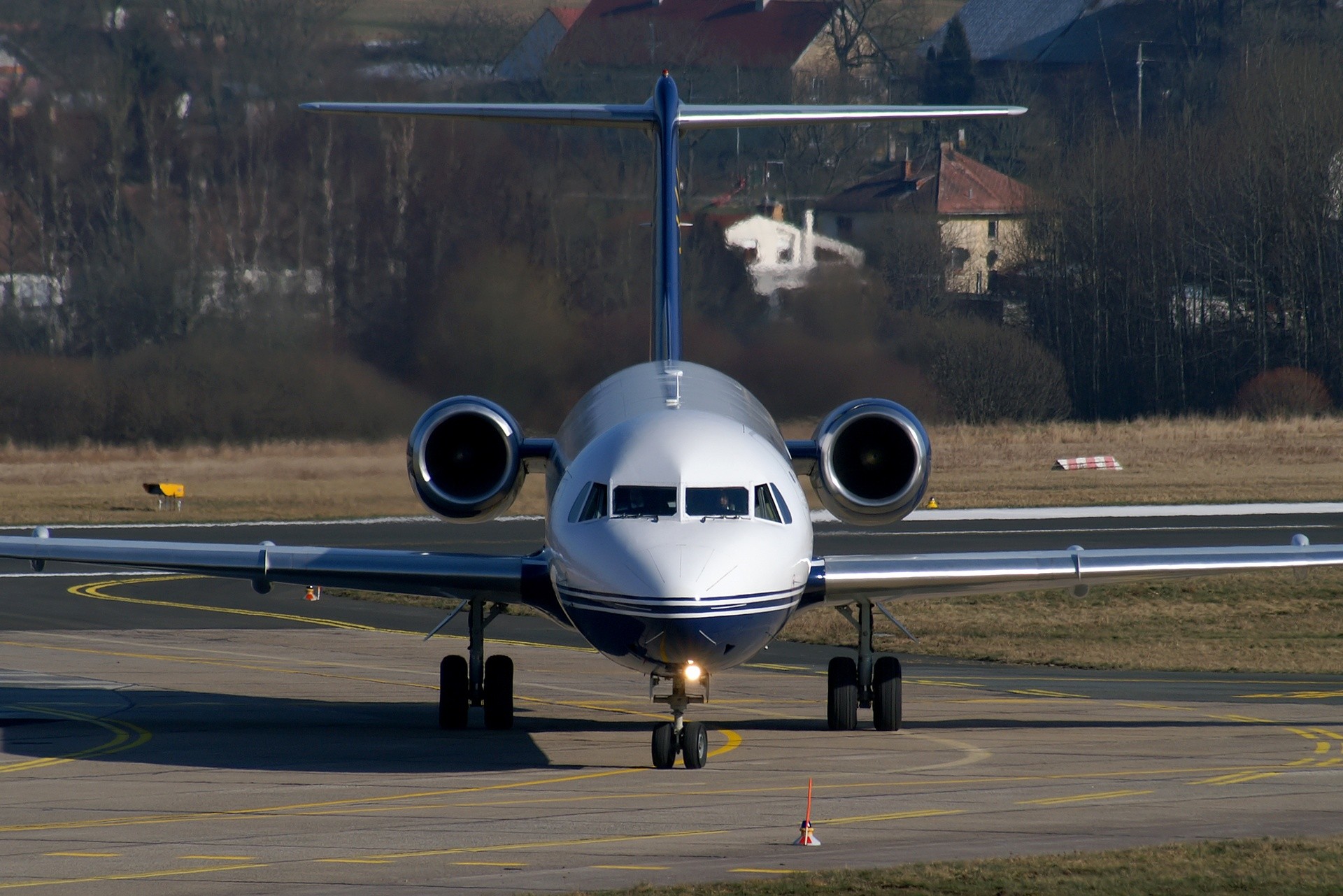 Overview Fokker 100
Unlike previous models, Fokker 100 has a longer fuselage that allows increasing the number of passengers. In addition, it has changed the mechanization of the wing and internal equipment. Moreover, the aircraft is equipped with a digital avionics system EFIS with six color displays for the flight data display and integrated flight systems condition monitoring system. The Fokker 100 is powered by Rolls-Royce Tay Mk 620-15 engines. Its low operating costs and improved flight performance have made it one of the most famous aircraft.
General Performance
| | |
| --- | --- |
| Luggage Capacity | 851.08 ft³ |
| Cruise Speed | 462 ktas |
| Certified Ceiling | 35000 ft |
| Takeoff Distance | 6,086 ft |
| Landing Distance | 4,331 ft |
| Max Takeoff Weight | 94997 lbs |
| Max Landing Weight | 85495 lbs |
Cabin Size
| | |
| --- | --- |
| Length | 69.52 ft |
| Width | 10.18 ft |
| Height | 6.6 ft |
Fokker 100 Interior
The Fokker 100 aircraft goes above and beyond to provide a truly comfortable flight experience, offering an array of essential features for passenger satisfaction. First and foremost, the aircraft boasts spacious and convenient hand luggage shelves, allowing travelers to stow their belongings securely and easily access them throughout the journey.
Furthermore, the Fokker 100's seating arrangement is designed with utmost comfort in mind. The seats are thoughtfully crafted to provide optimal support and relaxation during the flight. Whether you're embarking on a short domestic trip or a longer international voyage, the comfortable seating ensures that you can sit back, unwind, and enjoy the journey to the fullest.
Adding to the ambiance, the Fokker 100 features soft lighting throughout the cabin. The carefully chosen lighting scheme creates a soothing and serene atmosphere, enhancing the overall comfort and tranquility on board. Passengers can relax under the gentle glow, creating a pleasant environment conducive to both relaxation and productivity.
What is the flight range of a Fokker 100?
Fokker 100 charter provides 1,290 nm of uninterrupted flight. It can fly from Los Angeles to Chicago, London to Istanbul, or Lisbon to Rome.
How many hours can a Fokker 100 fly?
A Fokker 100 private jet charter can transport you nonstop for around 4 hours.
How long of a runway does a Fokker 100 need?
Fokker 100 private jet charter requires a runway length of approximately 6,086 feet for takeoff and 4,331 feet for landing.
Similar Private Jets to Fokker 100