Charter a Saab 340A Private Jet
Get an Instant Saab 340A Charter Cost Estimate
Private Jets Type:
Airliner
Estimated Price Per Hour:
$2,500
Saab 340A Private Charter Flights
The turboprop Swedish passenger aircraft Saab 340A can perfectly handle regional transport in high comfort conditions. This model first took off in 1983 and was designed to create an efficient model in the segment.
Saab 340A Price Rental
The average cost to charter a Saab 340A is around $2,500 per hour.
For charter rates and availability of the Saab 340A, please submit the flight request form, or call our agents 24/7 at +1 (212) 840 8000.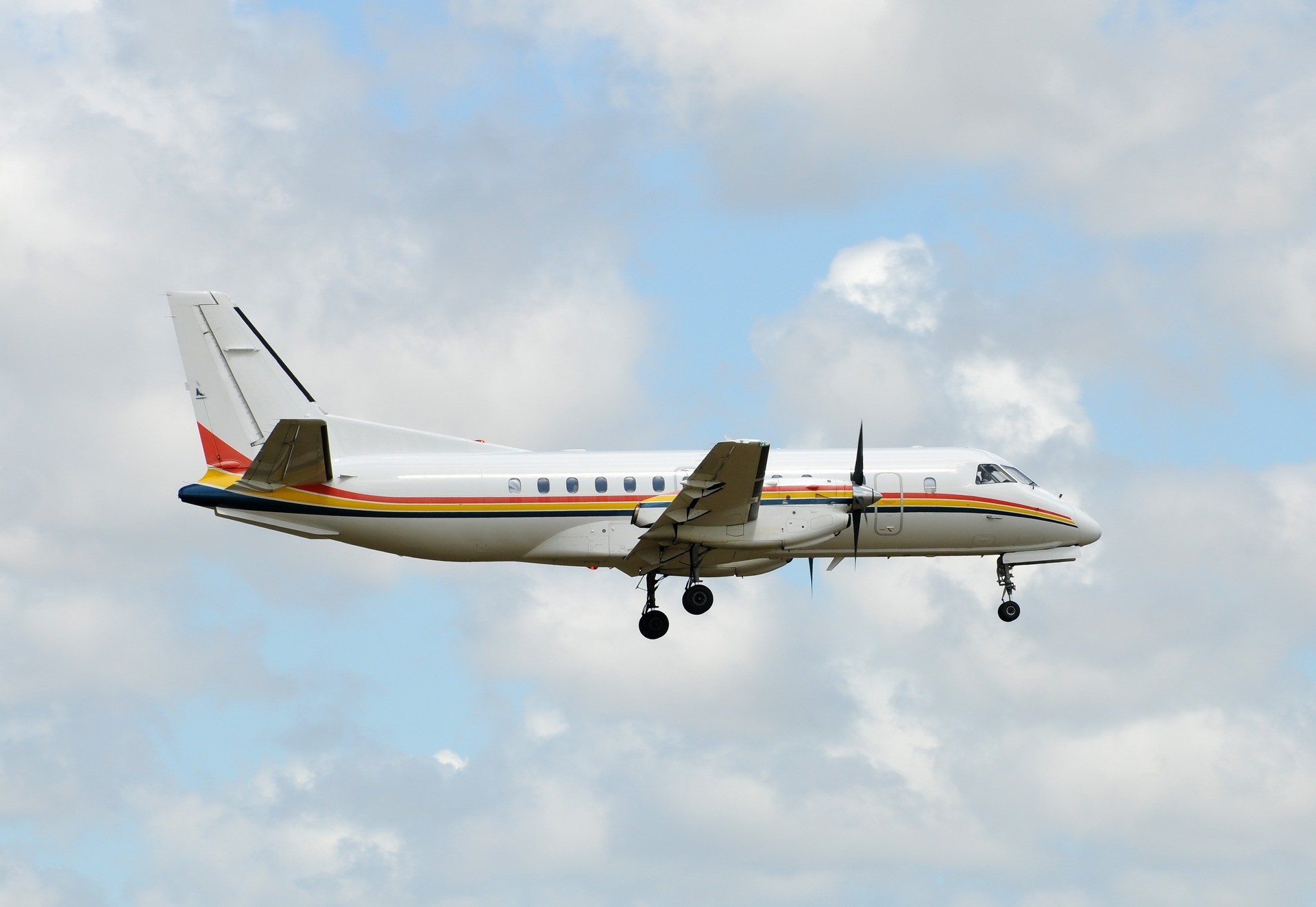 Overview Saab 340A
The Saab 340A was designed in two versions, for service transportation and the basic airborne configuration, and is a free-bearing monoplane. The low-lying trapezoidal wing and all-metal power structure are also considered features. The fuselage is circular in cross-section and has a new plating to which reinforcing stringers are attached. In addition, it is equipped with a completely electronic digital system and two turboprop engines, General Electric CT7-9B.
General Performance
| | |
| --- | --- |
| Luggage Capacity | 331 cu. ft. |
| Cruise Speed | 283 ktas |
| Certified Ceiling | 25000 ft |
| Takeoff Distance | 4,220 ft |
| Landing Distance | 4,220 ft |
| Max Takeoff Weight | 28500 lb |
| Max Landing Weight | 27200 lb |
Cabin Size
| | |
| --- | --- |
| Length | 34.21 ft |
| Width | 7.22 ft |
| Height | 5.9 ft |
Saab 340A Interior
The aircraft boasts a range of features that ensure an enjoyable and seamless travel experience. One of the notable features of the Saab 340A cabin is its specially designed new lightweight passenger seats. These seats are carefully crafted to prioritize comfort without compromising on space. Passengers can relax and unwind in these ergonomically designed seats, ensuring a pleasant journey throughout.
To further enhance the passenger experience, the Saab 340A cabin is equipped with large windows that offer better visibility. These windows not only allow natural light to fill the cabin, creating a bright and welcoming atmosphere, but also provide passengers with breathtaking views of the outside world during their flight.
At the front of the aircraft, passengers can find convenient amenities such as a buffet area, lavatory facilities, and a checkroom. The buffet area offers a range of refreshments, allowing passengers to enjoy snacks and beverages during the flight. The lavatory facilities provide essential amenities for passenger comfort, ensuring their needs are met throughout the journey. The checkroom allows passengers to store their belongings securely, providing convenience and peace of mind during the flight. 
At the tail end of the Saab 340A, there is a spacious baggage compartment. This compartment offers ample room to store luggage and personal items, allowing passengers to travel with ease and convenience. The spacious baggage compartment ensures that passengers can bring their belongings without any concerns, providing a hassle-free travel experience.
What is the flight range of a Saab 340A?
Saab 340A charter provides 470 nm of uninterrupted flight.
How many hours can a Saab 340A fly?
A Saab 340A private jet charter can transport you nonstop for around 2-3 hours.
How long of a runway does a Saab 340A need?
Saab 340A private jet charter requires a runway length of approximately 4,220 feet for takeoff and 4,220 feet for landing.
Similar Private Jets to Saab 340A