Charter a Swearingen Metro Private Jet
Get an Instant Swearingen Metro Charter Cost Estimate
Private Jets Type:
Airliner
Estimated Price Per Hour:
$4,360
Swearingen Metro Private Charter Flights
The Swearingen Metro is an impressive twin-turboprop aircraft meticulously crafted with a specific purpose. Its design focuses on serving as a more extended airliner version, making it ideal for accommodating more passengers and reaching greater distances. Additionally, the aircraft's versatility shines through as it effortlessly transitions to become a valuable asset in executive transport, catering to the needs of discerning business travelers. With its powerful and reliable twin-turboprop engines, the Swearingen Metro confidently takes on the skies, delivering exceptional performance and ensuring a seamless travel experience for commercial and executive missions.
Swearingen Metro Price Rental
The average cost to charter a Swearingen Metro is around $4,360 per hour.
For charter rates and availability of the Swearingen Metro, please submit the flight request form, or call our agents 24/7 at +1 (212) 840 8000.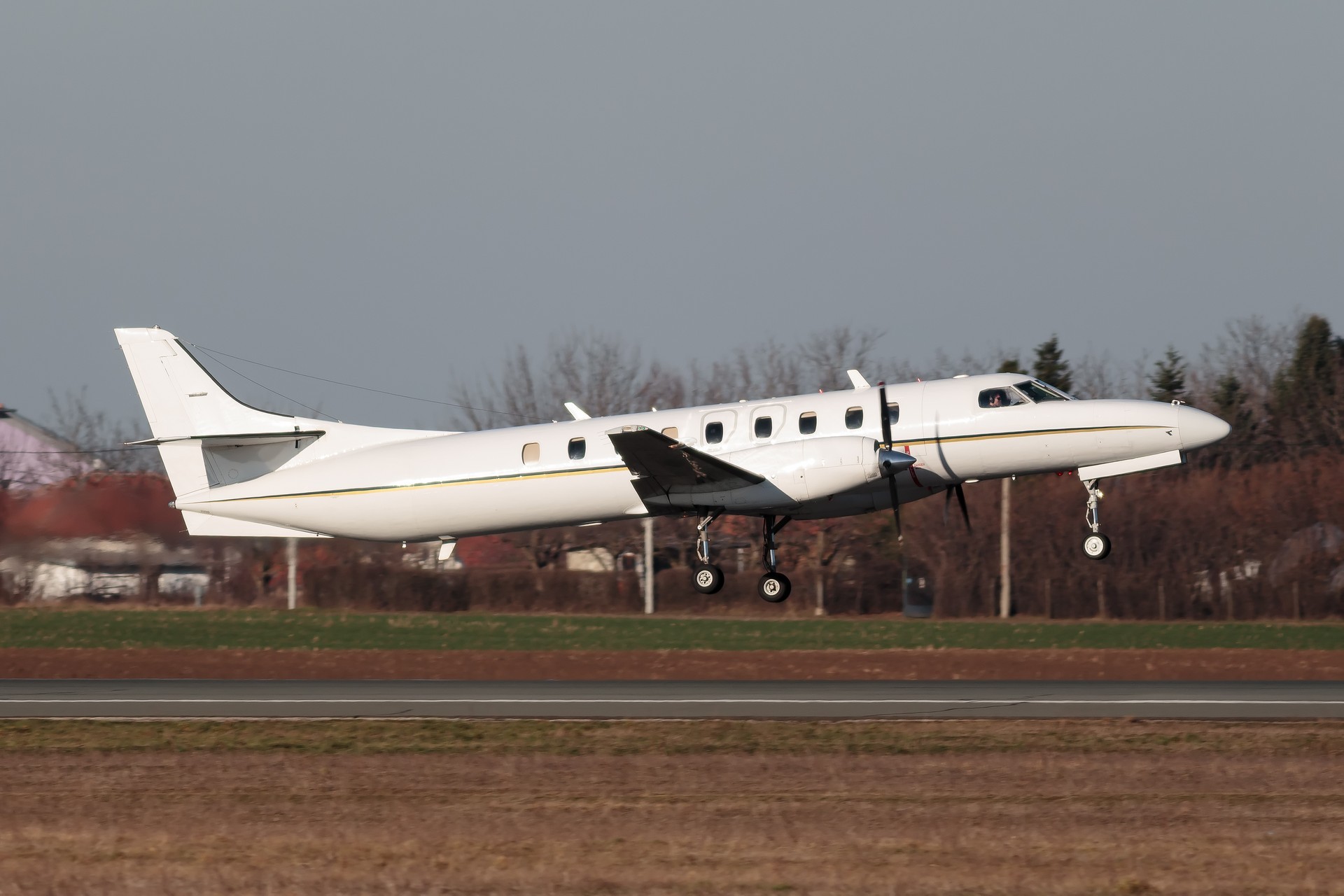 Overview Swearingen Metro
The aircraft boasts the incorporation of mighty Pratt & Whitney powerful engines, which stand as a testament to its engineering excellence and exceptional performance capabilities. With these high-performing engines at its core, the aircraft demonstrates impressive power, efficiency, and reliability, enabling it to conquer the skies easily. Pratt & Whitney's renowned technology ensures a smooth and dependable flight experience, making the aircraft a top choice for enthusiasts and professionals.
General Performance
| | |
| --- | --- |
| Luggage Capacity | 107 cu.ft |
| Cruise Speed | 293 ktas |
| Certified Ceiling | 25000 ft |
| Takeoff Distance | 4,400 ft |
| Landing Distance | 2,854 ft |
| Max Takeoff Weight | 16500 lbs |
| Max Landing Weight | 15675 lbs |
Cabin Size
| | |
| --- | --- |
| Length | 25.44 ft |
| Width | 5.16 ft |
| Height | 4.76 ft |
Swearingen Metro Interior
The Swearingen Metro interiors are thoughtfully curated to provide a luxurious flying experience beyond the ordinary. Passengers are indulged with many lavish features, starting with exquisitely comfortable seating that pampers travelers throughout their journey. To further elevate the in-flight experience, cutting-edge entertainment systems are seamlessly integrated, offering various options to keep passengers entertained and engaged. 
For those seeking to maximize productivity during their travels, some configurations even include well-appointed conference rooms, enabling business meetings to be conducted at 30,000 feet. Whether traveling for business or pleasure, the Swearingen Metro ensures an opulence and sophistication that transforms air travel into a truly memorable and delightful experience.
What is the flight range of a Swearingen Metro?
Swearingen Metro charter provides 1,115 nm of uninterrupted flight.
How many hours can a Swearingen Metro fly?
A Swearingen Metro private jet charter can transport you nonstop for around 5 hours.
How long of a runway does a Swearingen Metro need?
Swearingen Metro private jet charter requires a runway length of approximately 4,400 feet for takeoff and 2,854 feet for landing.
Similar Private Jets to Swearingen Metro