Charter a Gulfstream G150 Private Jet
Get an Instant Gulfstream G150 Charter Cost Estimate
Private Jets Type:
Midsize Jet
Estimated Price Per Hour:
$3,600
Gulfstream G150 Private Charter Flights
The Gulfstream G150 is one of the fastest midsize jets available and has close to 3,000 nautical miles of range. It has the capability to link most coastal cities in the United States. The airplane has a larger cross-section than its competitors, allowing for more usable headroom than others in its class. The cabin is 18 feet long and 5 feet 9 inches in height. Several cabin layouts are available, including a club seating layout with two forward-facing seats in the rear of the cabin. Seating for seven passengers is the common configuration. Baggage space is slightly limited when compared to other aircraft in its class. It allows for fifty-five cubic feet of storage, which is nine cubic feet less than a comparable jet.
Gulfstream G150 Price Rental
The average cost to charter a Gulfstream G150 is around $3,600 per hour.
For charter rates and availability of the Gulfstream G150, please submit the flight request form, or call our agents 24/7 at +1 (212) 840 8000.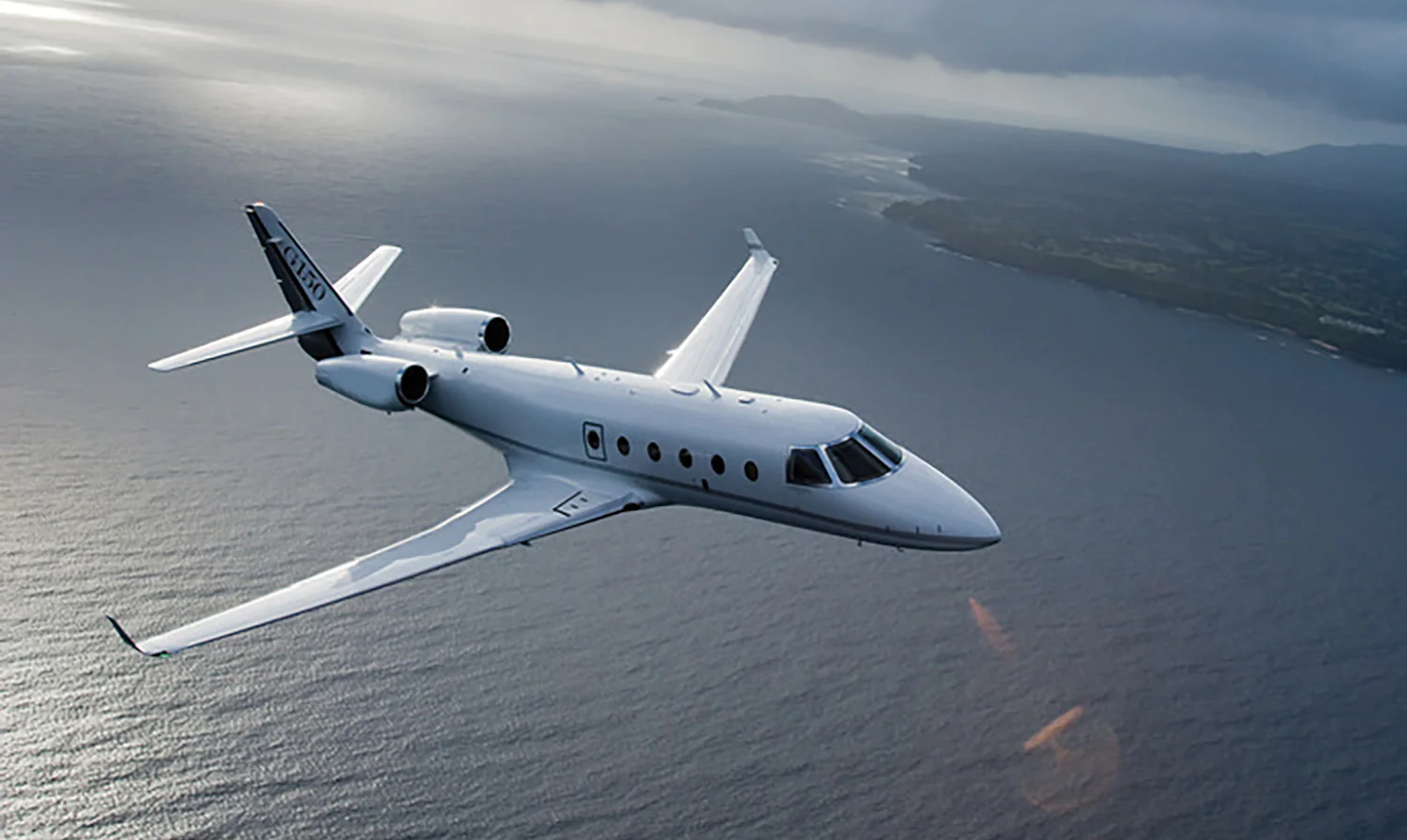 Overview Gulfstream G150
The exceptional performance of the G150 stems from its highly robust Honeywell TFE731-40AR engines, renowned for their reliability in all seasons. Complementing its superb capabilities, the aircraft features a sleek aerodynamic design that not only adds elegance to its structure but also enhances its airborne performance. The combination of these powerful engines and cutting-edge aerodynamics results in astonishing speeds, consistently leaving spectators in awe. 
G150 has shattered speed records nationwide, cementing its status as an unrivaled leader in terms of sheer velocity. With an operational range of up to Mach 0.85 and a flight ceiling of 45,000 feet, it effortlessly soars above inclement weather conditions and commercial airline traffic. Carrying up to four passengers, it can cover distances of up to 3,000 nautical miles at long-range cruising speed, swiftly transporting passengers across vast continental expanses. Unmatched in its class, the G150 can fly farther, faster, and higher than any other aircraft. It comes as no surprise that the G150 continues to garner immense popularity, earning accolades, breaking records, and receiving well-deserved recognition from the media.
General Performance
| | |
| --- | --- |
| Luggage Capacity | 80 ft³ |
| Cruise Speed | 459 ktas |
| Certified Ceiling | 45000 ft |
| Takeoff Distance | 5,015 ft |
| Landing Distance | 2,245 ft |
| Max Takeoff Weight | 26100 lbs |
| Max Landing Weight | 21700 lbs |
Cabin Size
| | |
| --- | --- |
| Length | 17,7 ft |
| Width | 5,75 ft |
| Height | 5,75 ft |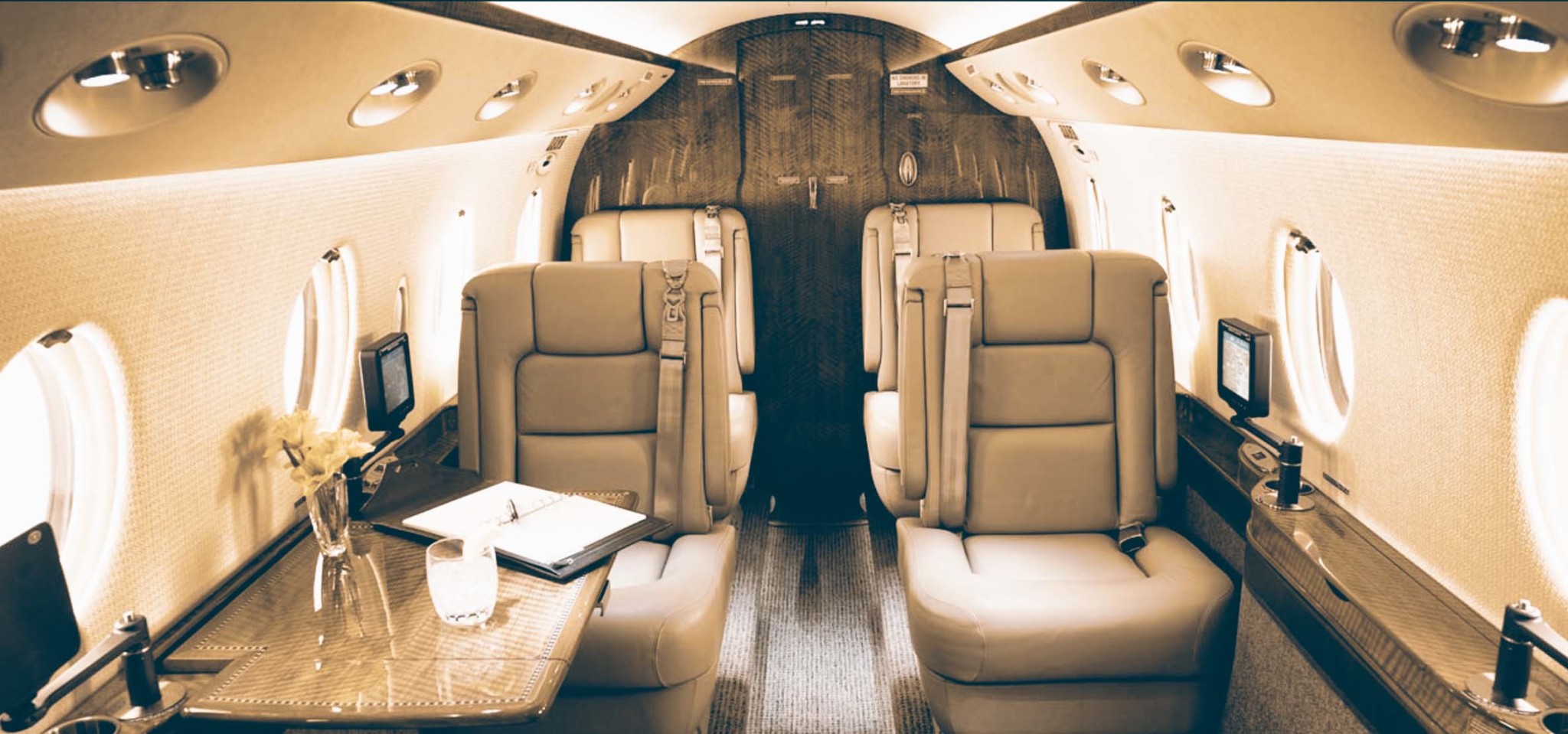 Gulfstream G150 Interior
The cabin of the aircraft is thoughtfully designed to maximize comfort, offering spaciousness that ensures a delightful travel experience. The seating is fully reclinable, ergonomically designed, and equipped with armrests, providing utmost relaxation during the journey. The inclusion of work tables adds convenience for productivity on board. With 11 windows, the cabin is flooded with natural lighting, creating a pleasant ambiance. Moreover, the aircraft holds FAA certification for Stage 4 noise standards, effectively reducing noise levels both inside the cabin and outside the aircraft, enhancing comfort for passengers and minimizing disturbance to the surrounding environment. The cabin offers a larger and more spacious environment compared to most business jets and other aircraft within its category. This generous cabin size further contributes to the overall comfort and luxury of the travel experience. 
What is the flight range of a Gulfstream G150?
Gulfstream G150 charter provides 2,294 nm of uninterrupted flight.
How many hours can a Gulfstream G150?
A Gulfstream G150 private jet charter can transport you nonstop for around 4 hours.
How long of a runway does a Gulfstream G150 need?
Gulfstream G150 private jet charter requires a runway length of approximately 5,015 feet for takeoff and 2,445 feet for landing.
Similar Private Jets to Gulfstream G150