Charter a Pilatus PC-24 Private Jet
Get an Instant Pilatus PC-24 Charter Cost Estimate
Private Jets Type:
Light Jet
Estimated Price Per Hour:
$3,300
Pilatus PC-24 Private Charter Flights
A modern light business jet for business passenger transportation is Pilatus PC-24 from the Swiss manufacturer Pilatus. It holds a significant position in the category of universal jets with superior range and performance.
The aircraft features a short takeoff distance and a cargo hatch that is characteristic for its class in the rear of the fuselage. Charter a Pilatus PC-24 for a fast, comfortable, and luxurious way to travel.
Pilatus PC-24 Price Rental
The average cost to charter a Pilatus PC-24 is around $3,600 per hour.
For charter rates and availability of the Pilatus PC-24, please submit the flight request form, or call our agents 24/7 at +1 (212) 840 8000.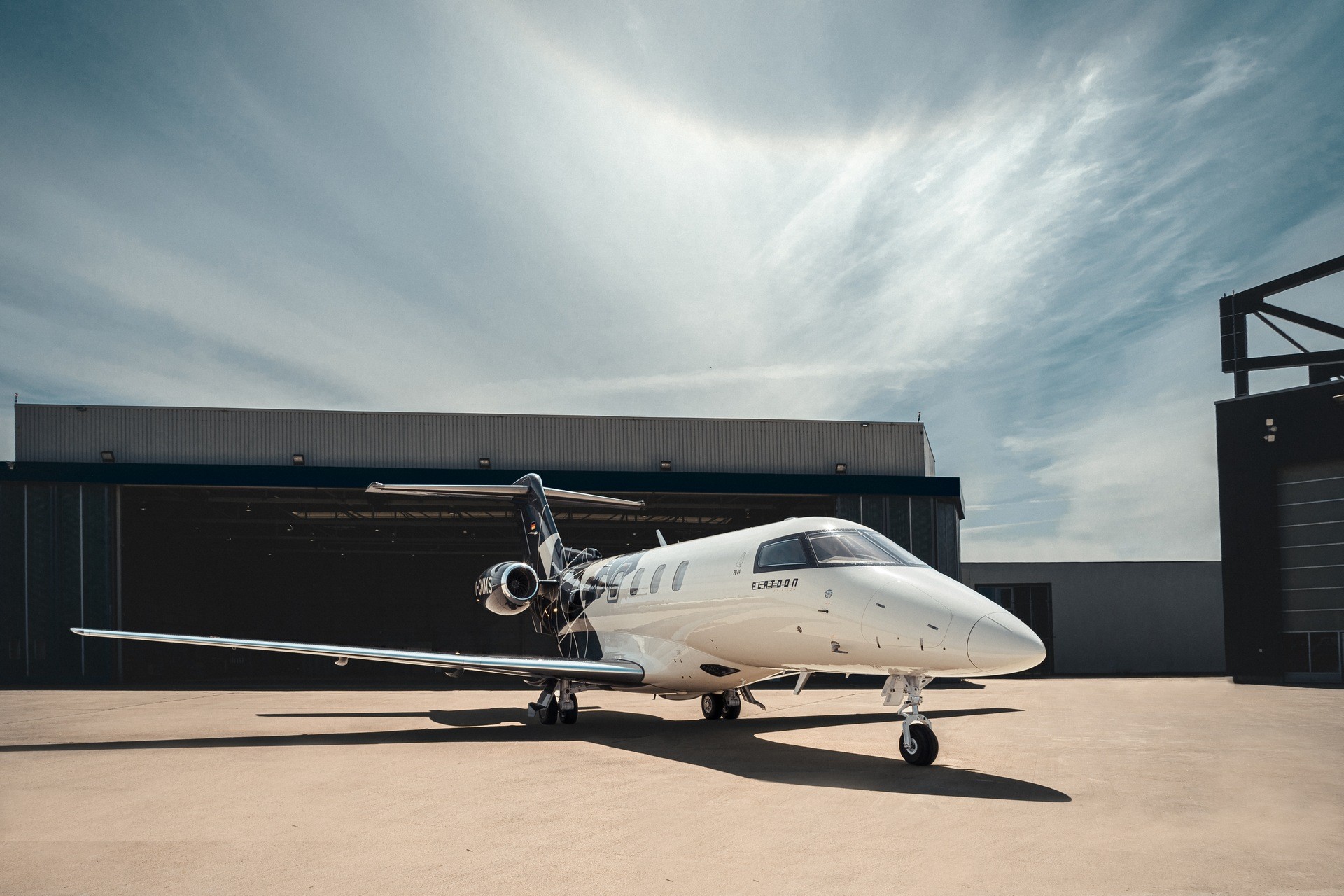 Overview Pilatus PC-24
The Pilatus PC-24 is a Swiss-made twin-engine business jet that is known for its versatility and performance. It is capable of operating on short and unpaved runways, making it a great option for accessing remote and challenging destinations.
One of the main features of the PC-24 is its large cargo door, which allows for easy loading and unloading of passengers and cargo. The interior of the aircraft is spacious and comfortable, with room for up to 8 passengers. It is also equipped with modern technology and amenities, such as in-flight entertainment and Wi-Fi.
The Pilatus PC-24 has a maximum range of 2,080 nautical miles, allowing it to fly nonstop on popular routes such as New York to Miami, or London to Moscow. Its maximum cruise speed is 485 mph, making it one of the fastest jets in its class.
The PC-24 is also known for its low operating costs and fuel efficiency, making it a cost-effective option for charter flights. With its combination of performance, versatility, and comfort, the Pilatus PC-24 is an excellent choice for private charter flights.
For more information on chartering a Pilatus PC-24 private jet, price out your flight up or call our agents 24/7 at +1-212-840-8000.
General Performance
| | |
| --- | --- |
| Range  | 2000 nm |
| Cruise Speed  | 440 ktas |
| Takeoff Distance  | 2930 ft |
| Landing Distance  | 2375 ft |
| Payload with Full Fuel  | 2500 lbs |
Cabin Size
| | |
| --- | --- |
| Length  | 17.0 ft |
| Width | 5.5 ft |
| Height  | 5.1 ft |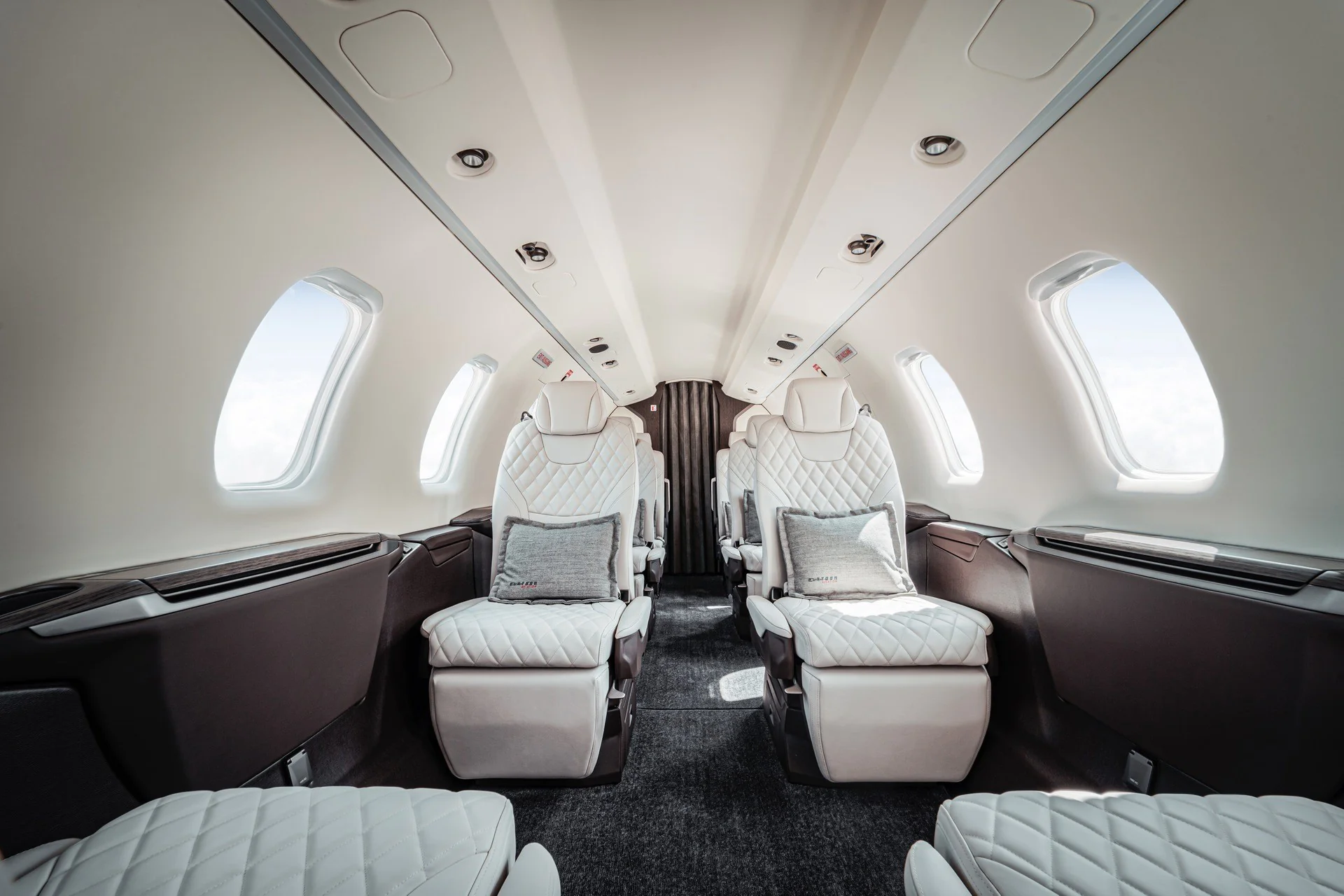 Pilatus PC-24 Interior
The Pilatus PC-24 charter aircraft offers a spacious and luxurious interior that can accommodate up to 9 passengers. The cabin is designed with a modern and stylish aesthetic, featuring rich leather seats and wood accents. The seats are fully adjustable and can be configured in a variety of layouts to suit the needs of the passengers.
The cabin is also equipped with a variety of amenities to enhance the comfort and convenience of the passengers. These include a fully-equipped galley, a lavatory, and a baggage compartment. The galley is equipped with a refrigerator, microwave, and coffee maker, allowing passengers to enjoy hot meals and refreshments during the flight.
What Is the Flight Range of a Pilatus PC-24?
Pilatus PC-24 charter provides 2000 nm of uninterrupted flight. Some examples of routes are from Minneapolis to Miami or from Las Vegas to Jacksonville. 
How Many Hours Can a Pilatus PC-24 Fly?
An uninterrupted flight aboard a Pilatus PC-24 private jet charter lasts for roughly 4-6 hours.
How Long of a Runway Does a Pilatus PC-24 Need?
The Pilatus PC-24 private jet charter's runway measures roughly 2930 feet for takeoff and 2375 feet for landing.
Similar Private Jets to Pilatus PC-24