Charter a Beechjet 400 Private Jet
Get an Instant Beechjet 400 Charter Cost Estimate
Private Jets Type:
Light Jet
Estimated Price Per Hour:
$2,960
Beechjet 400 Private Charter Flights
The Beechjet 400, also known as Hawker 400, is a small, twin-engine corporate jet often chartered for short to medium-sized flights and intended primarily for corporate travel. It was built by the Mitsubishi company, after which it was improved and updated by the Beech Aircraft Company. A Beechjet 400 charter allows you to travel from Louisville to Denver, Philadelphia to Dallas, or Los Angeles to Memphis in the shortest possible time.
Beechjet 400 Price Rental
The average cost to charter a Beechjet 400 is around $2,960 per hour.
For charter rates and availability of the Beechjet 400, please submit the flight request form, or call our agents 24/7 at +1 (212) 840 8000.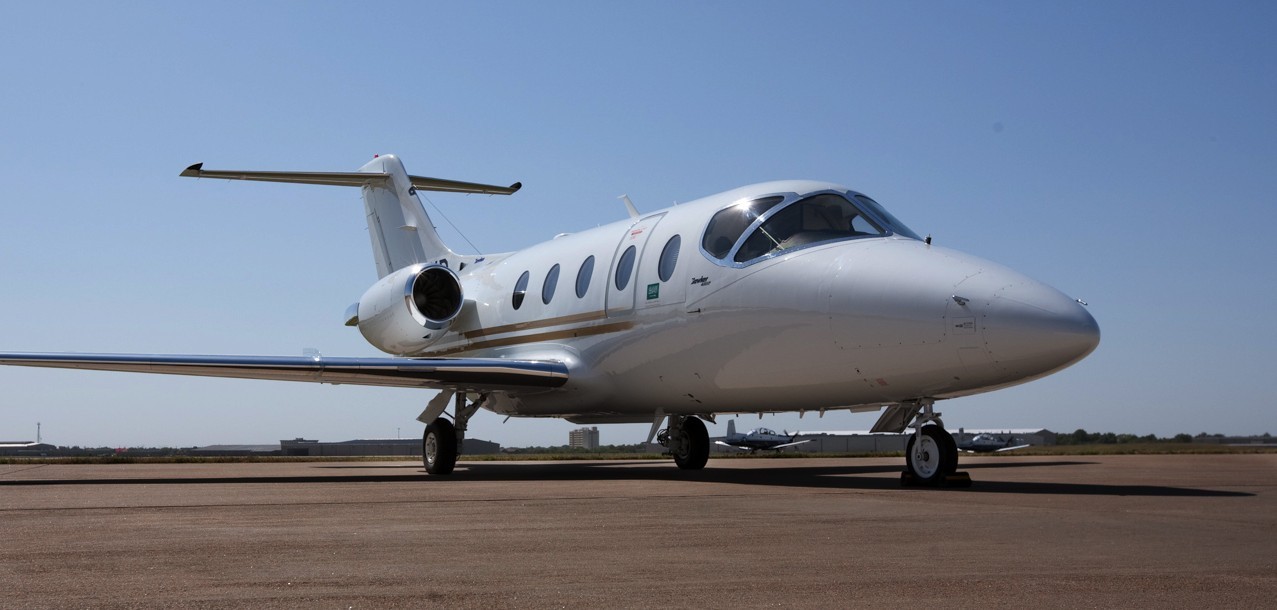 Overview Beechjet 400
The Beechjet 400 is powered by two Pratt and Whitney Canada JT15D-4D turbofan engines, each providing 2,500 pounds of thrust during takeoff. It requires 3,940 feet of runway for takeoff at sea level on a standard day, which increases to 7,500 feet at an airport with a 5,000-foot elevation. When landing with four passengers, the Beechjet 400 only needs 2,600 feet of runway. It has a maximum certificated service ceiling of 41,000 feet and an all-engine service ceiling of 39,000 feet. The aircraft offers a maximum range of 1,142 nautical miles and can maintain an airspeed of 375 knots at 39,000 feet in a long-range cruise configuration. For faster travel, it can reach an airspeed of 422 knots at 35,000 feet in a high-speed cruise configuration. 
The avionics suite of the Beechjet 400 may include a Primus 300SL color weather radar, distance measuring equipment (DME), dual TDR 90 transponders, SPZ 900 autopilot, dual Collins VHF 20A comms, dual VIR 30A navs, an automatic direction finder (ADF), and a Sperry APZ 500 flight director. 
General Performance
| | |
| --- | --- |
| Luggage Capacity | 20.12 ft³ |
| Cruise Speed | 450 ktas |
| Certified Ceiling | 45000 ft |
| Takeoff Distance | 3,907 ft |
| Landing Distance | 3,517 ft |
| Max Takeoff Weight | 16301 lbs |
| Max Landing Weight | 15699 lbs |
Cabin Size
| | |
| --- | --- |
| Length | 15,6 ft |
| Width | 4,9 ft |
| Height | 4,8 ft |
Beechjet 400 Interior
The spacious cabin of the Beechjet 400 offers a comfortable and luxurious environment, capable of accommodating up to eight passengers. Designed with a pressurized cabin, it ensures a pleasant flying experience by maintaining a comfortable atmospheric pressure throughout the flight. The cabin can be configured into special zones, featuring cozy easy chairs, a plush sofa, and a convenient table. These well-defined zones provide passengers with the opportunity to unwind, relax, and recharge before engaging in upcoming work or activities. Whether it's indulging in conversations, enjoying a peaceful moment, or preparing for important tasks, the Beechjet 400 cabin offers a versatile and inviting space tailored to the needs and comfort of its passengers.
What is the flight range of a Beechjet 400?
Beechjet 400 charter provides 1,500 nm of uninterrupted flight. It can quickly fly from Louisville to Denver, Philadelphia to Dallas, or Los Angeles to Memphis.
How many hours can a Beechjet 400 fly?
A Beechjet 400 private jet charter can transport you nonstop for around 4 hours.
How long of a runway does a Beechjet 400 need?
Beechjet 400 private jet charter requires a runway length of approximately 3,907 feet for takeoff and 3,517 feet for landing.
Similar Private Jets to Beechjet 400